'Real Housewives' Porsha Williams Praised as 'Fearless' After BLM Arrest
Real Housewives of Atlanta star Porsha Williams has been arrested Black Lives Matter protest in Louisville, Kentucky to demand criminal charges in the police shooting of Breonna Taylor—and is being praised for her efforts.
The reality television personality was among 87 protestors to be charged with trespassing, disorderly conduct, and intimidating a participant in a legal process on Tuesday.
Williams, 39, is the granddaughter of civil rights leader Hosea Williams.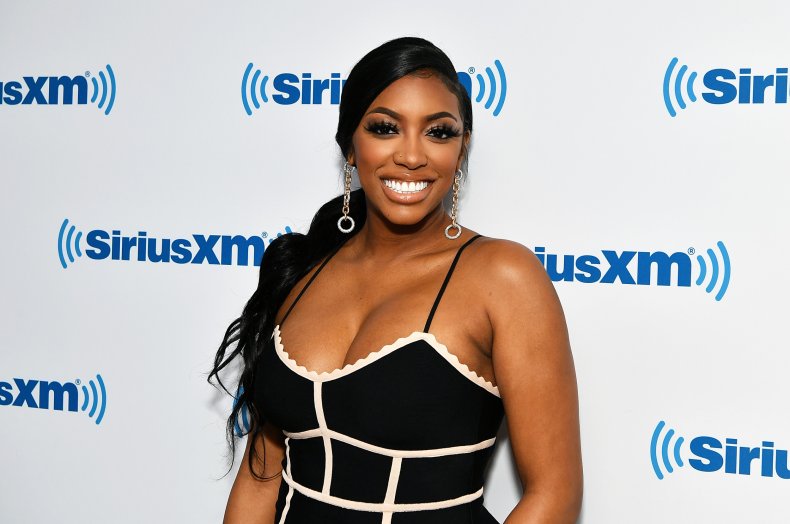 Eye witness footage posted to Twitter shows Williams being led away in handcuffs as other protestors cheer. The group was demonstrating in front of the home of Kentucky Attorney General Daniel Cameron.
Singer Jessie Woo posted the footage on social media, writing: "Porsha Williams was arrested during a peaceful Breonna Taylor protest in Atlanta. These cops really have nothing better to do. Porsha really been showing out for us."
Williams' finance Dennis McKinley posted footage of the arrest from another angle to his Instagram account.
Later in a day, a friend of Williams posted footage to Instagram of the reality star leaving a facility to loud cheers from a crowd.
Williams herself met with Taylor's mother, posting a photo of the interaction on Instagram.
"It was my pleasure! I love you and as always praying for you Ms.Tamika Palmer (Mother of #BreonnaTaylor ) Ps: Thank you for waiting on us to get out!," she wrote. "It was heart warming exiting and seeing your family @untilfreedom it was an honor @tamikadmallory @danieljaycameron Arrest the Cops! Do The RIGHT thing."
Before the protest, Williams shared a call to action on Instagram, writing: "We're in Louisville and our bottom line is there MUST be JUSTICE for #BREONNATAYLOR."
Taylor was shot and killed in her home by Louisville police officers in March—none of the officers involved in the 26-year-old's death have yet been arrested or charged with any crime.
Along with George Floyd and several others, Taylor's death has been a huge catalyst in the current Black Lives Matter movement.
Williams' sister Lauren Williams, also shared footage of the arrest to Instagram and praised her "fearless" sibling.
"She has always been fearless," she wrote. "You mess with her people, you mess with her. She takes the case of #breonnataylor personally and she's sacrificing work, time with her loved ones, and her comfort to make sure the offenders are held accountable for their actions. This is her passion, this is her purpose. God please protect them."