Jenna Jameson Says Ongoing Illness Has Been Physically, Mentally Taxing
Jenna Jameson has revealed that her ongoing health issues have proved physically and mentally challenging, as she continues to battle a mystery illness.
The former adult film star, 47, had been misdiagnosed with rare autoimmune disorder Guillain-Barré syndrome back in January as muscle atrophy in her legs left her unable to walk unaided.
And after spending several weeks in a Hawaii hospital as doctors looked into the source of her health struggles, the model has shared an update on how she's coping.
Taking to her Instagram Story on Sunday, Jameson said: "I'm still here. I'm at home, obviously. I am slowly but surely building back strength. I am walking around with a walker. My legs have lost a lot of muscle, so I'm busy trying to build it back.
"This has been not only physically taxing, but I think more than that just... very mentally challenging. I'm used to hard challenges."
In a follow-up video post, Jameson showed that despite her current inability to walk unaided, she was still able to lift and move her legs.
"I'm not paralyzed," she told her followers. "I am just dealing with extreme muscle weakness, some issues with my left [femoral] nerve... It's messy, it's not fun, but I like a good challenge, so there's that."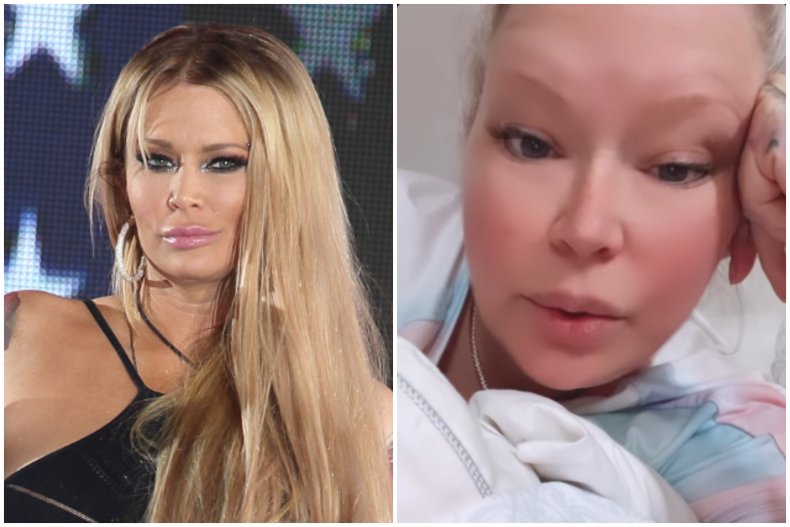 After showing the course of meat-based supplements she has been taking as part of her recovery plan, Jameson quipped: "Other than not being able to walk, life is good."
She said: "Anyway, I just wanted to pop on and let you guys know that I am fighting, I am kicking a**, I'm taking names and soon I will be back up on my feet, unaided, and life will be back to normal. I mean as normal as I can be.
"I love you guys and thanks for all your support and all the nice DMs I've gotten. It feels good to open my DMs and see the love."
In a later video, Jameson also heaped praise on her partner, Lior Bitton, with whom she shares 4-year-old daughter Batel Lu. Bitton had been sharing updates on Jameson's health in the earlier stages of her hospitalization.
Speaking about her partner, Jameson said: "He is doing as well as can be expected. He's a really strong guy, but this is a scary situation. So far, he's just been kicking a** for me.
"He travels back and forth to Los Angeles for work on Jtushy, our clothing company and he's been just picking up where I have dropped off with all this health stuff. I'm a lucky woman—finally!"
Bitton explained on Instagram back in January that Jameson had been "throwing up for a couple weeks," which led to her initial hospitalization. According to Bitton, she underwent a CT scan before doctors sent her home.
"Then she came back home and she couldn't carry herself," Bitton said. "Her muscles in her legs were very weak. So she wasn't able to walk to the bathroom.
"She was falling on the way back or to the bathroom. I would have to pick her up and carry her to bed. And then within two days it got really not so good. Her legs started to not hold her—she wasn't able to walk."
When she was diagnosed with Guillain-Barré, Jameson spoke out amid questions her illness was caused by taking a COVID vaccine. The disorder has been reported as a "very rare" possible side-effect of the Johnson & Johnson COVID shot.
"I did NOT get the jab or any jab," Jameson said in a since-deleted Instagram post. "This is NOT a reaction to the jab. Thank you for your concern."
According to the Centers for Disease Control and Prevention, Guillain-Barré is a "rare autoimmune disorder in which a person's own immune system damages the nerves, causing muscle weakness and sometimes paralysis."
Symptoms of the potentially deadly illness can last anything from weeks to several years, with some patients experiencing permanent nerve damage. Many patients diagnosed with the disorder go on to make full recoveries.