Jenna Jameson Shares Photo of Herself Using Walking Frame Amid Health Woes
Jenna Jameson has shared a photo of herself standing with the aid of a walking frame as she continues to recover from a mystery illness.
The former adult film star, 47, has been sharing regular health updates with her Instagram followers ever since she was misdiagnosed with rare autoimmune disorder Guillain-Barré syndrome in January.
On Monday, she returned to the image-sharing platform to post a photo showing her using the support of a walking frame after muscle atrophy in her legs robbed her of her ability to walk over the past several weeks.
Captioning the snapshot, which showed Jameson smiling at the camera, the actress wrote in all caps: "Getting stronger!"
Jameson had spent several weeks in a Hawaii hospital as doctors worked to discover the source of her illness—and they have yet to correctly diagnose her.
Last Thursday, the star said that she was "still sick," though her condition was improving, weeks after returning home from hospital.
"I'm still sick," she said in the self-shot video. "As you can still see, I'm in bed. But I'm at home, which is really nice. I've been getting a lot of sleep.
"We l don't know exactly what's going on. I still am unable to stand, but I am feeling better, and things are going a lot better, so thanks for your support."
After having to rely on the use of a wheelchair, Jameson in February posted a video in which she showed the toll the ongoing illness had taken on her legs.
"I still have more testing to do," she said. "But it seems there's something off with my femoral nerve and it's affecting my strength in my legs, so I am still in a wheelchair, unfortunately. But I hope to be out of the wheelchair soon and walking."
Angling the camera down to one of her legs, she went on: "So, you can see I still have movement in my leg, but my quad strength is really, really, really weak, and as you can see, I have some atrophy happening.
"My legs are incredibly skinny. But don't get too alarmed because my legs have always been ultra skinny. So don't judge me. We will be back to the best soon."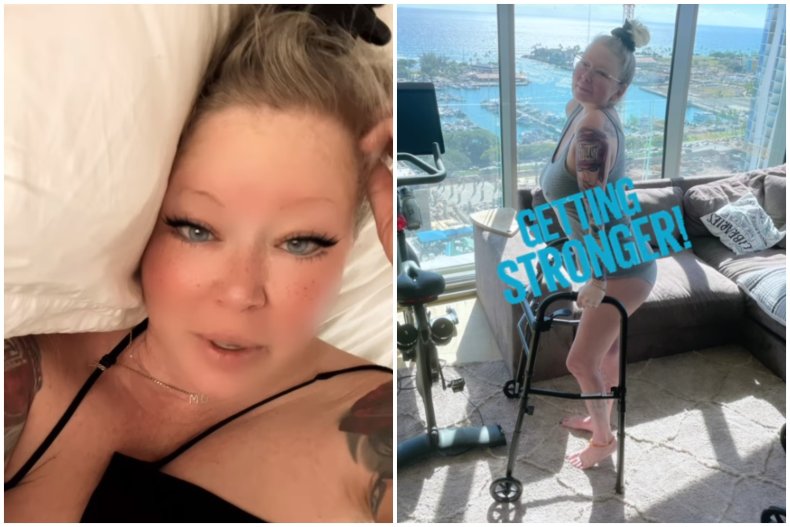 Jameson's partner, Lior Bitton, explained in a January post on the star's Instagram account that she had been "throwing up for a couple weeks," leading to her initial hospitalization. Bitton said that she was sent home after undergoing a CT scan.
"Then she came back home and she couldn't carry herself," Bitton recalled. "Her muscles in her legs were very weak. So she wasn't able to walk to the bathroom.
"She was falling on the way back or to the bathroom. I would have to pick her up and carry her to bed. And then within two days it got really not so good. Her legs started to not hold her—she wasn't able to walk."
At the time that she was diagnosed with Guillain-Barré, Jameson denied speculation that it was caused by taking a COVID vaccine. The disorder has been reported as a "very rare" possible side-effect of the Johnson & Johnson COVID shot.
"I did NOT get the jab or any jab," Jameson said in a since-deleted Instagram post. "This is NOT a reaction to the jab. Thank you for your concern."
Guillain-Barré is described by the CDC as a "rare autoimmune disorder in which a person's own immune system damages the nerves, causing muscle weakness and sometimes paralysis."
While potentially deadly, symptoms of the autoimmune disorder can last anything from weeks to several years. Some patients experience permanent nerve damage. Many patients diagnosed with the illness go on to make full recoveries.