Jenna Ryan, Texas Realtor Who Took Part in Capitol Riots, Has Business Sign Vandalized
A woman from Texas who flew by private jet to join Donald Trump supporters rioting at the U.S. Capitol had one of her business signs vandalised.
Jenna Ryan, a real estate broker and radio host from Frisco, flew to Washington, D.C. to "storm the Capitol". She has since faced intense backlash online for going to the protest and documenting it on social media.
Five people including a police officer died after Donald Trump supporters stormed the building in Washington, D.C. on Wednesday. What began as a "Stop the Steal" demonstration, during which Trump addressed the crowds and continued to push his unfounded claims of election fraud, turned into a violent siege on Capitol Hill.
Now, one of her realtor advertising signs has been vandalised in Carrollton, a city just outside of Dallas and only a few miles south of Frisco. Someone had blacked out her face and written "Trumper" and the expletives "wh***" and "c***".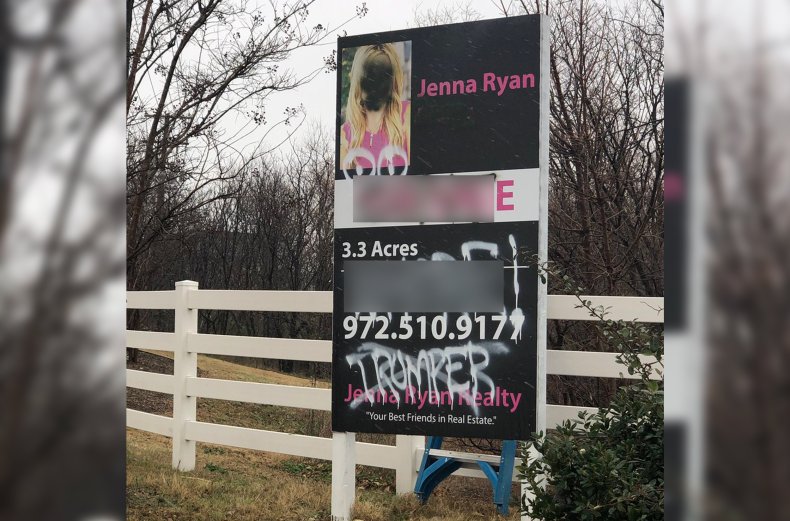 A photo of the trashed sign was shared on Twitter and the photographer, who wished to remain anonymous, said it was taken at around 3.30 p.m. on Sunday but by 6 p.m. it had been removed.
It comes after Ryan shared a statement online to say she was invited to the march for what she thought would be a peaceful protest and that she does not support violence.
She wrote: "I am a conservative Republican radio host from Dallas, Texas who loves the USA. On my show, The Jenna Ryan Show I openly discuss my political views as well as the views of others. I was invited to go to Washington D.C. by a friend to witness the march. Unfortunately, what I believed to be a peaceful political march turned into a violent protest.
"I do not condone the violence that occurred on January 6, 2020 and I am truly heartbroken for the people who have lost their lives. Hatred and violence toward each other are not going to solve our country's issues.
"As a nation, we need to come together Republican, Democrat and Independent and have an open and honest discussion about the issues in our country and resolve our issues in peace."
Ryan had come under fire after flying to D.C. in a private jet and documenting the protest online. Along with a photo that showed her next to a jet at US Trinity Aviation in Denton, Texas, she wrote: "Hopping on a plane heading to DC #MarchToSaveAmerica #stopthesteal."
On Facebook, Ryan livestreamed the walk to Capitol Hill, saying: "All these working-class people taking the week off ... We flew here for freedom. They want to steal the election, they want to steal everything."
The conservative radio host also posted a photo of herself in front of a broken window at the Capitol, with the caption: "Window at The capital. And if the news doesn't stop lying about us we're going to come after their studios next."
Later, she wrote on Twitter: "We just stormed the capital. It was one of the best days of my life." Newsweek has contacted Ryan for comment.