A woman from Texas flew by private jet to join Donald Trump supporters rioting at the U.S. Capitol.
Jenna Ryan, a real estate broker and radio host from Frisco, flew to Washington, D.C. to "storm the Capitol" and posted about the trip on social media.
"Hopping on a plane heading to DC #MarchToSaveAmerica #stopthesteal," she wrote in the caption of a photo that shows her next to a jet at US Trinity Aviation in Denton, Texas.
On Facebook, Ryan livestreamed the walk to Capitol Hill, saying: "All these working-class people taking the week off ... We flew here for freedom. They want to steal the election, they want to steal everything."
The conservative radio host also posted a photo of herself in front of a broken window at the Capitol, with the caption: "Window at The capital. And if the news doesn't stop lying about us we're going to come after their studios next."
Later, she wrote on Twitter: "We just stormed the capital. It was one of the best days of my life."
Another rioter bragged about taking part in the violent protests on Wednesday as Trump supporters tried to stop Congress certifying the result of the presidential election.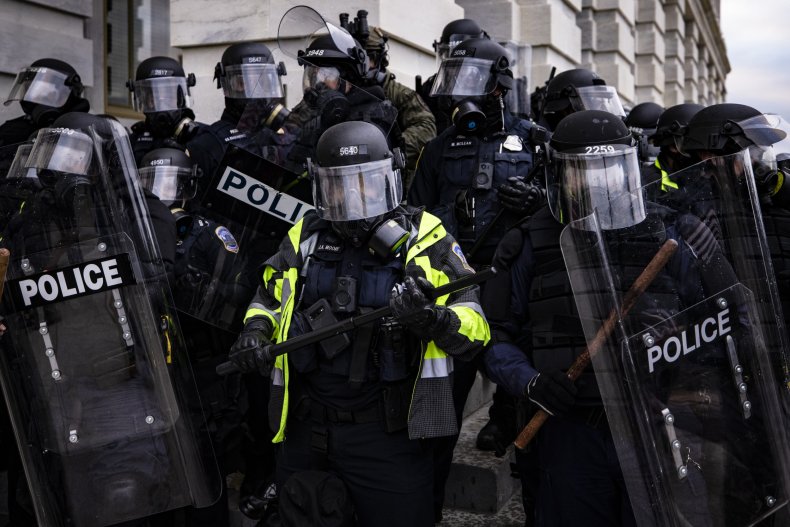 Jenny Cudd from Midland Texas filmed herself at the scene while draped in a Trump flag in a Facebook video that has been viewed more than 3 million times.
"I want to let you know what actually happened today," Cudd said. "When Pence betrayed us is when we decided to storm the Capitol ... We didn't vandalize anything but we did, as I say that, break down Nancy Pelosi's office door and somebody stole her gavel and took a picture sitting in the chair flipping off the camera."
Cudd has since deleted the video but it has cropped up on other social media platforms as many call for her arrest.
Five people died in the violence, including a U.S. Capitol police officer. The FBI has released photos of dozens of people it wants to interview in connection with the riots.
Forty photos were published on the FBI's website—the majority of which show white men, often wearing red Trump MAGA hats or draped in the U.S. flag. Several were individuals whose photos had been widely shared on social media, including a man carrying a Confederate flag. Many of those who took part have already been informally identified.