Jennifer Aniston Reveals What She's Looking For in a New Partner
Jennifer Aniston has revealed that she's ready to dip her toe back into the dating pool, after enjoying an extended period as a single woman.
The Emmy-winning actress, 52, announced her split from ex-husband Justin Theroux in 2018, and appears to have lived largely romance-free since.
But in a new interview on SiriusXM's Lunch with Bruce podcast, the Friends star disclosed that she's ready to look for love.
Speaking with host Bruce Bozzi, Aniston admitted that the ongoing novel coronavirus pandemic is one of the factors affecting her desire to meet someone new.
"There hasn't been time [to date]... and it's COVID," she said. "Although people seem to have met and found love during COVID. I don't know how it works. I'm curious to walk up to those people and go, 'So... what happened?'"
"No one of importance has hit my radar yet," she admitted. "But I think it's time. I think I'm ready to share myself with another. I didn't want to for a long time and, and I loved really, being my own woman without... being part of a couple.
"I've been a part of a couple since I was 20. So there was something really nice about taking the time."
However, while Aniston is open to romance, she's not keen on employing the modern method of using dating apps.
"No Tinders and no Raya please," the screen star insisted. "I'm an old-school girl," explaining she wants that she's moved by the "chemistry" when seeing someone "from across the room."
"People don't come up to people anymore, people don't do that," she observed of the change in dating culture. "It's weird."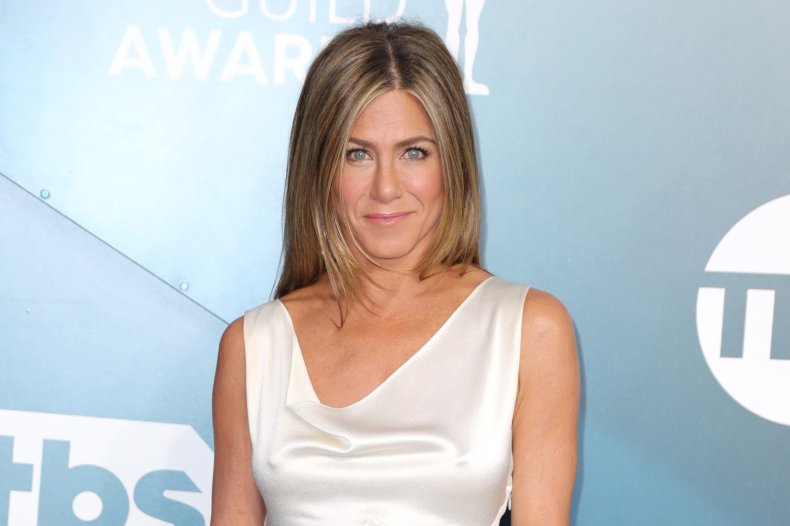 Aniston also went on to briefly detail what she wants in her next partner—with their ability to kiss well being one of the factors that matter.
"It's pretty important," she said of her partner's lip-locking abilities. "That, and also the ease at which the conversation flows the first time. That's kind of a good indicator.
"Confidence, but not a cockiness. Humor, please I beg of you... Generous, kind to people, you know, it's just very few necessities required!"
"Fitness is important and not just about like how you look," she added. "I want to be around here for a long time and not be in a wheelchair when I am 80."
In a recent interview with People, Aniston—who was married to Brad Pitt between 2000 and 2005—was asked if she would consider another trip down the aisle.
"Oh God, I don't know," she responded. "It's not on my radar. I'm interested in finding a fantastic partner and just living an enjoyable life and having fun with one another. That's all we should hope for. It doesn't have to be etched in stone in legal documents."
She has also told the publication that she is open to dating somebody who is "not necessarily somebody in the industry itself."
In August, a representative for Aniston denied reports that she had embarked on a romantic relationship with former co-star David Schwimmer, after they confessed to having once harbored real-life crushes on one another on May's Friends: The Reunion.
"I could not believe that, actually. Like, really? That's my brother! But I understand it, though," Aniston told Entertainment Tonight earlier this month as she discussed the rumors. "It just shows you how hopeful people are for fantasies for dreams to come true."