Jennifer Howell: Heard's Sister 'Doing Something Very Wrong' in Depp Trial
Amber Heard's sister, Whitney Henriquez, is "doing something very wrong" testifying in the star's defense during her defamation trial, former friend Jennifer Howell was shown saying in court on Tuesday.
Heard is currently in the midst of a court battle with ex-husband Johnny Depp, who has sued her for $50 million over a 2018 op-ed for The Washington Post, in which she stated that she was a domestic abuse survivor.
While Heard, 36, did not name Depp, 58, in the article, his lawyers have argued that it was clear she was referring to the actor, who she is countersuing for $100 million. The exes have denied one another's allegations of domestic abuse.
Howell's deposition was played in Virginia's Fairfax County Circuit Courthouse on Tuesday, where she was heard speaking about her relationship with Henriquez.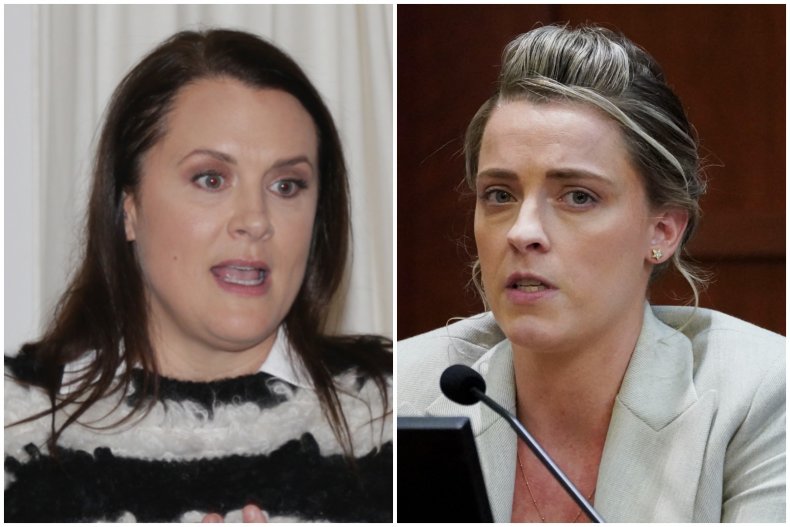 Howell, CEO and founder of the nonprofit The Art of Elysium, said in the video that while she "loved" Henriquez, she believed she was "trying to protect her sister."
The philanthropist confirmed in the deposition that she had sent an email to her former friend and employee Henriquez in July 2020, urging her to "tell the truth" about Heard's tumultuous relationship with Depp.
"I struggled very much with what to do in a situation that I loved someone who I know is doing something very wrong and I know that they're doing it because they're trying to protect their sister and I'm trying to protect her," Howell said of the email.
"And I'm just trying to get her to wake up and do the right thing, which is tell the truth. That's the only thing that can help everyone involved in this thing."
During her video testimony, Howell said that she first met Heard and Henriquez at a party following the Los Angeles premiere of Pineapple Express in 2008. Heard had a role in the comedy.
Henriquez went on to volunteer at The Art of Elysium for six months in 2014, before going on to become a full-time paid employee, working as art salon manager/director between 2015 and 2016.
In 2015, Henriquez moved out of the Los Angeles penthouse Depp and Heard shared at the time to live with Howell following an alleged altercation.
Henriquez recently testified in court that Depp struck her in the back, threw a Red Bull can at a friend, and grabbed Heard by the hair and hit her. She also claimed that Depp asked her to sign a non-disclosure agreement. Henriquez said she refused and moved out of the property soon afterward.
However, Howell said in her testimony that during the time she was friendly with Heard, the screen star never mentioned that Depp had ever been abusive.
Howell became a talking point on social media during the latter stages of the trial due to the circulation of a court declaration dated July 26, 2020.
Although some versions of the document bear a Fairfax County Government letterhead, it was not admitted as evidence in the trial. Heard's lawyers have argued that it was falsely procured and passed off as evidence to mislead the public.
Howell's declaration appeared to be made in reaction to Henriquez's testimony in 2020 in a London court, where Depp had filed a libel lawsuit against British tabloid The Sun for referring to him as a "wife-beater," referencing Heard's allegations.
"I have learned that Whitney testified in court July 23 in London about a violent incident in March 2015 on the stars at Johnny Depp's penthouse," reads the declaration. "She testified that Johnny supposedly hit Amber and Whitney on the stars at Johnny's downtown penthouse."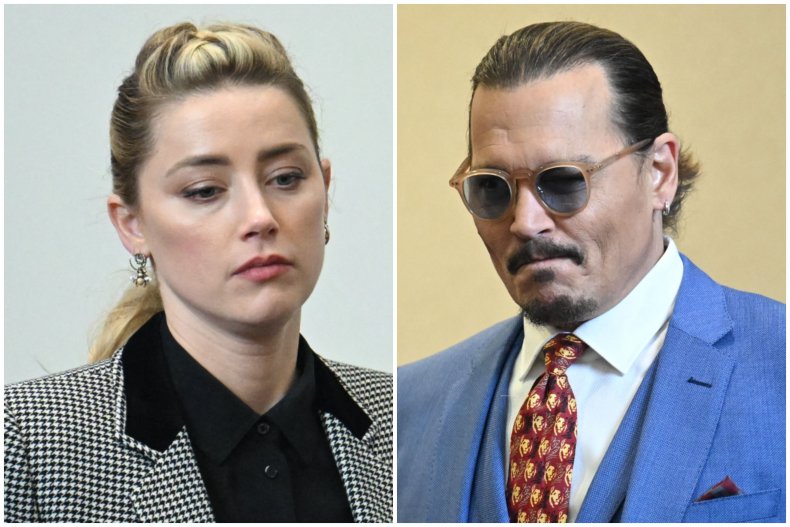 "Then Whitney said she had to go live with her employer where she had to sleep on their floor. I am that employer. This is not what I was told to be true," the declaration continues.
"First, Whitney came to live in the guest room of my apartment on Wilshire Boulevard, not on my floor but in my guest room. Second, when Whitney arrived, she was a mess. Whitney told me she tried to stop her sister Amber from hitting and attacking Johnny on the stairs."
"Whitney said when she tried to intervene to stop Amber from going after Johnny, Amber nearly pushed Whitney down the stairs. She told me she was worried Amber 'was going to kill Johnny,'" the declaration goes on.
While Heard has denied being violent in her relationships, the declaration asserts that Howell was told by Henriquez that the alleged violent scenes between the now-exes were a continuation of the abuse she had endured for several years.
The declaration lists a host of other allegations, including claims that Henriquez stated while at work that Heard had cut off Depp's finger. Heard has denied Depp's allegation that this occurred, accusing him of doing it himself.
According to the document, Henriquez had determined her sister to be the violent one in their tumultuous relationship.
Henriquez spoke out against the allegations made in the declaration in July 2020, telling The Mirror in a statement: "This is complete fiction. Jennifer Howell's statements do not bear any relationship to the truth and I have no idea why she is saying this."
While the declaration is included in the more than 250 pages of court documents on Virginia's Fairfax County Circuit Courthouse's website, it is stated early on in the file that Heard's legal team wants the declaration to be excluded.
The declaration, it says, "was never produced to Defendant and was procured by false subpoenas never served on Defendant's counsel. Instead, Plaintiff's counsel Adam Waldman 'leaked' this declaration created by him on his [Twitter] account.
"The Court Ordered Plaintiff to produce this document and all documents transmitted to the press or social media users, but consistent with his conduct in this case Plaintiff refused to produce it, so Defendant only possesses the screenshot from Mr. Waldman's tweet.
"Because of the violation of this Court's Order, the Declaration and all information included, should be excluded as a sanction."
The Depp v. Heard trial continues Wednesday, and Newsweek will be covering all the breaking stories from the Fairfax County courtroom on our live blog.