Now that they're back together, Jennifer Lopez may have to tell Ben Affleck what she really thinks about his "awful" back tattoo.
A resurfaced clip from 2016 shows J. Lo giving her honest opinion about Affleck's phoenix back tattoo during a segment on What What Happens Live with Andy Cohen.
J. Lo and Affleck, or as they're affectionately known, Bennifer, reunited recently. They dated in the early 2000s, broke up, but then reportedly reunited in early 2021. Earlier this month Lopez confirmed she and Affleck are engaged for a second time.
They were apart for over 17 years and in that time, both progressed their careers, married different people, and in Affleck's case, got enormous body tattoos.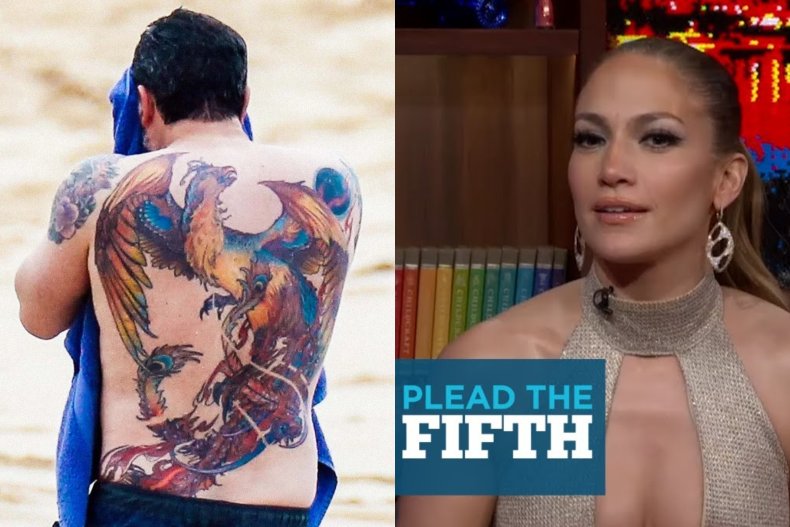 Affleck's new tattoo was the topic of discussion between J. Lo and Cohen in 2016 when they played the game Plead the Fifth. In the clip, which was resurfaced by the Instagram account Bravohistorian, Lopez didn't hold back in her assessment of the tattoo when she was shown a picture.
"It's awful," she yelled at Cohen. "I mean, I would tell him that. I would tell him like, what are you doing?'"
The team behind the camera laughed at Lopez's assessment of the phoenix tattoo. "It has too many colors, his tattoos always have too many colors." She continued, "They shouldn't be so colorful. You know what I mean? They should be like, cooler. I don't know."
In March 2019, Affleck directly addressed his back tattoo during an appearance on The Ellen Show. During his conversation with Ellen DeGeneres, he admitted that while he knows the majority of people don't like his tattoo, he "loves" it.
"It represents something really important to me," he told DeGeneres, "It's meaningful to me, I like it."
Affleck's ex-wife Jennifer Garner also commented on the back tattoo in 2016. During a conversation with Vanity Fair, she was asked about her opinion of the tattoo. "You know what we would say in my hometown about that? 'Bless his heart,'" Garner joked. "A phoenix rising from the ashes. Am I the ashes in this scenario?"
"I take umbrage. I refuse to be the ashes," Garner added. Affleck and Garner announced their separation in June 2015, bringing their ten-year marriage to an end. Their divorce was finalised in October 2018.
Affleck's long-time friend and collaborator Matt Damon was also asked for his opinion on the back tattoo. "It's not one man's job to tell another man what he can do to his back," he told The Daily Show with Trevor Noah. "I support him in all of his artistic expression."