Jennifer Lopez and Ben Affleck are engaged again after rekindling their romance in 2021.
Nearly two decades after the stars called it quits on their previous engagement, Lopez, 52, announced the news in a short video on her "On the JLo" fan newsletter late Friday.
Lopez and Affleck, 49, were previously engaged back in 2002 before they split in 2004. The pair parted ways before reuniting last year.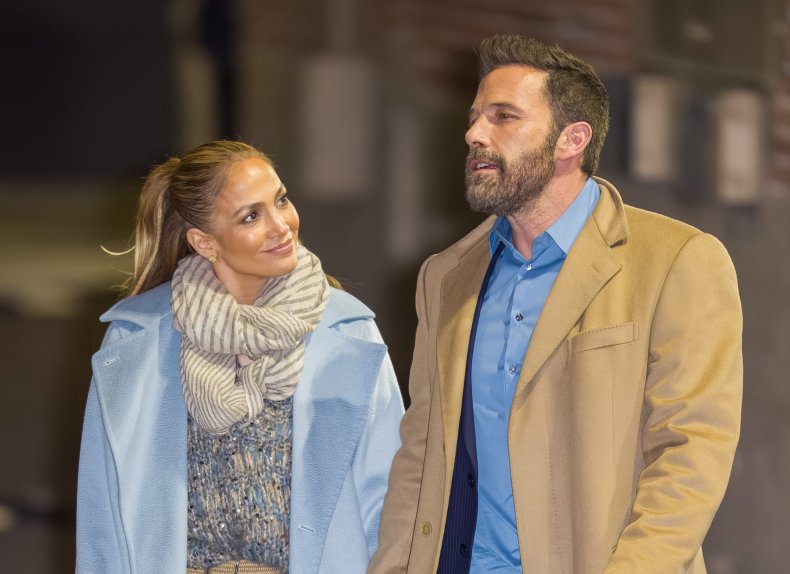 "So I have a really exciting and special story to share," the actress and singer said in a short clip posted to her social media pages, captioned,"Major announcement!!!!"
Lopez added a ring emoji to her Twitter display name.
She directed her fans in the video to her official website, describing her newsletter as her "inner circle" where she shares her "more personal things."
"And this one's definitely on the JLo," Lopez said.
The video shows an emotional Lopez admiring a green diamond ring, whispering: "You're perfect."
Lopez's sister, Lynda, also shared a photograph of the ring on her Instagram Stories. She wrote: "So this happened. Love you @jlo #benaffleck."
Newsweek has contacted representatives for Lopez and Affleck for comment.
Affleck previously proposed to Lopez in 2002 with a pink ring, and the pair reconnected romantically last year.
Describing their relationship in an interview with People in February, Lopez said: "It's a beautiful love story that we got a second chance."
"I feel so lucky and happy and proud to be with him," the star said. "I've never been better. It's just that we're all in a very beautiful moment."
Lopez said she and Affleck are more protective of their relationship this time around.
"We both were like, 'Wow, we're so happy and we don't want any of that to come into play again,'" she explained. "We're older now, we're smarter, we have more experience, we're at different places in our lives, we have kids now, and we have to be very conscious of those things. We're so protective because it is such a beautiful time for all of us."
She told the media outlet that she feels "very happy and lucky to be in a relationship that's happy and loving."
"I want to do everything I can to protect that and keep it safe. It deserves that, it really does. [...] We hold it sacred," Lopez added. "To see the person, the human being, the man that he is today, the father that he is today, the partner that he is—he is so everything I always knew he was and wanted to be."
The pair first met in 2002 on the set of Gigli, a romantic comedy which struggled at the box office.