Jenny Cudd, Capitol Rioter Who Said She'd 'Do It Again,' Arrested by FBI
Jenny Cudd, one of the rioters who participated in last week's attack on the U.S. Capitol complex, has reportedly been arrested by federal authorities for her role in the violent siege.
FBI agents took Cudd into custody after the Midland, Texas, business owner and former mayoral candidate boasted about her involvement in the assault on social media. KOSA-TV, a news station based in western Texas, initially published information about Cudd's arrest on Wednesday morning.
Twitter users urged the FBI to take action against Cudd in numerous posts shared to the social platform throughout the past week. Most referenced the Trump supporter's unnerving sense of pride as she recounted events that took place at the Capitol in a video that rapidly went viral online.
"I'm proud of everything that I was part of today and I'll be proud of everything that I'll be a part of at the next one, and we'll see what happens at that," she said of the riot. "I hope you will share this video because we know that...mainstream media isn't going to cover it."
Cudd told KOSA that she would "do it again, and I'd have a gas mask next time," during a subsequent interview with the outlet.
The Texas resident, a florist who ran for mayor of Midland in 2019, stormed the Capitol alongside thousands of Donald Trump's supporters on January 6, as Congress held joint sessions to certify President-elect Joe Biden's victory. Trump's proponents traveled to Washington, D.C., from across the country ahead of the certification, to attend a "Save America" rally hosted by the sitting president. The rally aimed to protest Trump's loss during November's general election, despite no existing evidence to substantiate his claims that Biden won illegitimately.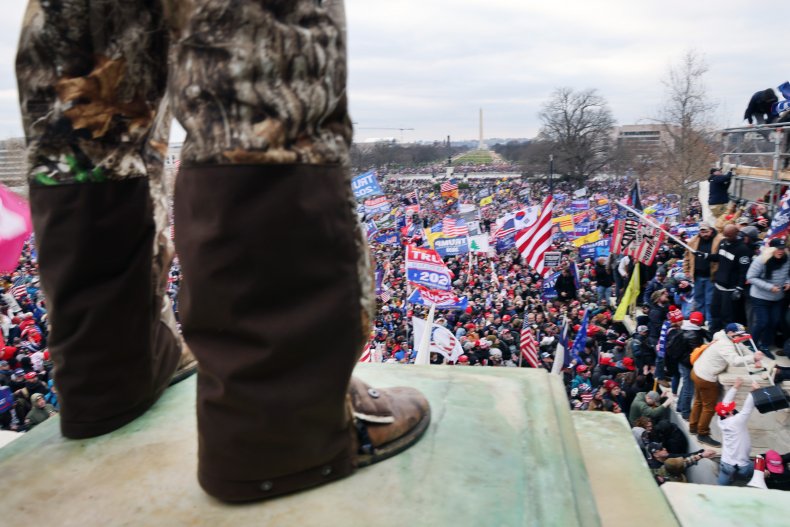 Photos and videos of the following riot showed crowds swarming the Capitol entrance, while a smaller group breached the complex itself. Cudd unlawfully entered the Capitol alongside others associated with that group, and acknowledged her participation in a Facebook live video that garnered millions of views shortly thereafter. She recalled breaking into House Speaker Nancy Pelosi's office with a smile.
"We did break down Nancy Pelosi's office door, and somebody stole her gavel and took a picture sitting in the chair, flipping off the camera. And that was on Fox News," Cudd said. "Patriots got down on the floor and were sitting in the House members and the senators' chairs."
Cudd's use of "patriots" referred to fellow rioters.
Newsweek reached out to the FBI's El Paso Field Office, which manages West Texas cases, for confirmation and further comment but did not receive a reply in time for publication.
This story was updated at 1:15 p.m. ET with additional details and background information.