'Jeopardy!' Champ Matt Amodio Praises James Holzhauer As He Nears His Record
Jeopardy! champ Matt Amodio has proved to be quite the compelling force since arriving on the show over the summer, thanks to his impressive win streak.
And when the Ph.D. Yale student was seen bringing his victory total up to a jaw-dropping 31 on Wednesday night's episode, it was not lost on fans that he's just one game away from equaling the second-place record held by James Holzhauer.
Holzhauer achieved his 32-game feat in 2019, earning himself an eye-watering $2,462,216 in winnings as he etched his name in the show's record books.
And while Amodio, whose cash prize currently stands at $1,158,001 has certainly earned himself some bragging rights, he took to Twitter late Wednesday to humbly rank his abilities far behind those of The Chase star Holzhauer.
He wrote on the platform: "Tomorrow on #Jeopardy I have the chance to remind everybody how much better than me @James_Holzhauer is in literally every way. It would be an honor to be unfavorably compared to a person I admire so much!"
Responding to a follower's comment about admiring Holzhauer as a family man, Amodio added: "When I was watching him on TV and he mentioned his family it just warmed my heart. He's clearly a great person and a great showman."
While some of Amodio's followers took the tweet as a show of humility, a number of others expressed fears that the Ohio native was hinting at a near-future loss on the pre-recorded show.
For his part, Holzhauer has yet to publicly comment on Amodio's run possibly overtaking his own record, though he has taken a playful jab at the rising star.
On September 23, he uploaded two side-by-side photos of himself and Amodio, in which he compared their 23-day prize totals.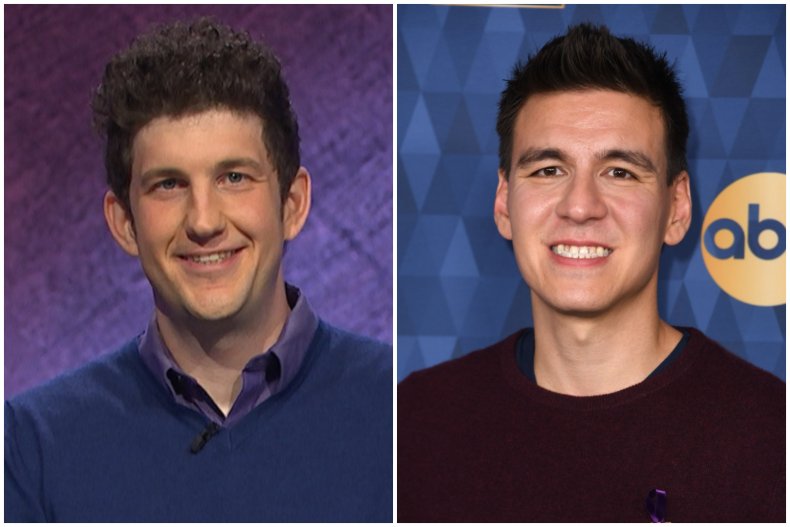 With Holzhauer showing $1,780,237 compared to Amodio's $825,801, he wrote: "When you order something online vs. when it arrives."
Amodio playfully shot back: "I thought these memes were supposed to have the more attractive person on the left."
Even the official Jeopardy! Twitter account got in on the banter, sharing a message that read: "This is how you know you've made it, @AmodioMatt!"
While Holzhauer and Amodio hold impressive records, they're a considerable number of games behind all-time champ Ken Jennings, who clocked up 74 straight wins when he appeared on Jeopardy! back in 2004.
Contestants have benefited from a vital rule change that was made at the start of the show's 20th season in 2003, allowing players to clock up as many wins as they're able to. Previously, contestants were limited to five consecutive games.
Jennings has since become a part of the Jeopardy! family, serving as a consulting producer and splitting show hosting duties with Mayim Bialik for the remainder of 2021, before producers make a decision on the final host.
In a Jeopardy! Q&A shared on YouTube earlier this September, Amodio admitted that he didn't initially think he would be "good enough" to compete on the show.
"So I like Jeopardy! I've seen, I think, every episode in my lifetime," Amodio said. "And I, nonetheless, didn't think I would be good enough to be on the show.
"My dad said, 'Take the Anytime Test. Nothing worse can happen than you won't get on, so just give it a try.'
"I said, 'Fine, I'll do it for you.' And I got a call, and then I got another call, and now I'm here and I just can't believe it."
The Jeopardy! Anytime Test, which is on the show's website, gives hopeful contestants 15 seconds to answer 50 clues as a way of determining whether they're up to the task of appearing on the show.