How 'Jeopardy!' Hosts Mayim Bialik and Mike Richards Will Work Together
Mayim Bialik and Mike Richards have been named as the two new hosts to take over from Alex Trebek on Jeopardy!.
The classic game show is set for a major shake up, with the role of host permanently split between two people. Bialik will be the first ever permanent female host, and there's also new versions of the show coming to television.
Bialik has been reacting to the news on social media, and shared an insight into how she and Richards will effectively split the role between them.
Who will host Jeopardy! and when?
Richards and Bialik are splitting hosting duties to share the load, which will enable them both to continue their other jobs on television.
In the official announcement made by Sony on Wednesday, it was stated that Richards will kick off the upcoming Season 38 of Jeopardy! and will permanently host the daily syndicated program.
Bialik on the other hand will host the many Jeopardy! primetime and spin-off series, including the all-new Jeopardy! National College Championship which is set to air on ABC next year.
This new special edition of the game will feature 15 colleges from across the country going head-to-head for two weeks of intense competition.
Richards will continue to serve as executive producer on all versions of Jeopardy! and will also continue as executive producer on Wheel of Fortune.
Bialik has confirmed she will carry on starring in the Fox sitcom Call Me Kat, which has been renewed for a second season, and also continue hosting her podcast Mayim Bialik's Breakdown.
What has Mayim Bialik said about becoming host?
Bialik posted a 3-minute video to Instagram to share her feelings about the exciting news.
She said: "I'm super freaked out about it. I'm very very thrilled. I would be remise if I did not acknowledge that I am a second generation American and my grandparents were immigrants. My mother's parents never really had a command of the English language and it's a tremendously bizarre and humbling and surreal experience to see that in the time that my grandparents fled Eastern Europe until now, how much has changed in my life. This is crazy."
Bialik also paid tribute to her new Jeopardy! co-host. She said: "Mike Richards is actually the one who trained me. He's the executive producer and I had a really really amazing time with him." Bialik admits she cried when her stint as guest host was over earlier this year and she said Richards may have shed a tear too.
She also revealed how we have her son to thank for landing her the gig; after he saw a suggestion online that Mayim Bialik should host Jeopardy!, she says she rang her agent to enquire for her but he was already on it.
Throughout the last season of Jeopardy!, Richard, Bialik and other celebrity hosts have shared hosting duties. Bialik addressed one of the fan favourites in her video message. "And if you didn't like me as the new host of Jeopardy!, I'm sorry. I love LeVar Burton. I've worked with him on The Big Bang Theory. I really have great respect for everyone who guest hosted."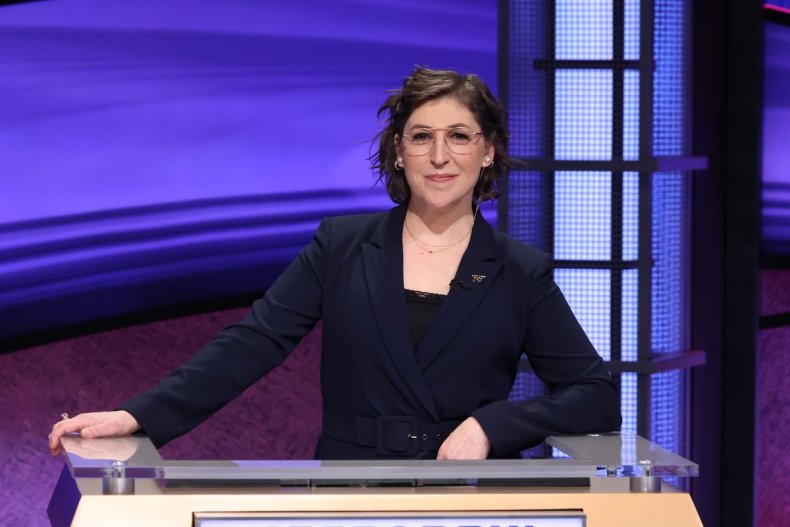 What has Mike Richards said about becoming host?
Richards hasn't posted on social media but in a statement sent to Newsweek he said: "Never in my wildest dreams could I have imagined being chosen to step into a role of this magnitude.
"I am incredibly humbled to step behind the lectern and will work tirelessly to make sure our brilliant contestants shine in each and every episode."
Since he served as executive producer for many years, he got to see legendary host Trebek up close. He said: "I was fortunate to witness his professionalism, intensity and kindness up close and that will serve as the ultimate blueprint as we continue to produce the show we love."
Richards also made sure to share his excitement about his new co-host, and praised Bialik's background as a neuroscientist. "Her academic track record and enthusiasm for the game made her a terrific guest host. It will be a privilege to produce the primetime series with her as host," he said.
Mike Richards will begin his role as the daily host of Jeopardy! when Season 38 starts on September 13, 2021. It's not known yet when Mayim Bialik will make her debut as the new permanent host of primetime and spin-off shows.