'Jeopardy!' Contestant Names His Child After Late Host Alex Trebek
November 8 marks one year since Jeopardy! host Alex Trebek's death, and he is still widely regarded as the legendary face of the show.
A contestant on Wednesday's installment of the show revealed that he named his son after the beloved TV host, who presented Jeopardy! from 1984 until 2020.
As current host Mayim Bialik introduced the contestants, she said to contender Julian Huerta: "You found out about your Jeopardy! callback on a very important day."
Huerta, a sales manager from Thornton, Colorado, responded: "Yes, so we actually got the original email that we were gonna be called back to go through the audition process.
"And my wife happened to just drop the same day that we were pregnant as well. And so we actually ended up naming my son Alex."
"That is beautiful," said Bialik, who confirmed with Huetra that he and his wife welcomed twins.
"Emma is my daughter as well," replied Huerta, prompting Bialik to quip: "Not Trebek?"
Trebek died aged 80 in November, 20 months after being diagnosed with Stage IV pancreatic cancer.
A touching tribute was paid to late late host during the Season 38 Jeopardy! premiere in September, when it was revealed that the Los Angeles soundstage where the show is taped had been renamed in his honor.
A post was shared on the Jeopardy! Twitter account, showing his widow Jane Trebek and her husband's three children, Matthew, Emily and Nicky, standing by a plaque emblazoned with the words "The Alex Trebek Stage."
A statement shared on the show's official website read: "Formerly known simply as Stage 10, the set was officially renamed in honor of the late Mr. Trebek: he hosted more than 8,200 episodes of Jeopardy!, many of them from this stage."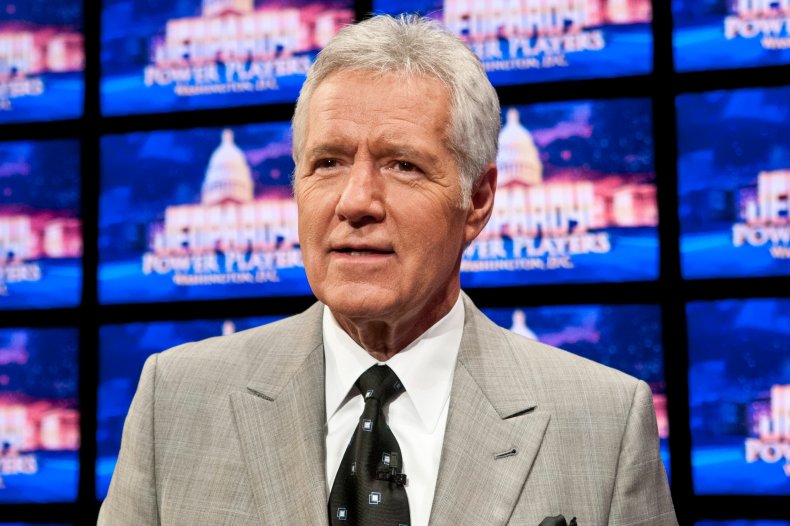 Since Trebek's death, the road to finding a permanent presenter to replace him has been a long and rocky one, starting with a revolving door of celebrities that guest-hosted the show in episodes aired from January to August.
Jeopardy! executive producer Mike Richards was eventually announced as the new host on August 11, with Bialik unveiled as the presenter of the show's tournaments and specials.
Just nine days later, Richards stepped down from his role amid backlash over a series of offensive comments he had made on his now-defunct podcast. The fallout also led to him losing his executive producer position by the end of August.
Bialik has since stepped in to host the primetime show, and will split presenting duties with Jeopardy! all-time champ Ken Jennings for the remainder of 2021.
In an October interview with Newsweek, former contestant Arthur Chu criticized Jeopardy! producers, accusing them of not having been "respectful" of Trebek's wishes with their choice of his successor.
"I was rooting for Ken Jennings as host out of solidarity as a fellow former contestant, and because it really seems like he was Alex Trebek's choice for a successor, hence Trebek giving him his cufflinks and having him narrate his audiobook.
"But ultimately most of what anyone would need to know to have an informed opinion is stuff that we'll never find out about without someone leaking it from behind the scenes."
"I don't have strong opinions on it other than that I think there's some clear signs Alex Trebek's preferred successor was Ken Jennings and it would have been more respectful to abide by his wishes," he added.