Did Matt Amodio Throw the Game? Why 'Jeopardy!' Fans Think He Lost on Purpose
Matt Amodio's Jeopardy! loss is proving to be a bitter pill to swallow for many of the show's fans, who have accused the former champ of throwing the game—even though he faced a mathematical struggle to come out on top.
The Yale Ph.D. candidate's phenomenal 38-game win streak came to an end during Monday's episode, when he landed in last place in the "Final Jeopardy" round after failing to answer the clue correctly—unlike his two opponents.
Going into the round $4,000 behind the leading opponent and $3,800 behind the second-placed player, Amodio bet less than half of his $10,600 earned during the game. Winner Jonathan Fisher doubled his earnings to end on $29,200, while Jessica Stephens finished with a score of $28,799.
However, should Amodio have bet his entire total, he still would have fallen short, given that the other two had a larger pool of winnings to wager.
The clue that stumped Amodio? "Nazi Germany annexed this nation and divided it into regions of the Alps and the Danube; the Allies later divided it into four sectors."
While the correct answer was Austria, Amodio was the only one of the three to get it wrong as he guessed Poland—leading a number of fans to accuse the Ohio native of throwing a game in a bid to return to his studies.
Following the broadcast of the episode, Amodio wrote on Twitter: "Congrats to today's two brilliant challengers for making it an exciting game of #Jeopardy today! Let's celebrate a match well played by Jonathan and Jessica!"
Responding to him directly, one viewer boldly stated: "Pretty obvious you threw the game to return to your phd studies but it's been fun watching you 👏🏼."
"Not saying he threw that game, but it seemed like Matt Amodio threw that game," wrote another. "Absolutely unbelievable that he wouldn't know Austria there."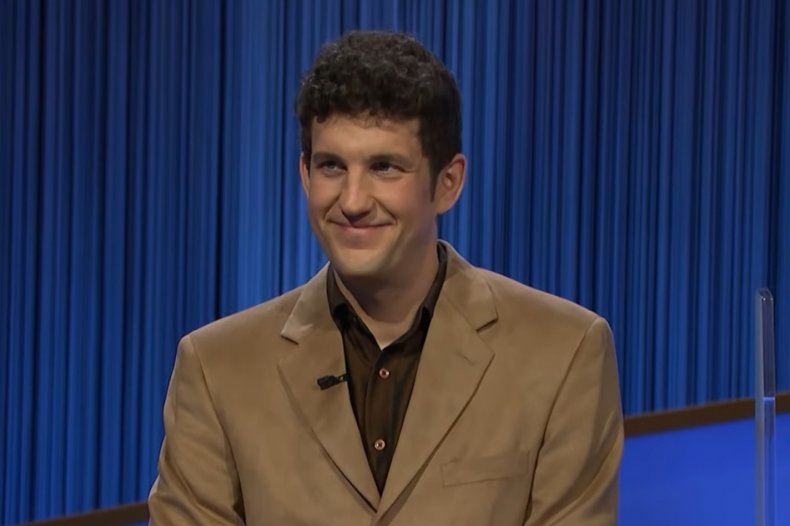 "Matt Amodio definitely took a dive," tweeted an outraged fan of the syndicated quiz show. "He was down at Final #Jeopardy He had about $10,000. What the Hell?! Try and win! He only bid at Final #Jeopardy $5,000 as opposed to bidding it all to win with as big a lead as possible. He lost on purpose!"
Also focusing on the final round of the show, another said: "There is no way Matt Amodio did not know that Final Jeopardy question not to mention some of the others he missed. I think he threw that game but why would he do that?"
One viewer presented their own theory that Amodio, who holds the record for the second-longest win streak, bowed out as a sign of respect to Ken Jennings, who sits in the top spot with a run of 74 consecutive victories.
One fan wrote: "Did anybody else get the feeling that Matt Amodio threw tonight's game on purpose? He's got $1.5M, second highest win streak ever, so much farther to K Jennings record, he bowed out with respect, LEGEND STATUS."
Amid the flood of comments, another theorized: "@AmodioMatt totally threw that game tonight, maybe the fame was getting to him."
Newsweek has contacted a representative of Jeopardy! for comment.
Conspiracy theories aside, Amodio showed his signature humility in a statement released shortly after his Jeopardy! loss was televised.
"Everybody's so smart and so competent that this could happen any game. And this time it did," the artificial intelligence researcher said.
"I always wanted to be a Jeopardy! champion, and I accomplished that," he continued. "l know going into every bar trivia game that I play that I'm going to come in with a little intimidation factor.
"But also, I just like the badge that it represents. As somebody who prioritizes knowledge and knowing things, this is really a good one to have following me everywhere."
While Amodio is no longer in regular play on the popular show, he will be returning to screens for the next "Tournament of Champions" competition.