Jeopardy! champion Matt Amodio may have lost his 39th game on Monday but fans who were sad to see him must not despair. His future on the show isn't over.
Following his historic 38-game streak, Amodio will appear on the next "Tournament of Champions," a special two-week Jeopardy! tournament featuring around 15 players who've won around four or five games.
There are now five eligible players in the next "Tournament of Champions" with Amodio taking a significant lead over his opponents. Ranking only behind Ken Jennings in most consecutive wins, Amodio also finished third on the list of all-time, non-tournament cash winners with $1.5 million.
"I always wanted to be a Jeopardy! champion, and I accomplished that," Amodio added. "l know going into every bar trivia game that I play that I'm going to come in with a little intimidation factor. But also, I just like the badge that it represents. As somebody who prioritizes knowledge and knowing things, this is really a good one to have following me everywhere."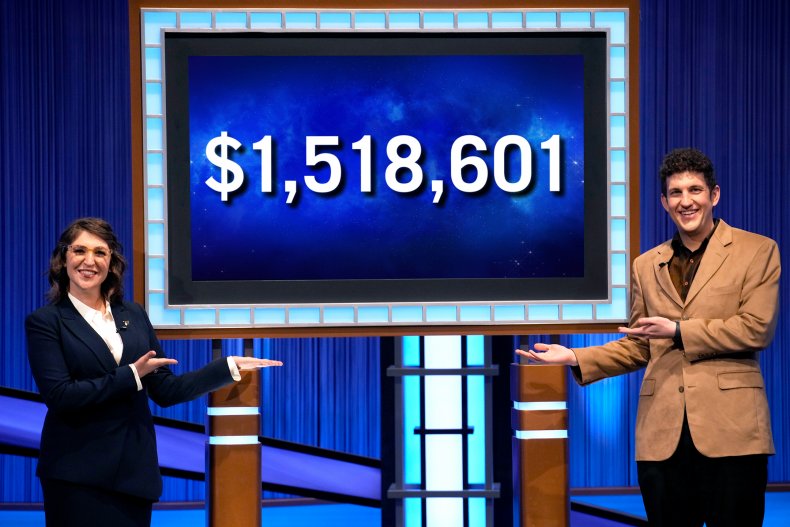 Behind Amodio on the list of eligible players is Brian Chang who won seven games and earned $163,904. Next on the list is Courtney Shah who also won 7 games and took home $118,558. Zach Newkirk completed 6 games and earned $124,871. The remaining contestant is John Focht who finished four games and won $103,800.
Based on recent years, fans speculate that the next "Tournament of Champions" competition won't air until the fall of 2022. The Jeopardy! "National College Championship" is also set to premiere primetime on ABC sometime next year.
Typically, the "Tournament of Champions" features the show's most successful champions and the biggest winners who appeared during the last tournament, with bids automatically given to the winners of any college championships or teacher tournaments. However, the show's producers control who is eligible and can change the rules as needed. It began in 1985 and lasts 10 episodes over a 14 day period.
In 2005, Jeopardy! hosted a special 15-week single-elimination tournament featuring 145 contests called the "Ultimate Tournament of Champions."
Minnesota substitute teacher Sam Kavanaugh was crowned the "Tournament of Champions" winner in May 2021 and took home the first-place prize of $250,000. The contest featured the most recent champions from November 2019 to the end of 2020.
Amodio's run on the show came to a close when he failed to correctly answer the Final Jeopardy question.
The category was "Countries of the World," and the clue read: "Nazi Germany annexed this nation and divided it into regions of the Alps and the Danube; the Allies later divided it into four sectors."
The correct answer was "What is Austria?" but Amodio incorrectly guessed Poland.
"Everybody's so smart and so competent that this could happen any game," Amodio said. "And this time it did."