'Jeopardy!': When Will Mike Richards and Mayim Bialik Become the Permanent Hosts?
Jeopardy! is bringing its eight months of guest hosts to an end this August, with Joe Buck's last episode behind the lectern airing on August 13.
After that point, two people will become the permanent hosts of the game show, taking over from the late Alex Trebek. Jeopardy! executive producer Mike Richards will present the main show, while The Big Bang Theory actor (and neuroscientist) Mayim Bialik will host a series of spin-offs and primetime specials.
Richards previously hosted the show in February, while Bialik presented in May. Both will soon head back into the Jeopardy! studio to film new episodes. Here's when those new episodes will start airing.
When Will Mike Richards Take Over asHost?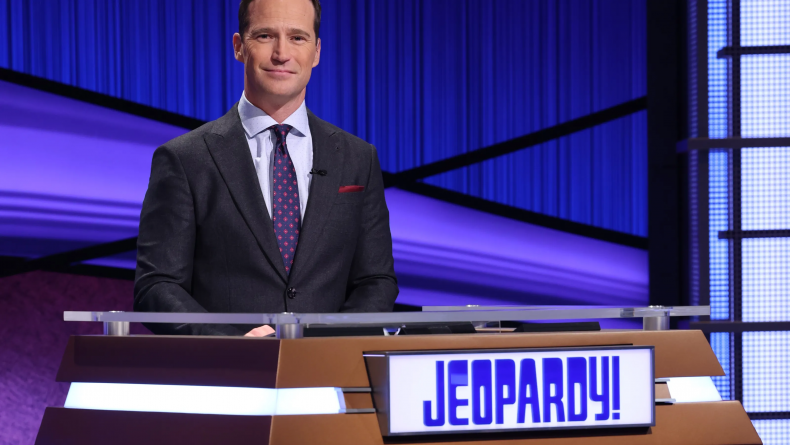 Production on Season 38 of the show is set to start in August 2021, and the first episodes with Richards as the permanent host will begin shortly after that.
Specifically, The Hollywood Reporter revealed that the new Richards episodes will start airing on the networks that syndicate the show from Monday, September 13.
"I am incredibly humbled to step behind the lectern and will work tirelessly to make sure our brilliant contestants shine in each and every episode," Richards said of his appointment in a statement.
"Alex believed the game itself and the contestants are the most important aspects of the show. I was fortunate to witness his professionalism, intensity and kindness up close and that will serve as the ultimate blueprint as we continue to produce the show we love."
When Will Mayim Bialik Host the Show?
It seems that viewers won't see the Blossom actor return to the podium until 2022.
In August, Jeopardy! makers Sony Television announced that she would host the Jeopardy! National College Championship, which is set to air in primetime next year.
This competition will be the latest primetime version of the game show to air on ABC following the success of The Greatest of All Time tournament in early 2020. This new format will see 15 colleges compete, with each winning student taking home $100,000.
ABC hasn't yet revealed exactly when in 2022 she will be hosting this new championship, or indeed what these other primetime episodes and specials will be.
In a statement, Bialik said of her upcoming role: "What started out with my 15-year-old repeating a rumor from Instagram that I should guest host the show has turned into one of the most exciting and surreal opportunities of my life! I'm so grateful and excited to continue to work with Mike Richards, and I'm just over the moon to join forces with him and Sony. After all the conversations we've had about this partnership, I am just so ready to get started!"