Mike Richards' brief stint as the permanent host of Jeopardy! proved to be a success in the realm of TV ratings.
Beleaguered Richards was named as the new presenter of Jeopardy! in August, following a months-long search that saw a host of celebrities try out to become the replacement for late beloved host Alex Trebek.
However, his run was over almost as soon as it started after The Ringer published an article detailing sexist and crude comments Richards had made on a podcast he hosted between 2013 and 2014.
Amid the subsequent outcry, Richards announced that he was stepping down from his new post just nine days after it was announced. Days later, it was revealed that he was out of his position as the executive producer of Jeopardy! and Wheel of Fortune.
The California native's remarkably brief run as host meant that he had worked just one day in his position, taping a single week's worth of episodes before stepping down.
Those episodes opened Season 38 of Jeopardy! earlier this month and, it has been revealed, Richards' week at the lectern pulled in 8.38 million viewers, with a 5.1 household rating, according to The Hollywood Reporter.
As such, the numbers showed a slight increase on the comparable week in 2020, with 8.15 million viewers tuning in and a 5.0 household rating.
Richards' week at the helm meant that Jeopardy! landed in second place for syndicated shows, behind Family Feud, which drew 8.43 million viewers and 5.1 in households in the Nielsen Media Research ratings.
Earlier this year, Richards followed all-time Jeopardy! champ Ken Jennings to become the second celebrity guest host in a long line of hopefuls that concluded with Joe Buck in August.
During the two weeks that he presented the long-running quiz show, Richards maintained an audience share of 5.9—making his episodes among the most watched of all the guest hosts. Jennings drew in the most with a 6.1 share.
Since Richards stepped down from his role as host, Mayim Bialik—who in August had been announced as the presenter of Jeopardy! tournaments and specials—has taken over as host of the primetime show.
The Big Bang Theory star Bialik will split presenting duties with Jennings for the remainder of the calendar year. Jennings also serves as a consulting producer on the show.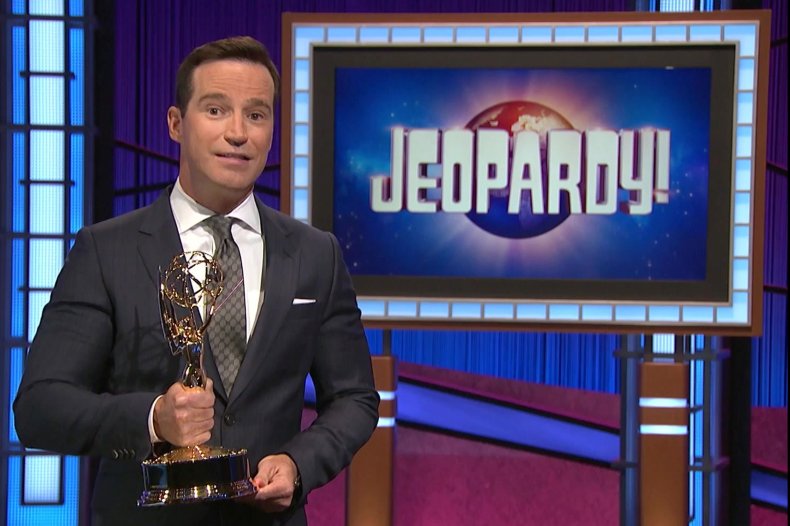 With the drama surrounding Jeopardy! (hopefully) in the rear view mirror, current Jeopardy! champ Matt Amodio has been allowed his unobstructed time in the spotlight.
On Tuesday, the Ph.D. Yale computer science student was seen bringing his win streak to a phenomenal 30 straight games, with earnings of $1,107,401.
Amodio's run leaves him closing in on the second-place record set by James Holzhauer, who enjoyed a 32-game win streak back in 2019.
Should Amodio surpass Holzhauer's total, he has a steep climb to the top record set by Jennings, who clocked a jaw-dropping 74 consecutive game wins in 2004.
Earlier this month, Amodio revealed in a Jeopardy! Q&A session, shared on YouTube, that he didn't initially think he would be "good enough" to compete on the show.
"So I like Jeopardy!" Amodio responded when asked how he ended up on the show. "I've seen, I think, every episode in my lifetime. And I, nonetheless, didn't think I would be good enough to be on the show.
"My dad said, 'Take the Anytime Test. Nothing worse can happen than you won't get on, so just give it a try.'
"I said, 'Fine, I'll do it for you.' And I got a call, and then I got another call, and now I'm here and I just can't believe it."
The Anytime Test, which is on the official Jeopardy! website, provides 50 timed clues for hopeful contestants, who are then invited to compete on the show depending on how well they do.
"I think that people out there have a ton of knowledge, but probably a lot of self-doubt too, and they're holding themselves back," Amodio said, as he advised others to take the leap. "And I just have to encourage them: Go for it, bet on yourself. Give it a try."