'Jeopardy!' Rules Debated After Contestant's Botched Answer
Jeopardy! fans launched into a debate regarding the quiz show's rules this week, after reigning champion Stephen Webb was seen initially slipping up on his clue response before correcting himself and being awarded the points.
Following the conclusion of the High School Reunion Tournament last week, Webb—a data scientist from Longmont, Colorado—has been seen resuming his win streak, which on Monday reached five consecutive games.
However, during the episode in which he hit his fifth win—and qualified for the Tournament of Champions—Webb left a number of Jeopardy! fans baffled after host Ken Jennings awarded him points for a response that he initially botched.
Jennings shared a clue with Webb and his fellow challengers under the category "Blossom" that read: "The U.S. Botanic Garden noted the 'powerful stink' of this flower that opened in peak bloom on August 9, 2022."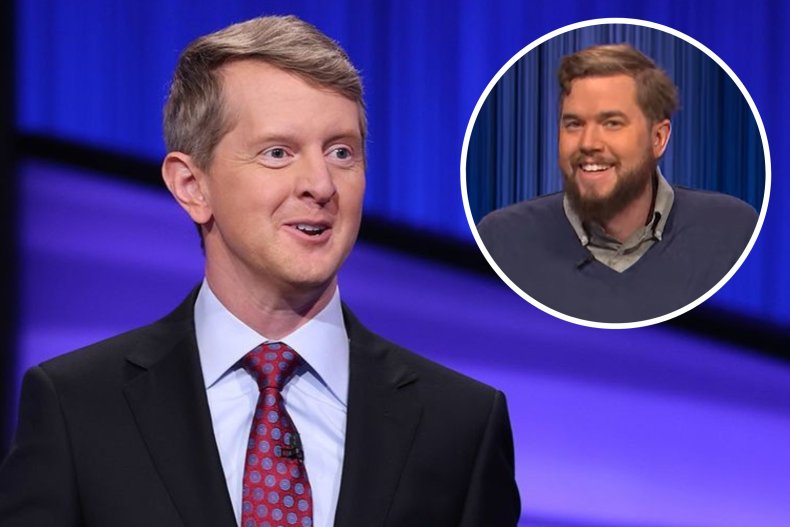 After quickly buzzing in, Webb responded: "Is that the corpse blossom? What's the corpse blossom, corpse flower?"
All-time Jeopardy! champion Jennings accepted the response as correct as he indicated that it was "the infamous corpse flower."
Later on in the episode, a clue was selected under the category "Call Me Cat," which Jennings read out: "This No. 1 hit has haunted fathers since 1974 as they watch time pass too quickly as their sons grow up."
Contestant Karen Rittenbach, an academic tutor from Freehold, New Jersey, buzzed in and responded: "What's Cat's Cradle?"
"No," said Jennings, before Rittenbach attempted to correct herself by responding. "What's 'Cats in the Cradle'?"
In that case, Jennings did not award the points, explaining: "I'm sorry Karen, I'd already ruled against you by the time you corrected yourself."
The moment sparked outrage among a number of viewers, one of whom wrote on Twitter: "Stephen: *rambles off three different answers and is ruled correct*. Karen: *gets ruled incorrectly after one answer*."
"'Sorry Karen, only Stephen gets to ramble off 3 different answers.' -Ken," another viewer sarcastically quipped on the social media platform.
Asked another viewer: "What's up with Ken Jennings so quick with the 'no' for Karen, but Stephen gets 3 tries for the correct answer?"
Countering the criticism, one Jeopardy! fan explained: "Contestants can change their responses as long as neither the host nor the judges have made a ruling."
Pushing back, another said: "That does seem incredibly unfair and borderline arbitrary depending on how willing the host is to interject. You should be given the allotted amount of time to come up with one answer and judged on your 1st response, the way virtually every other game show does it."
"Sometimes answers aren't wrong, but not specific enough, and contestants are allowed to add specificity," a different viewer responded. "Stephen said 'corpse blossom,' and then without pausing, and before Ken ruled, modified to 'corpse flower.' Karen, [on the other hand], paused, and Ken ruled before she revised her answer."
Echoing that take, noted Jeopardy! fan account @OneEclecticMom commented that "there are very specific rules in Jeopardy about this and Ken followed them precisely. If you fix your answer: BEFORE the host says 'no,' it's fair game (Stephen is adept at this!), AFTER the host says 'no,' it's incorrect."
Reposting a clip from a previous episode to illustrate the point, they continued: "Stephen did a totally legal, classic example of this on Friday with 'wake me up... before you go... go.' Ken was waiting to see if Stephen would finish the title and Stephen was watching Ken for confirmation of whether he had given enough yet."
Concluding the thread, the fan wrote that Jennings "is actually really good at managing this in the moment, if the contestant has completed their answer (like Karen w/ Cat's Cradle) he usually rules quickly before they rephrase it. But he waits longer if the answer is partially correct and just needs additional info."
While fans have previously voiced objections over similar scenarios, Jeopardy! says on its website regarding rules that contestants "may change their responses as long as neither the host nor the judges have made a ruling."
"There's no way to prepare for how nerves may affect you when the game is in play," the statement continues. "For instance, have you ever seen a contestant blurt out a response, then give a 'where-did-that-come-from' look? Don't laugh! It happens.
"If you're giving a response and suddenly hear your mouth saying something your brain wasn't planning or forget to phrase your response in the form of a question—you can correct yourself; but you'll have to be quick."
Webb, on Wednesday evening's episode, won his seventh consecutive game and increased his total earnings to $136,881. He will be seen vying for his eighth win on Thursday.