Matt Amodio's Entire 'Jeopardy!' Wardrobe Is Analyzed by Dedicated Fan
Jeopardy! champion Matt Amodio has had everything from his style of play to his range of knowledge analyzed since kicking off his winning streak this past summer.
But the Ph.D. computer science Yale student has now unexpectedly seen his wardrobe come under scrutiny, with every ensemble he has worn on the show being listed by a dedicated fan of the syndicated quiz show.
A Reddit thread had been started last week to chart Amodio's road to earning $1 million—a feat he achieved on Friday—with a number of fans going on to share their admiration for the Ohio native, whose current win streak stands at 28.
And in the midst of all the chatter about the Connecticut resident, one Reddit member using the handle eclecticmom chimed in with an exhaustive analysis of Amodio's sartorial choices throughout his ongoing Jeopardy! run.
Ensuring no stone was left unturned, not only were shirt and jacket colors listed, but also the celebrity guest host at the time he sported each ensemble was named in an accompanying Twitter thread.
As has been documented, several celebrities had stepped in to guest-host Jeopardy! since the start of the year, as producers sought a replacement for the late Alex Trebek.
Mike Richards, the show's then-executive producer was announced as having landed the job on August 11, just nine days before he would step down in the midst of a scandal over his offensive podcast comments back in 2013 and 2014.
And with Mayim Bialik stepping in to take over, Amodio has had a number of hosts at the lectern during the 28 (and counting) episodes he has played and won, including Robin Roberts, LeVar Burton, David Faber and Joe Buck.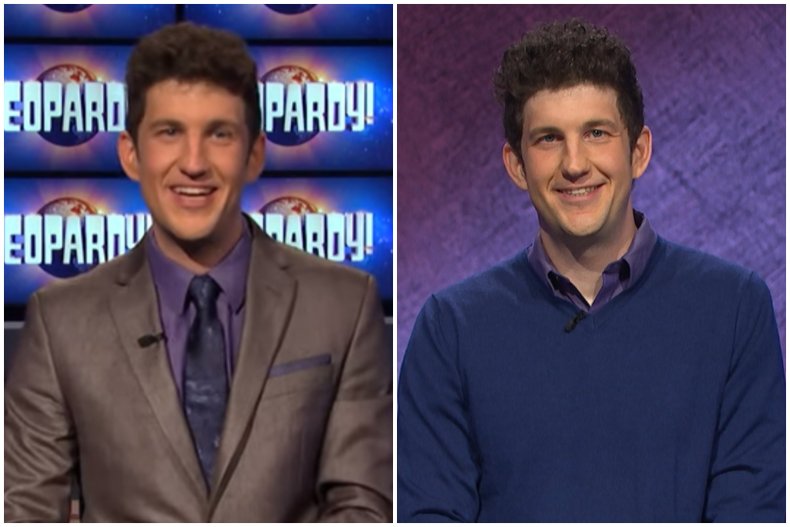 Breaking down Amodio's wardrobe, eclecticmom wrote: "I've been obsessed with Matt's 'capsule wardrobe' and now that this video made it easy to examine his daily outfits, I made a list!
"As of Day 28, Matt has worn 20 different outfits (6 outfits worn twice, and 1 outfit—maroon shirt/black jacket—worn thrice). His wardrobe consists of 6 dress shirts, 2 suit jackets, 2 sweaters, and 3 ties."
For those curious, eclecticmom has deduced that Amodio has been choosing from six purple shirt, six orange shirts, six maroon shirts, five grey shirts, and three blue shirts.
Also included in the button-down lineup is one blue shirt with a white collar, though eclecticmom has questioned whether the item "was borrowed because it doesn't fit his usual color/style."
Elsewhere, observed eclecticmom, are 12 black jackets, eight gray jackets, five blue sweaters (eclecticmom's "favorite," should you be curious), three rust sweaters, two purple ties and two maroon ties (though this could be just one).
For those not impressed with such detail, eclecticmom has also noted that the 30-year-old fan favorite has only shown his shirt sleeves on days 21 and 24, as he's almost always in a sweater or a jacket.
The Ringer writer Claire McNear shared a screenshot of the analysis, alongside the caption: "the Jeopardy! subreddit is the beating heart of the Amodio Rodeo."
McNear's tweet soon caught the eye of Amodio, who responded: "I may not be commenting, but I'm a long-time lurker. How does it feel that this awesome sub is saying nice things about me?"
Former Jeopardy! champ and guest host Buzzy Cohen noted Amodio's use of a GIF, which showed Seinfeld star Michael Richards saying: "I'm out there, Jerry, and I'm loving every minute of it."
Commenting on the fact that he's a namesake of a certain former host, Cohen wrote to Amodio: "The irony of using a Mike Richards gif..."
"All the likes," Amodio answered, as he kept the banter going.
The same Reddit user also appeared to upload the list of Amodio's outfits on Twitter and wrote in reaction to McNear's comment: "Not sure whether I am flattered or embarrassed right now, but for full disclosure here's the extended edition of my Matt Gala fashion analysis..."
Interestingly, Amodio revealed in an interview posted on the Jeopardy! website earlier in September that he refused to buy himself any new clothes as he awaited the start of the show's 38th season.
When asked if he had bought clothes for the show, Amodio responded: "No, I'm a little bit superstitious about that. I'm worried about acquiring a new wardrobe and then boom—it all ends just like that and I'm never going to be able to wear those clothes again."