Jeremy Corbyn's Donald Trump Makeover Is Risky, But It Might Just Work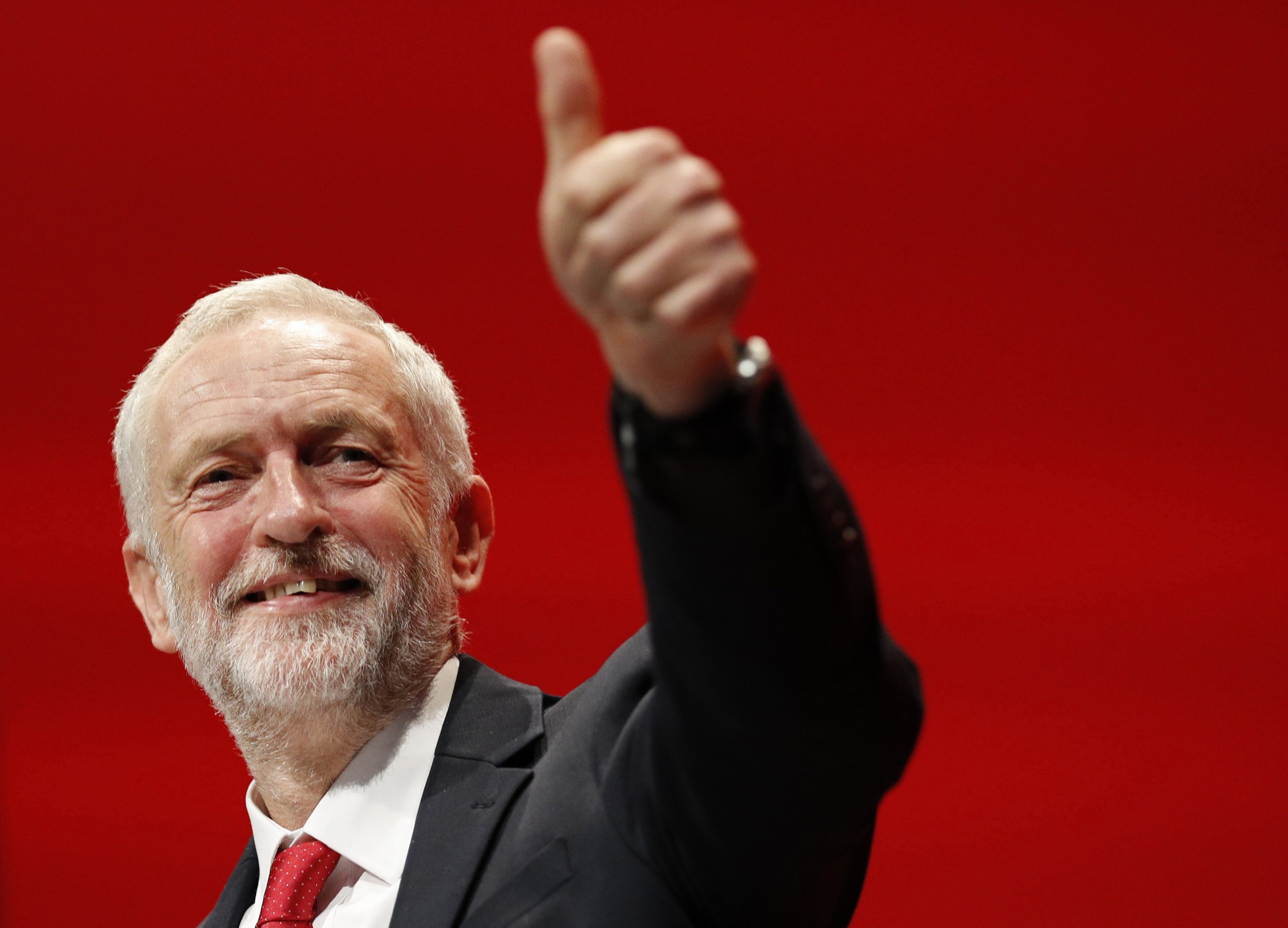 As 2017 begins things are getting desperate for Jeremy Corbyn and the British Labour Party. A recent poll of polls on the elections website Britain Elects, looking at how people would vote in a general election, puts Labour 12 points behind the Conservatives. Polling by market research firm YouGov shows that the public prefer Theresa May as PM over Jeremy Corbyn by a margin of 47 percent to 14 percent (39 percent said they were "not sure" who would make the better).
The implications are clear. Labour is on course for a devastating general election defeat if things do not change.
It is in this context that Jeremy Corbyn's team are briefing that their man will undergo something of a "populist reboot" in 2017.
Their strategy somewhat oddly draws inspiration from Republican President-elect Donald Trump. We are told to expect a more robust use of social media and that Corbyn will use rallies of supporters to attack the government and drive the news agenda—much as Trump was able to do with success during the 2016 U.S. presidential election.
This is a risky strategy—but the right one.
His proposed approach has drawn understandable scepticism. With Corbyn holding conventionally unpopular views on issues such as immigration and welfare, many doubt whether he can really put the "popular" into "populist."
Moreover, there is a risk of overstating the genius in Trump's political strategy and whether it is worth copying. While it is true that Trump drove the news agenda in 2016, he was engaged in a race with a deeply unpopular opponent in Hillary Clinton. In contrast, Corbyn's principle opponent, Theresa May, still enjoys positive approval ratings while Labour's vote is being ideologically attacked from all sides within Britain's parliamentary system post-Brexit.
Nevertheless, despite the scepticism, this new strategy is the right one for Corbyn. Indeed it may very well be the only one left open to him. It is clear that he is not going to get favorable coverage from news outlets such as the The Sun or the Daily Mail . They certainly won't be giving him their endorsement so he might as well make a virtue out of their opposition.
This is a risky strategy but the conventional approach to news management will not work for Corbyn and there is no use pretending it will. Something different is required in order to advance his agenda.
Corbyn has to do two things to turn Labour's dire poll ratings around. He has to unite Labour voters behind his leadership and he has to discredit Theresa May as prime minister.
Corbyn needs to re-engage with Labour voters as currently 46 percent of them are "not sure" if he would make a better PM than May. His first priority therefore must be to unite these voters behind him with strong statements on the National Health Service (NHS), executive pay and tax avoidance, using his rallies (and the resulting media coverage) to push these issues up the agenda. Meanwhile, Theresa May will surely endure a more difficult year as she finally unveils what Brexit means when parliament invokes Article 50. A few well-placed tweets and videos — if they are again reported in the traditional media — can keep the pressure on.
There are no guarantees of success in this strategy. It comes with risk and the point with risky strategies is they don't always pay off. They can even make things worse. It is entirely possible that Jeremy Corbyn is already defined in the minds of voters and there is nothing he can do to change that.
However, given that 2017 ought to be a more difficult year for the government than the second half of 2016, he has an opportunity to make some progress and to drive the news agenda his way. If he fails his leadership is doomed. Trade union leaders and staunch allies are already making noises about him having to step aside if things do not change, while a by-election in Copeland, northern England, looms large. Corbyn's "populist reboot" is truly his last chance.
Keiran Pedley is an elections and polling expert at market research company GfK and editor of the Polling Matters podcast. He tweets about public opinion and politics at @keiranpedley.