Jerry Falwell Jr. Calls Liberty University Lawsuit Against Him 'Power Grab', 'Full of Lies'
Jerry Falwell Jr., the former president of Liberty University and a once-influential evangelical Christian, said Saturday that he would "defend himself vigorously" after the university announced a lawsuit against him earlier this week.
On Thursday, Liberty University said they were seeking millions of dollars in damages in a civil lawsuit against Falwell, over allegations that he breached an employment contract, and withheld from the school key details about a personal scandal that resulted in public scrutiny last year.
But Falwell called the lawsuit "a power grab" on Saturday, and said the action was "full of lies and half-truths," through a series of tweets.
"The Exec Comm of the LU Board has made yet another attempt to defame me and discredit my record following a series of harsh and unnecessary actions against my children, [wife] Becki, and me," he wrote.
Falwell then added: "I always abided by the requirements that applied to everyone on the University staff. This lawsuit is full of lies and half truths, and I assure you that I will defend myself vigorously," before stating that his family has now been banned from the university's campus.
"We were threatened with arrest if we walk on campus. My son was told he was being fired after yrs of service for no reason other than I was a public figure. A big power grab to rule LU and $2 billion endowment I built," he added.
Filed in Lynchburg Circuit Court in Virginia, the lawsuit alleges that Falwell mixed his university duties with his personal life, despite knowing that "infidelity, immodesty, and acceptance of a loose lifestyle would stand in stark contrast to the conduct expected of leaders at Liberty."
In August, Falwell left the evangelical university after a man named Giancarlo Granda alleged he had an affair with Falwell's wife and that the former school president had participated in some of the liaisons as a voyeur. The Falwell family later admitted to the affair, but denied all other allegations and said Granda sought to extort them.
In the lawsuit, the university claims that by keeping the affair and subsequent extortion a secret, Falwell both endangered and damaged Liberty's reputation.
"Despite his clear duties as an executive and officer at Liberty, Falwell Jr. chose personal protection," the lawsuit read.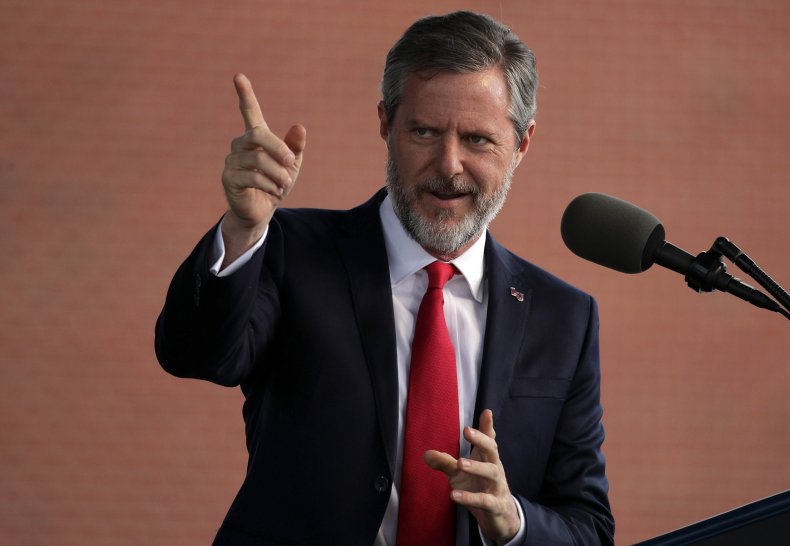 The lawsuit also claimed that Falwell had a "fiduciary duty to disclose Granda's extortive actions, and to disclose the potential for serious harm to Liberty." It added that Falwell then "furthered the conspiracy of silence and negotiated a 2019 Employment Agreement that contained a higher salary from Liberty."
The university also alleged that Falwell failed to disclose "the issue of his personal impairment by alcohol" and has refused to return Liberty's confidential information and other personal property.
Liberty University is now seeking more than $40 million in damages from Falwell, The New York Times reported.
Falwell had previously led the evangelical school since the 2007 death of his father, the Rev. Jerry Falwell. His father had founded the Moral Majority, a political organization that made evangelical Christians a key force in the Republican party.
On Saturday, Falwell further slammed the university's leadership, writing: "In addition to my 3 previous tweets, I should add that one of the most loyal LU board members for decades and Chmn of the Bd, an African-American, was removed from his position yesterday for advocating for diversity. LU Online is 27% black but the resident campus is only about 5%."
Newsweek contacted Liberty University for additional comment, but did not hear back in time for publication.