What Jerry O'Connell Said About Replacing Sharon Osbourne on 'The Talk'
Jerry O'Connell is no stranger to The Talk, having regularly appeared on the CBS daytime show in a guest capacity for the past few months. On Wednesday, O'Connell announced live on air he would be joining the show as a full-time co-host.
O'Connell, who becomes the show's first male co-host, effectively fills the spot left by original host Sharon Osbourne, whose departure from the show earlier in 2021 followed a CBS investigation into her on-air racism debate with Sheryl Underwood.
On March 10, 2021, The Talk panelists were discussing whether British TV star Piers Morgan's comments about Meghan Markle were racist or not. Osbourne was very vocal in her defense of her friend Morgan and shared her belief she would be considered a "racist" for supporting him.
The conversation between Osbourne and Underwood became heated, with Osbourne speaking over Underwood on numerous occasions. Her language was also bleeped out and Underwood had to cut to a commercial break.
Osbourne's behavior received negative backlash and strong criticism from viewers on social media.
Following the episode, The Talk embarked on an unplanned hiatus and on March 26, CBS announced Osbourne was leaving The Talk.
In a statement, CBS said Osbourne had "decided to leave The Talk" and her behavior "toward her co-hosts during the March 10 episode did not align with our values for a respectful workplace."
The statement continued: "The events of the March 10 broadcast were upsetting to everyone involved, including the audience watching at home.
"We also did not find any evidence that CBS executives orchestrated the discussion or blindsided any of the hosts. At the same time, we acknowledge the network and studio teams, as well as the showrunners, are accountable for what happened during that broadcast as it was clear the co-hosts were not properly prepared by the staff for a complex and sensitive discussion involving race."
Osbourne did issue a lengthy public apology on Friday, March 12, tweeting she "panicked, felt blindsided [and] got defensive" over her fear of being accused of racism.
She added: "To anyone of color that I offended and/or to anyone that feels confused or let down by what I said, I am truly sorry."
What Jerry O'Connell Said About Replacing Sharon Osbourne on 'The Talk'
Announcing the news on The Talk, O'Connell told viewers: "It's fun, and it works, and we're going to have a lot of fun."
He will sit alongside current panelists Amanda Kloots, Elaine Welteroth, and Sheryl Underwood. Carrie Ann Inaba has been on a "leave of absence" since April.
O'Connell did not address Osbourne's exit and instead praised his co-hosts for being "so welcoming."
He said: "It's real exciting. You ladies have been so welcoming to me.
"I mean, I came here as a guest months ago, and just from the moment I walked in, you're just gracious, you're kind, you're fun, and it worked. And here we are. We're going to have a lot of fun, we really are."
At the end of the episode, O'Connell reflected: "I'm excited to be a part of the family."
In a statement, executive producers Heather Gray and Kristin Matthews said: "We are beyond thrilled Jerry O'Connell is our new host. We loved his infectious enthusiasm, humor, openness, and insights as a guest co-host and look forward to him now bringing those dynamic qualities to the show every day.
"As an accomplished actor, devoted husband, and father, Jerry will bring a unique and entertaining perspective to the conversation."
O'Connell is no stranger to hosting major talk shows, having guest-hosted The Wendy Williams Show, and Live with Kelly and Ryan in the past.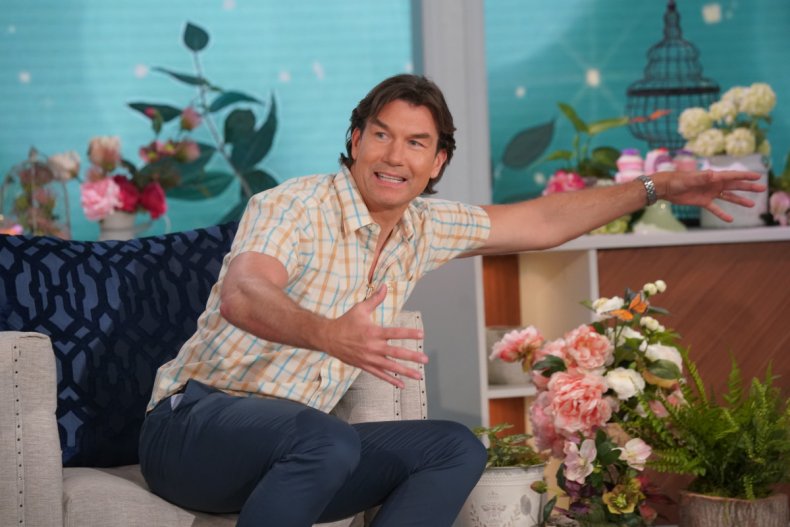 O'Connell can also be seen in Billions as Steven Birch and Harley Carter in Carter.
He rose to fame at age 11 for his role as Vern Tessio in Stand By Me. He then went on to appear in Sliders, Jerry Maguire, Drunk History, and Crossing Jordan.
His other well-known credits include The Secret: Dare to Dream, Justice League Dark: Apokolips War, and Kangaroo Jack.
He is currently voicing the role of Commander Jack Ransom on Star Trek: Lower Decks.
The Talk airs Monday to Friday at 2 p.m. ET on CBS.