Jerusalem Crisis Shows 'International Anti-Semitism' in Criticism of Israel, John Hagee Says
As violence rages at the Temple Mount, Al-Aqsa Mosque, the Gaza Strip and Jerusalem, nudging the region closer to all-out war, an American pastor known for his passionate support of Israel is warning that some in the international community and mainstream media are throwing gasoline on a conflagration.
"The international community needs to cease treating Israel differently than all other democracies on earth," Pastor John Hagee told Newsweek late Monday. "Treating Israel as a second-class citizen among the nations and holding the Jewish state to a double standard in the context of self-defense is nothing more than the apotheosis of international antisemitism."
Overnight, Israel absorbed at least 150 missiles launched by Hamas, a Sunni-Islamic militant group, which said its missile attacks were a retaliation for the nation's "crimes and aggression." The attack also coincided with a planned march by Jews to celebrate Jerusalem Day, which marks the reunification of the city and Israel's control over it after the Six-Day War in 1967.
Hagee, the founder and chairman of Christians United for Israel, said the country was responding to aggression on the part of Hamas that, in this case, may have been signaled days earlier.
"Recently, a Hamas official called upon Palestinians to purchase cheap knives so that they can be used to cut the heads off Jews," he said. "The Palestinian Authority, which is supposed to be more moderate than the terrorists of Hamas, has called on Palestinians to 'raise the level of confrontation' with Israel. And now ... rockets are raining down on Israel."
Many on the political left, though, don't see it that way, suggesting Israel is the aggressor. Congresswoman Rashida Tlaib, for example, tweeted, "I was 7 years old when I first prayed at the Al Aqsa with my sity. It's a sacred site for Muslims. This is equivalent to attacking the Church of the Holy Sepulchre for Christians, or the Temple Mount for Jews. Israel attacks it during Ramadan. Where's the outrage @POTUS?"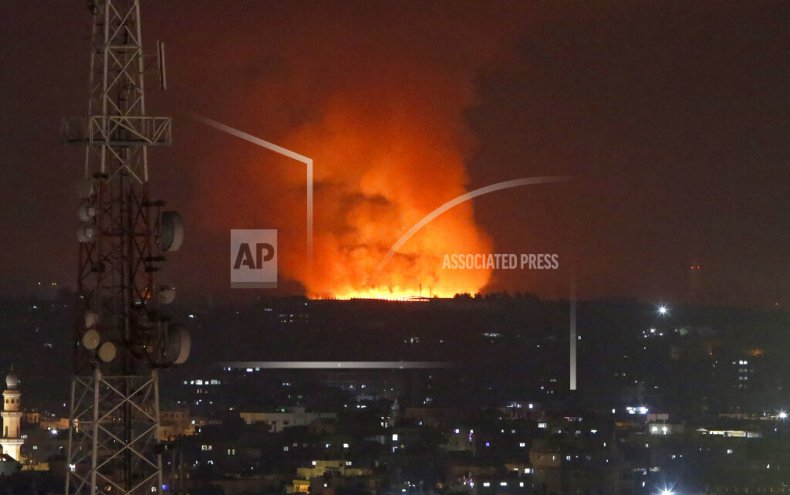 Hagee and others also say many in the allegedly unbiased mainstream media appear to be quick to judge Israel harshly. A watchdog group called HonestReporting, for example, said that on Friday, the tail end of Ramadan, thousands of Palestinians chanted, "Bomb, bomb, Tel Aviv" and other violent slogans, though only Reuters reported the demonstrations. Other outlets, said the group, reported on a small group of radical Israelis shouting "Death to Arabs" but left out what the larger group of Palestinians were chanting.
"If the mainstream press were committed to exposing the Palestinian obsession with wiping Israel off the map, perhaps there would be enough public outcry as to blunt the Palestinian leadership's use of violence and terrorism," Hagee said. "Many outlets blame Israel for everything that goes on in the region, and at best minimize and at worst ignore Palestinian terrorism. Those who act in this manner are in large part responsible for perpetuating the Palestinian-Israeli conflict."
Israel's response to the missiles thus far has mostly been in the form of airstrikes on the Gaza Strip, resulting in the deaths of at least 20 people. Prime Minister Benjamin Netanyahu cautioned that fighting could "continue for some time" and he warned that "whoever attacks us will pay a heavy price."
Hamas said more attacks would be forthcoming if Israel goes through with planned evictions of Palestinians from a neighborhood on the east end of Jerusalem, an area that was taken from Jews prior to 1948 then returned to Israel in 1967 and has been in dispute ever since.
Hamas has also said Israel can expect more attacks if its forces re-enter the Al-Aqsa Mosque—which sits atop the Temple Mount, and thus both Muslims and Jews consider it holy ground. Both are situated in Jerusalem, which Israel and the Palestinian Authority each claim as their capital city.
"As soon as Israel reunified Jerusalem, the Israelis, in the name of peace and coexistence, put the Temple Mount in the hands of Muslim religious authorities. And what has happened as a result? The Temple Mount is used for both prayer and for stockpiling stones and Molotov cocktails to be used against Israelis," Hagee claimed.
"Instead of condemning the Israelis for going into the Temple Mount to head off that terrorist threat," he added, "the international community should ask themselves what they would demand of their own leaders when faced with such a threat."