Jesse Watters Rivals Tucker Carlson As King of Fox News Ratings
Jesse Watters' foray into Fox News' primetime arena has so far proven to be a ratings success, with early figures suggesting he could be in with a chance of becoming the network's new golden anchor, ahead of Tucker Carlson.
Watters became the permanent host of Fox News' 7 p.m. ET hour show this month and, according to Nielsen figures obtained by Newsweek, his debut show on Monday netted about 3.8 million total viewers—Fox's best ratings in the time slot in more than a year. His second had 3.6 million.
The controversial but fan-favorite Watters also co-hosts the channel's popular round-table talk show The Five, and is set to continue with that role.
The Five, which airs at 5 p.m. ET, remained the top-rated live program on all of cable, with 3.9 million total viewers on the day of his primetime premiere.
On January 24, Watters dominated the cable viewership. His two shows raked in a combined 7.6 million viewers.
Tucker Carlson Tonight! remains one of Fox News' top-ranked shows, having drawn the most cable news viewers overall in 2021, and an equally impressive 3.8 million viewers on January 24. Yet it is Carlson's only regular Fox show.
Watters' promotion signals the network's further shift to the right, in a move that has pleased many conservatives.
The Nielsen numbers provided are average audience projections, which in simple terms means the estimated total viewers, which consists of live and same-day viewing.
Tucker Carlson Tonight, Hannity, The Five, and The Ingraham Angle comprised the top four highest-rated programs for the last quarter in total viewers.
In the third quarter of 2021 Carlson's show brought in an average of 3.2 million viewers, The Five drew about 3 million per episode, and Hannity 2.9 million.
Recent Viewing Figures for Watters' and Carlson's Shows
(per Neilsen)
Jesse Watters Primetime
1/24/22 - 3.8M (premiere)
1/25/22 - 3.6M
The Five
1/24/22 - 3.9M
1/25/22 - 3.9M
Tucker Carlson Tonight!
1/24/22 - 3.8M
1/25/22 - 3.7M
Meanwhile, Greg Gutfeld is also rising to the top at the network, presenting another threat to Carlson's dominance.
The former Red Eye host's combined viewership on his two shows, The Five and Gutfeld! rose to an average of more than 5 million per day in the last quarter of 2021, per The Washington Post.
Gutfield's soaring ratings have seen him overtake Sean Hannity at the network.
Fox News celebrated its 25th anniversary late last year, with its ratings crushing competition across cable.
It finished 2021 as the most-watched network across all of basic cable for the sixth year running.
Last year however, was not as successful for rival network CNN.
It suffered a nightmare slump, with Nielsen figures showing the channel's ratings dropped a dramatic 77 percent year-on-year.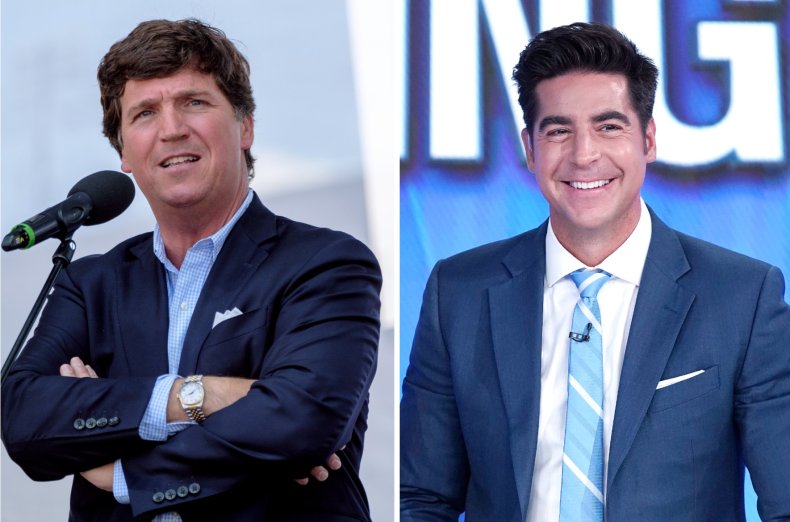 Correction 1/28/22, 10:35 a.m. ET: The headline of this article was updated to state Watters is rivaling Carlson in early ratings.