Jewish House Democrats Want Stephen Miller Ousted, Send Letter to White House: 'Hateful Ideology Is Not Just Unacceptable'
Every Jewish Democratic member of the House of Representatives signed a letter sent to President Donald Trump Friday calling for the ouster of White House senior adviser Stephen Miller, who has recently been on the hot seat for his alleged ties to the white supremacist movement. Representatives Adam Schiff and Jerrold Nadler, key members in the impeachment proceedings against Trump, were among the signees.
As previously reported by Newsweek, emails with anti-immigration and anti-Semitic statements written by Miller to an editor at conservative website Breitbart News were made public by the Southern Poverty Law Center in November.
"Hateful ideology is not just unacceptable," the letter read, "it is un-American, irrespective of the faith, race, or nationality of the individual promoting it."
Writers of the letter also called Miller's advocacy of "white nationalist and virulently anti-immigrant tropes is wholly unacceptable and disqualifying for a government employee."
Deputy White House press secretary Hogan Gidley defended Miller, who is himself Jewish, in a November statement saying Miller "loves this country and hates bigotry in all forms."
"It deeply concerns me as to why so many on the left consistently attack Jewish members of this Administration," Gidley added.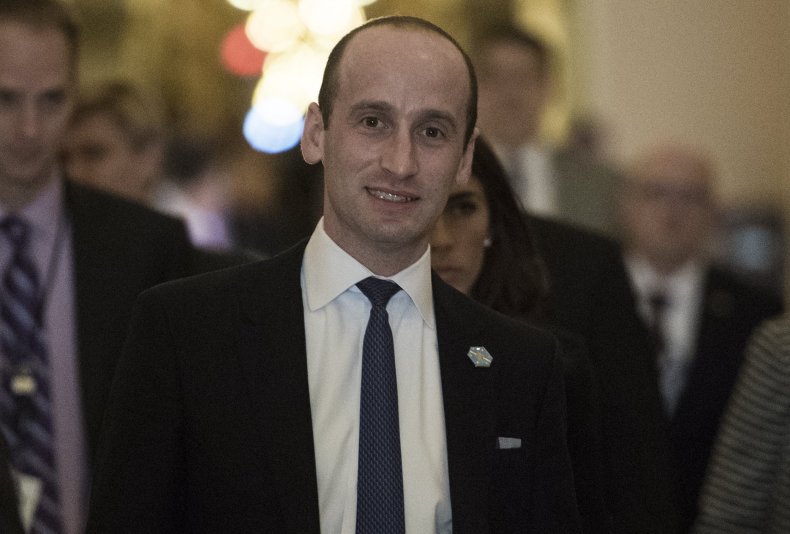 Newsweek reached out to the White House for comment but did not receive a response in time for publication.
Addressing the White House's stance, the letter to Trump said Jewish Democratic Representatives were "deeply troubled that your Administration is claiming that legitimate criticism of Miller is anti-Semitic simply because Miller is Jewish. Nothing could be further from the truth."
"Weaponizing anti-Semitism is incredibly dangerous," the letter continued. "By muddying the waters, we are no longer able to see and fight against the real anti-Semites in our midst."
Friday's letter joins a letter written in November and signed by 107 House Democrats requesting that Miller be removed which claimed Miller's ideas had helped shape Trump's immigration policies.
"It seems likely that his perfidious adherence to extremist ideology has shaped your administration in ways that are not yet public," the letter read. "We refuse to tolerate white nationalism and xenophobia in the White House or elsewhere in the United States. Mr. Miller must be fired immediately."
The Leadership Conference on Civil and Human Rights (LCCHR) has also denounced Miller and called for his firing.
"Stephen Miller represents white supremacy, violent extremism, and hate—all ideologies that are antithetical to the fundamental values that guide our democracy," read a November letter from the LCCHR to the White House. "Allowing him to remain a White House advisor is a betrayal of our national ideals of justice, inclusion, and fairness. We call on you to halt your own hateful actions and rhetoric and remove all hate enthusiasts from the administration."