Jewish People Celebrating Hanukkah Met With Nazi Salutes, Prompting Hate Crime Probe
British police are investigating antisemitic events seen in a video that showed a bus of Jewish teenagers being targeted in an alleged hate crime, the Associated Press reported.
The teenagers in the open-top bus were celebrating the first night of Hanukkah by setting up menorahs and handing out food on Oxford Street, a popular shopping hub in London. The party was then interrupted by what the Community Security Trust calls "an extremely hostile, threatening and abusive group of men", the AP reported. The CST is a charity in the United Kingdom that monitors antisemitic incidents in the region.
Video of the incident depicted the bus being spat on and its passengers being subjected to obscene hand signs. According to Jewish News, one man in the video appeared to be doing a Nazi hand salute and others took off a shoe as a sign of disrespect. They also spit on the bus and attempted to break the bus windows.
"They definitely felt it was because they were Jewish that they'd been targeted. There was absolutely no doubt about that," said Dave Rich, the AP reported. Rich serves as the director of policy at CTS.
The event has been met with intense backlash from government officials and other organizations. "Antisemitism has no place whatsoever in society and I utterly condemn these disgusting acts," said London mayor Sadiq Khan in a statement. "No one should have to experience this."
"We are appalled by the horrifying footage of Jewish people targeted on Oxford Street," said Board of Deputies president Marie van der Zyl in a statement. "We hope the police will swiftly identify and arrest those involved in this disgusting incident."
The Metropolitan Police are investigating the incident as a hate crime, although no arrests have been made as of yet. They urge anyone who might have information on the event to call Crimestoppers.
For more reporting from The Associated Press, see below.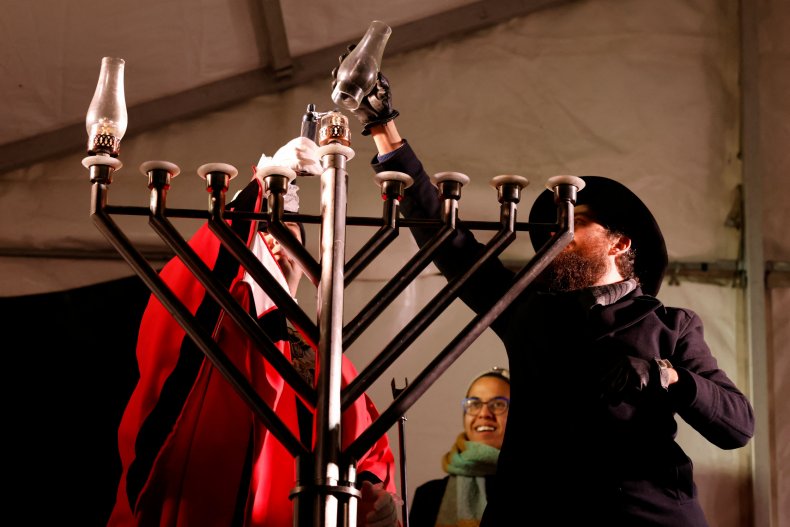 Those on the bus were from a religious outreach organization called Chabad, said Rich. "They were quite frightened that the group who were threatening them were going to physically assault them, they were spitting at them."
Antisemitic attacks such as this one are not unique to the United Kingdom. Newsweek previously reported that an American Orthodox Jewish teenager received antisemitic comments on TikTok after his aunt posted a video of him tefillin for morning prayer. When notified of the comments, the unnamed teen was allegedly not surprised, prompting his mother to write an essay for The Jerusalem Post.
"I cling to a tiny glimmer of hope, thanks to the non-Jews in the replies defending Jews and defending Izzy," wrote Jessica Russak-Hoffman, "and to Bear Jews everywhere, laying tefillin every morning and refusing to cower."