Jews Went to the Ghettos of Their Own Free Will to Get Away From Polish People, Father of Poland's Prime Minister Claims
Jews moved to Polish ghettos during the Holocaust not because they were forced to leave their homes, but because they wanted to get away from Polish people, a former Polish politician and the father of Poland's current prime minister said during an interview.
"Do you know who chased the Jews away to the Warsaw Ghetto? The Germans, you think? No. The Jews themselves went because they were told that there would be an enclave, that they would not have to deal with those nasty Poles," Kornel Morawiecki, a former senator and Polish Prime Minister Mateusz Morawiecki's father, told Poland's online magazine Kultura Liberalna.
The controversial comments were made as Poland faces international backlash over legislation passed last month that made it illegal to blame Poles for the Holocaust. Poland's political leadership insists that Poles were not involved in the brutal murder of 3 million Jews in Poland during World War II. People who blame Poles for the Holocaust can face up to three years in prison or be hit with hefty fines. Only scientific research or artwork is exempt from the law.
Israeli Prime Minister Benjamin Netanyahu slammed the new rules as an "attempt to rewrite history." Meanwhile, other critics have said that the law puts restrictions on freedom of speech and debate.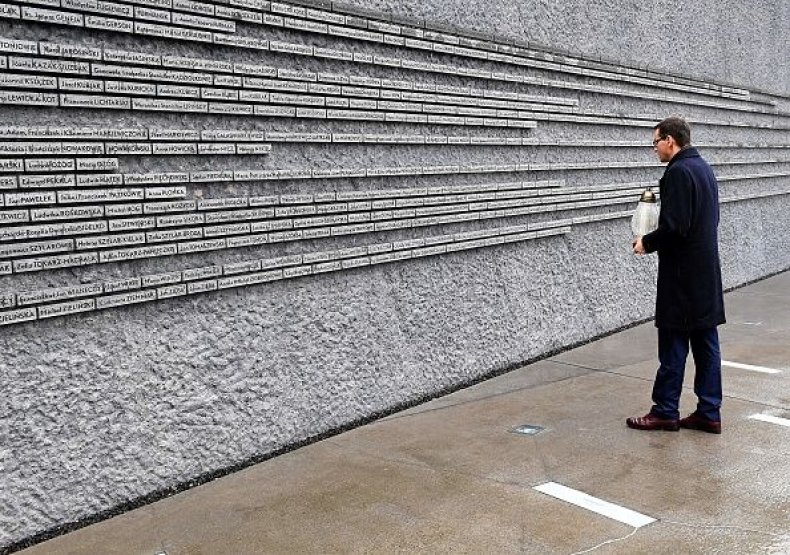 The diplomatic fallout between Poland and Israel worsened last month after Prime Minister Morawiecki said that some Jews had also been responsible for the Holocaust. Poland's leadership has generally doubled down in its defense of the law. Most recently, the Polish leader penned an op-ed for Foreign Policy magazine defending his country's decision to pass the Holocaust bill.
"Attributing complicity in the Holocaust to Poland blurs the responsibility of Nazi Germany," Poland's prime minister wrote.
"During World War II, Poland experienced a German- and Soviet-orchestrated genocide in which more than 6 million Polish citizens perished, half of whom were Polish Jews. Poland never created a government that collaborated with the Third Reich and never formed an SS division," he continued.
Now, the prime minister's father appears prepared to publicly back his son's arguments, including the controversial statements that the Jews were also responsible for the Holocaust. In his interview with Polish media, he mentioned the Zagiew ring, a group of Jewish informants the Nazis employed to infiltrate resistance groups.
Some, however, argued that the debate around the Holocaust and Morawiecki's interview show how the new law is already shaping conversations around speech.
"While Mr. Morawiecki's comments originally intended to prove that neither Jews nor Poles were complicit in the Holocaust, they brushed aside important historical facts and differences," Zselyke Csaky, a Central Europe expert at Freedom House, told Newsweek.
"At the same time, by highlighting one sentence from an interview, they also ironically demonstrate how easily the adopted Holocaust law could be used to stifle discussion," Csaky.
Poland's Law and Justice Party has overseen a swift rise in nationalism and a resurgence of the country's far-right. Around 60,000 nationalists marched in Warsaw in November to commemorate the anniversary of the country's independence, and neo-Nazis were among them.