JFK Airport Protesters Demand a 'Better America' Without 'Religious Persecution'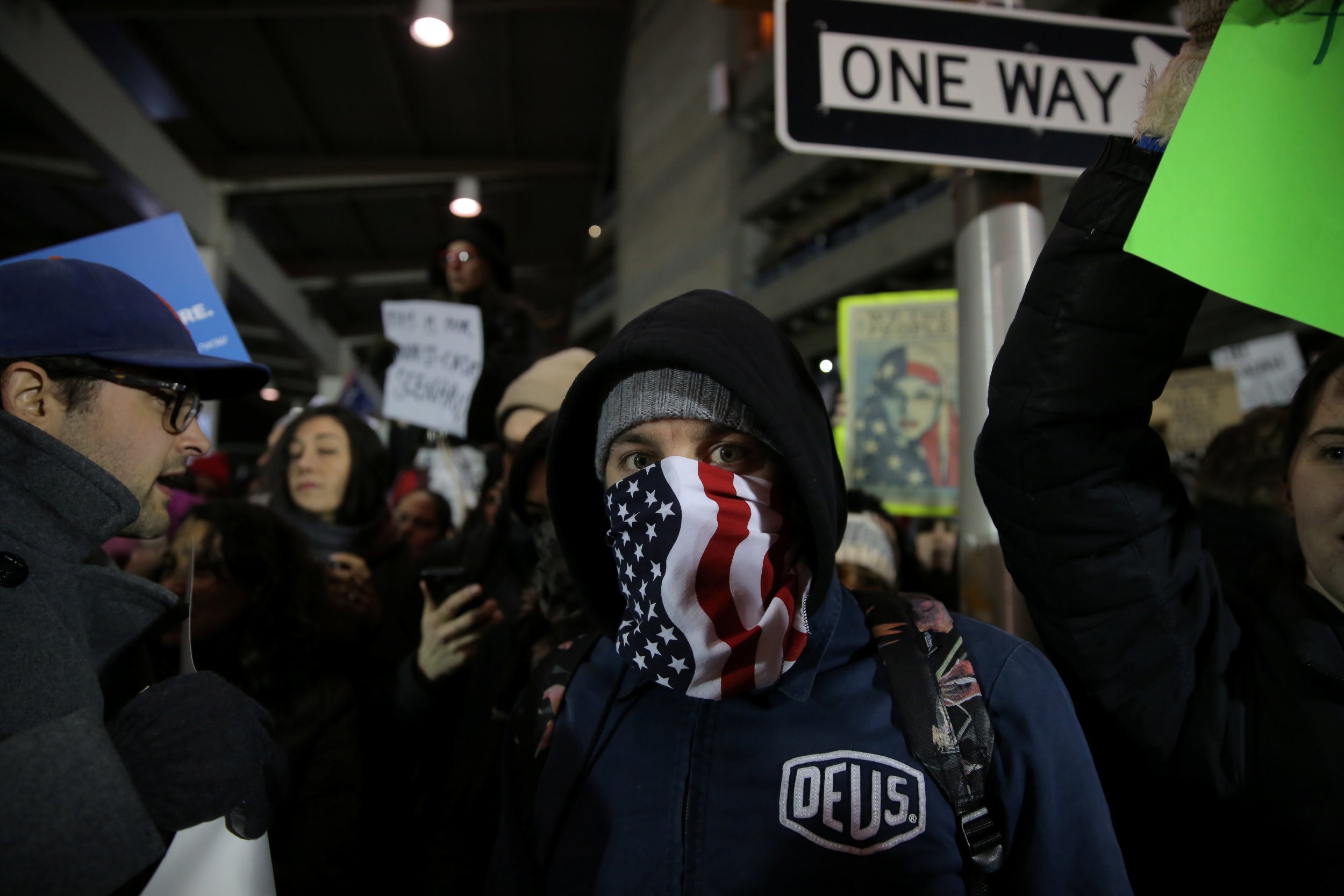 Kendel Goonis came to John F. Kennedy International Airport to speak for refugee children.
The pictures of the children in the news reminded her of the childhood pictures of her Catholic mother when she fled from Iraq to Detroit during Saddam Hussein's rise to power. Her mother's story of religious persecution made it "overwhelming" for her to hear about President Donald Trump's executive order banning Syrian refugees and travel to the U.S. from seven Muslim-majority countries.
RELATED: What does the stay on Trump's deportation order mean?
"It is unconscionable," Goonis said at a mass protest Saturday night. "I can't sit by and let this happen. It is not the heritage of this county." She believes that the Christians who voted for Trump need to stand up for "the lowly" and "those who are hurting most from atrocities like this."
The crowd cheered and applauded when one protestor announced the news that a federal judge in Brooklyn had stayed Trump's order, preventing two Iraqis who had been detained at the airport from being deported. Throughout the rally, crowds chanted "Let them in," "This is what democracy looks like," and "Say it loud, say it clear, refugees are welcome here."
Danica Butkovich, who came with Goonis to the protest, called Trump's order an act of "religious persecution." Several other protestors cited religious liberty for Muslims as the reason they were demonstrating, and several faiths were represented at the protest.
"This isn't right, it isn't fair," Chicagoan Nina O'Keefe said. "It's religious and racial profiling."
New York University freshman Daryl Winchester likened the refugees to some of America's first English immigrants.
"Protestants escaping persecution. It's literally what we were founded on," Winchester said. She came to the protest with two of her friends, freshmen Natalie Parker and Maria Getz.
Getz "couldn't sit still" when she heard the news of the executive order. "These people need a home," Getz said. "It's not American to deny them that." On a piece of cardboard, Winchester wrote part of Emma Lazarus' poem inscribed on the Statue of Liberty: "Give me your tired, your poor…"
"This isn't about Donald Trump. It's not to catch his attention," Parker said. "It's to get the attention of the government, America and the citizens. This sort of thing is what happened with the Holocaust." In large black letters, she wrote, "What happened to American morality," on her sign. "For me, protesting is, in essence, a way for the government to realize that we're just not okay with this," Winchester said.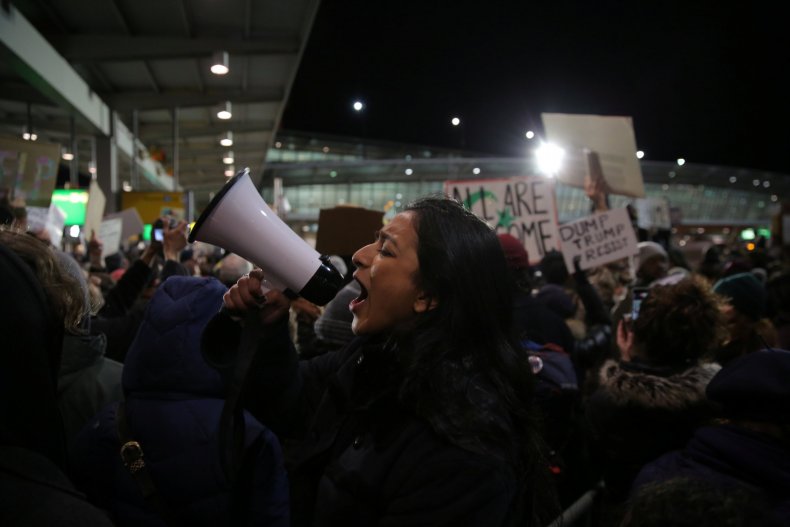 Lisa Votino-Tarrant joined the rally for her 4-year-old daughter. "I want her to have a better America than this," she said. Votino-Tarrant is a community organizer who has worked with the Muslim community in Suffolk County, New York, for more than 10 years. Married to a Native American, she describes herself as "a white girl using [her] privilege for good."
Derek Karpel, who came as a Jewish supporter of Muslim refugees, was angry about Trump signing the order on International Holocaust Remembrance Day.
"This insults me as a Jew that we have not learned any lesson from the Holocaust or any subsequent ethnic cleansings," Karpel said. "Knowing people who survived the Holocaust, I am sad that they have to watch this happen again."
Ewa Melanowicz, who is Catholic, joined Karpel because she believes that Trump's action is "anti-Christian." An immigrant from Poland, Melanowicz was naturalized around five years ago. "History must not repeat itself," she said. "People take things for granted. We're here so that the young people know that this isn't right."
One Muslim protester, who asked to remain anonymous because the company she works for has ties to Trump, is weary for the safety of all Americans, specifically minorities. "The overall champion belief of Muslims is love and peace," she said. "We need to oppose this hatred with exactly the opposite. We need to show in numbers that love trumps hate."