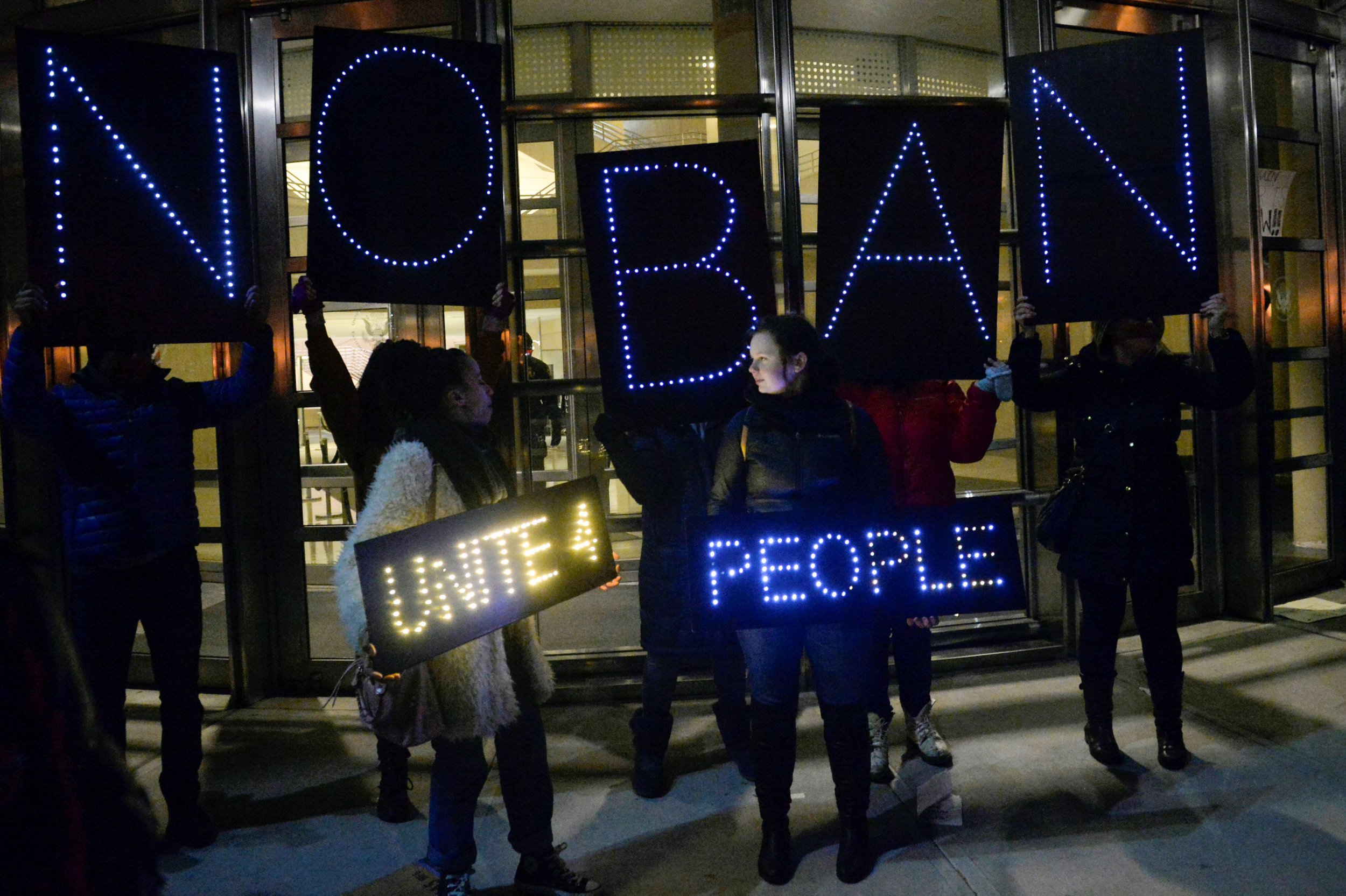 Updated | A federal judge has temporarily halted aspects of President Donald Trump's executive order banning refugees and certain immigrants from entering the United States saying that the deportation of refugees could cause "irreparable injury."
Trump had signed the executive order on Friday, temporarily stopping the U.S. from accepting refugees and prohibiting immigration from seven Muslim-majority countries, fulfilling a campaign promise. On Friday and Saturday, authorities stopped people from those countries at a number of airports. Among them were Hameed Darweesh, an Iraqi man who had served as a translator with the U.S. army, two scientists going to Harvard Medical School, a Stanford University student and a family of Christian refugees from Syria. The American Civil Liberties Union (ACLU) and other legal organizations filed an emergency motion for a stay of removal to block the ban and the deportation of refugees and immigrants. A hearing quickly took place in New York City.
Related: Trump's 'heinous' refugee ban condemned by rights groups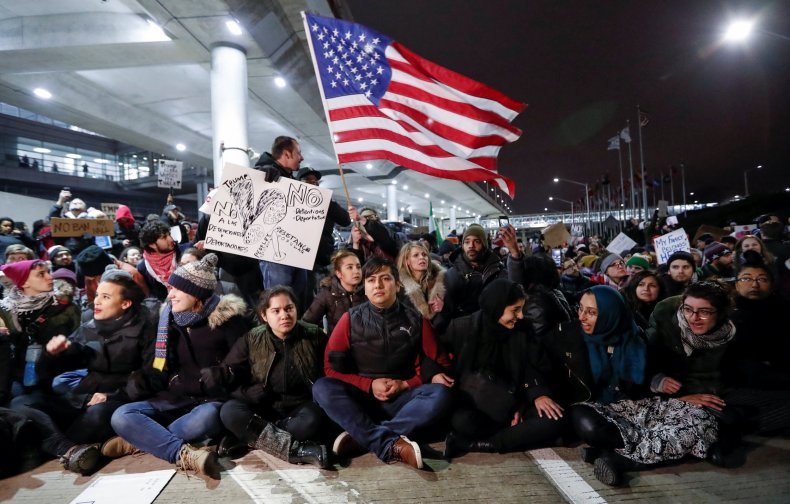 In Focus
From New York City's JFK to San Francisco's SFO, Americans came out en masse to show their support.
Launch Slideshow

23 PHOTOS
In her decision, Eastern District Court Judge Ann Donnelly said it was likely that the petitioners would be able to prove that the executive order is unconstitutional. The judge continued: "There is imminent danger that, absent any stay of removal, there will be substantial and irreparable injury to refugees, visa-holders and other individuals from nations subject to the January 27, 2017 executive order."
The stay prohibits law enforcement and other agents from removing people entering the U.S. with refugee applications or visas and individuals from the seven countries named in the executive order: Iraq, Syria, Iran, Sudan, Libya, Somalia and Yemen.
Emergency stay orders typically address whether a government action can cause irreparable injury, according to Muzaffar Chishti, director of the Migration Policy Institute's office at the New York University School of Law. The stay is temporary, "until the judge at a hearing can make a determination on the legality or the constitutionality of the executive order," Chishti says by email. He expects the process to take weeks.
The ACLU estimated that 100 to 200 individuals had been detained at airports as a result of the executive order. The language in the stay only prevents the removal of noncitizens, not their detention, Chishti says, "but the judge seems to have left open the possibility for the lawyers of the plaintiffs to seek her intervention if they are detained and not released."
Outside of the Brooklyn courthouse, an estimated thousands of demonstrators celebrated the decision. "On day one after he signed the executive order we jumped into court, arguing that the [ban] was unconstitutional, that it was un-American and that it flew in the face of established statutes," ACLU Executive Director Anthony Romero said in a statement outside of the courthouse. "We have shown today that the courts can work," he added, "and when President Trump enacts laws or executive orders that are unconstitutional and illegal, the courts are there to defend everyone's rights."
Also on Saturday night, a federal judge in Virginia issued a separate temporary restraining order in response to the ban. That decision prohibits the removal of green-card holders at Dulles International Airport.
'Hopeful' the Stay Will Stand
Advocates for Muslim refugees and Muslim immigrants applauded the court decisions. "It shows that the federal courts will provide a meaningful check on President Trump's use of executive authority to restrict immigration by Muslim individuals," says Albert Fox Cahn, director of strategic litigation for the New York chapter of the Council on American-Islamic Relations. "This provides a significant likelihood that the ban will be delayed while a federal court decides on the merits of these restrictions." Cahn says he expects the U.S. Department of Justice to appeal the stay.
"While we're very hopeful that the stay will stand, that it will provide a significant period of time for people to enter the U.S. before the ban goes into effect, it's unclear how the stay will be challenged and how an appellate court might review such an appeal," Cahn says.
Confusingly, the U.S. Department of Homeland Security said in a statement on Sunday that it would "comply with judicial orders," but also that "President Trump's Executive Orders remain in place—prohibited travel will remain prohibited, and the U.S. government retains its right to revoke visas at any time if required for national security or public safety."
Homeland Security continued to say that less than 1 percent of the 325,000 daily international air travelers to the U.S. on Saturday "were inconvenienced while enhanced security measures were implemented." The agency added, "We will treat all of those we encounter humanely and with professionalism. No foreign national in a foreign land, without ties to the United States, has any unfettered right to demand entry into the United States or to demand immigration benefits in the United States."
On Sunday, Trump doubled down on his desire for stricter immigration policies, tweeting, "Our country needs strong borders and extreme vetting, NOW. Look what is happening all over Europe and, indeed, the world—a horrible mess!" He also tweeted, "Christians in the Middle East have been executed in large numbers. We cannot allow this horror to continue!" (The European Parliament has recognized the Islamic State's killing of religious minorities, including Christians, as genocide. As of late 2015, the group had killed at least 1,000 Christians, NPR reported.)
World and business leaders have joined refugee advocates and resettlement organizations in condemning the executive order. Demonstrators had gathered in large numbers at airports on Saturday. In protest of the executive order, taxi drivers stopped making pick-ups at John F. Kennedy International Airport in New York City, and airport officials there suspended AirTrain service due to crowd control. New York Governor Andrew Cuomo later ordered the Port Authority to resume AirTrain service, which connects airport terminals with the New York City subway system and the Long Island Railroad.
This article has been updated to include a statement from the U.S. Department of Homeland Security and comments by President Donald Trump.
Correction: This article previously incorrectly stated that John F. Kennedy International Airport officials suspended taxi pick-ups and drop-offs during a protest on Saturday. It was the taxi worker's union that decided to halt service.