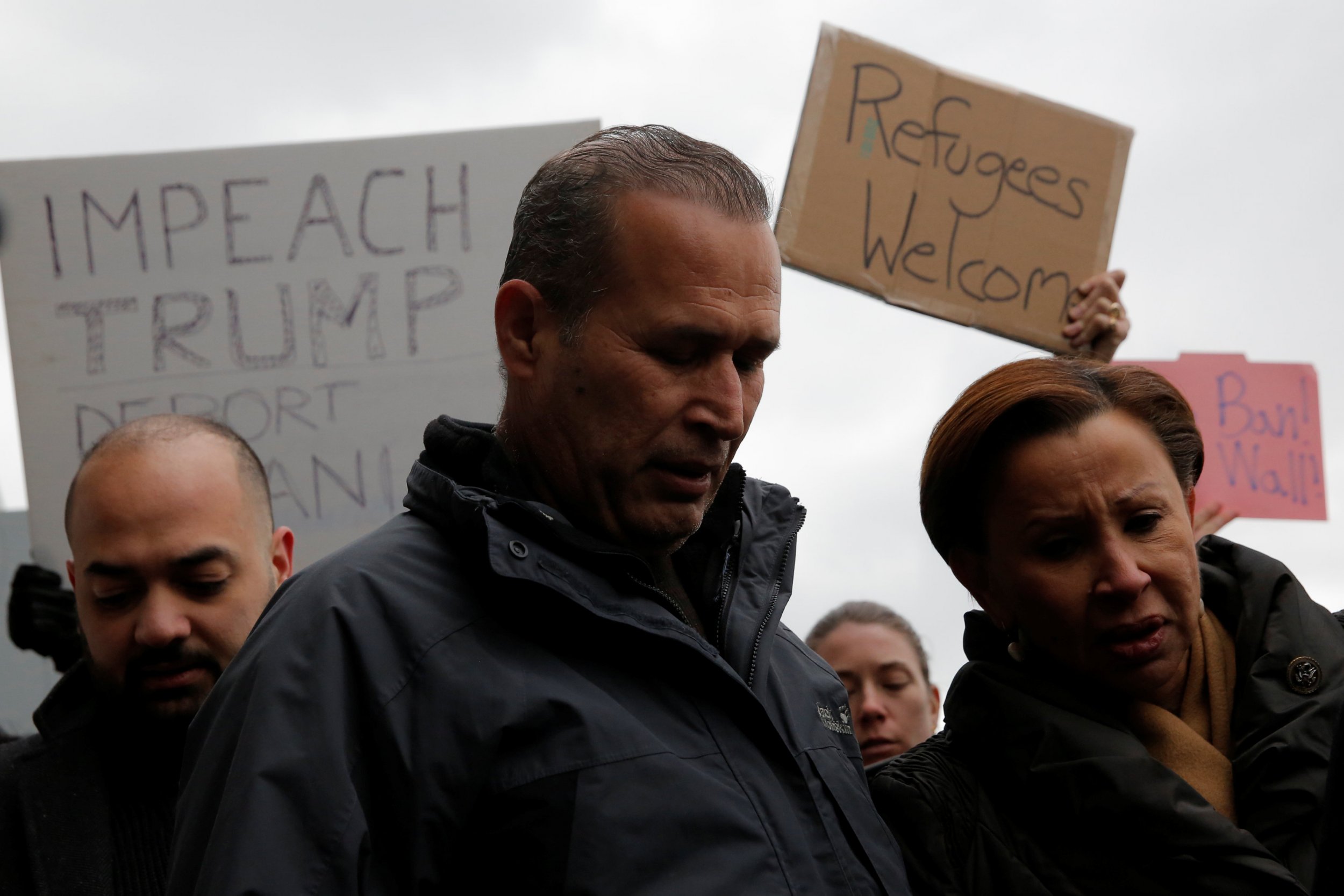 Refugee rights groups are angrily denouncing an executive order signed by President Donald Trump on Friday that bars Syrian refugees fleeing war and persecution from entering the United States, which has already resulted in the detention of families at U.S. airports and panic among lawful permanent residents who are trapped outside the country they call home.
As many as a dozen refugees were reportedly being held at New York's John F. Kennedy International Airport on Saturday afternoon, according to Make The Road, an immigrant rights group based in the city. After one man, Iraqi refugee Hameed Khalid Darweesh, was released, Make The Road tweeted that there are "11 more to go." Amit Jain, law student intern at Worker and Immigrant Rights Advocacy Clinic at Yale Law School, confirmed on a press call on Saturday that there are still 11 people detained at JFK.
A protest is currently underway at JFK Airport's Terminal 4 and looks set to extend into the evening.
"I'm shocked, horrified and appalled. We're already seeing the human damage that is resulting from this horrible executive order," said Mark Hetfield, president and CEO of the HIAS, one of nine federally contracted refugee resettlement agencies. "You just read the executive order, you can see the malintent and hate behind it. It depicts refugees as terrorists, as people who hate our Constitution," he says. "It doesn't say one kind thing about refugees, it doesn't acknowledge that refugees are fleeing for their lives, by definition.
Related: Syrian refugees, organizations tense ahead of Trump executive order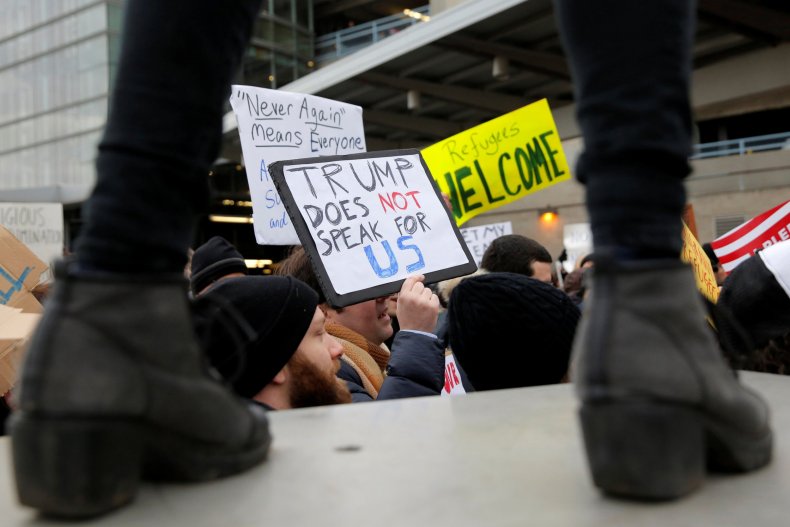 "It's awful. It's the worst refugee policy document issued in nearly 100 years," he says, referring to the Emergency Quota Act of 1921, which limited the number of immigrants who could enter the U.S. based of their nation of origin. "Nothing this heinous has been issued."
A copy of the order, Protecting the Nation from Terrorist Attacks by Foreign Nationals, has not yet been made publicly available. The text of the order was sent to journalists several hours after its signing on Friday and closely mirrors a draft of the order, published by the Washington Post earlier this week. However, the final executive order does not include the establishing of safe zones for refugees fleeing Syria, which was included in the draft document. The executive order also seems to place preference for Christian refugees coming to the U.S., as it authorizes Homeland Security "to prioritize refugee claims made by individuals on the basis of religious-based persecution, provided that the religion of the individual is a minority religion in the individual's country of nationality. "
Abed Ayoub, legal and policy director at the American-Arab Anti-Discrimination Committee (ADC), said during a press call on Saturday that other affected U.S. airports include Hartsfield–Jackson Atlanta International Airport and Detroit Metropolitan Airport. Ayoub said six people have been detained in Atlanta, while his organization is working with a lawful permanent resident who is being held in Amsterdam's Schiphol airport.
Next week, roughly 2,000 asylees and refugees were due to enter the U.S. and 850 people's settlements have so far been cancelled, according to Melanie Nezer, vice president of policy and advocacy at HIAS. For HIAS specifically, two cases, a Pentecostal worker from Kenya and a 16-year-old girl from Honduras waiting to be reunited with her family, were both cancelled, said Nezer.
Many cases of Muslim refugees being held or detained at U.S. airports, or being denied entry onto U.S.-bound flights, were being reported less than 24 hours after the signing of the order. Hetfield brought up the case of a Syrian woman and her two children, girls aged 5 and 8, who were living as refugees in Jordan. They were due to meet the father of the family, who is Syrian and a U.S. permanent resident living in Connecticut. The mother and her children, who have U.S. immigration papers valid from January 23, 2017, were detained at Kiev airport in Ukraine after connecting there for a U.S.-bound flight and have been sent back to Amman, Jordan.
"God help them," says Hetfield. "I hope they are allowed back in and not deported to Syria."
The Department of Homeland Security confirmed on Saturday that the executive order covers green card holders and legal permanent residents from Syria and six other Muslim-majority countries: Iran, Iraq, Libya, Somalia, Sudan and Yemen. The order also extends to dual nationals, The Wall Street Journal reported on Saturday; if, for example, you are a dual-Iranian and British citizen, the executive order covers you.
Ayoub said on Saturday that the ADC has received more than 1,000 calls from people originally from the seven flagged countries, including students stuck at international airports and people trying to attend funerals and see family abroad.
Ayoub said there has been "complete chaos in the way this has been implemented" at U.S. airports and confusion among Customs and Border Protection officers. In the past few hours, the hashtag #MuslimBanDefense has emerged on Twitter to highlight the stories of Muslims who have been detained or denied entry at U.S. airports.
"This is a Muslim ban," Ayoub says. "This has nothing to do with national security, it has everything to do with Islamophobia."