Syrian Refugees, Resettlement Organizations Tense Ahead of Trump Executive Order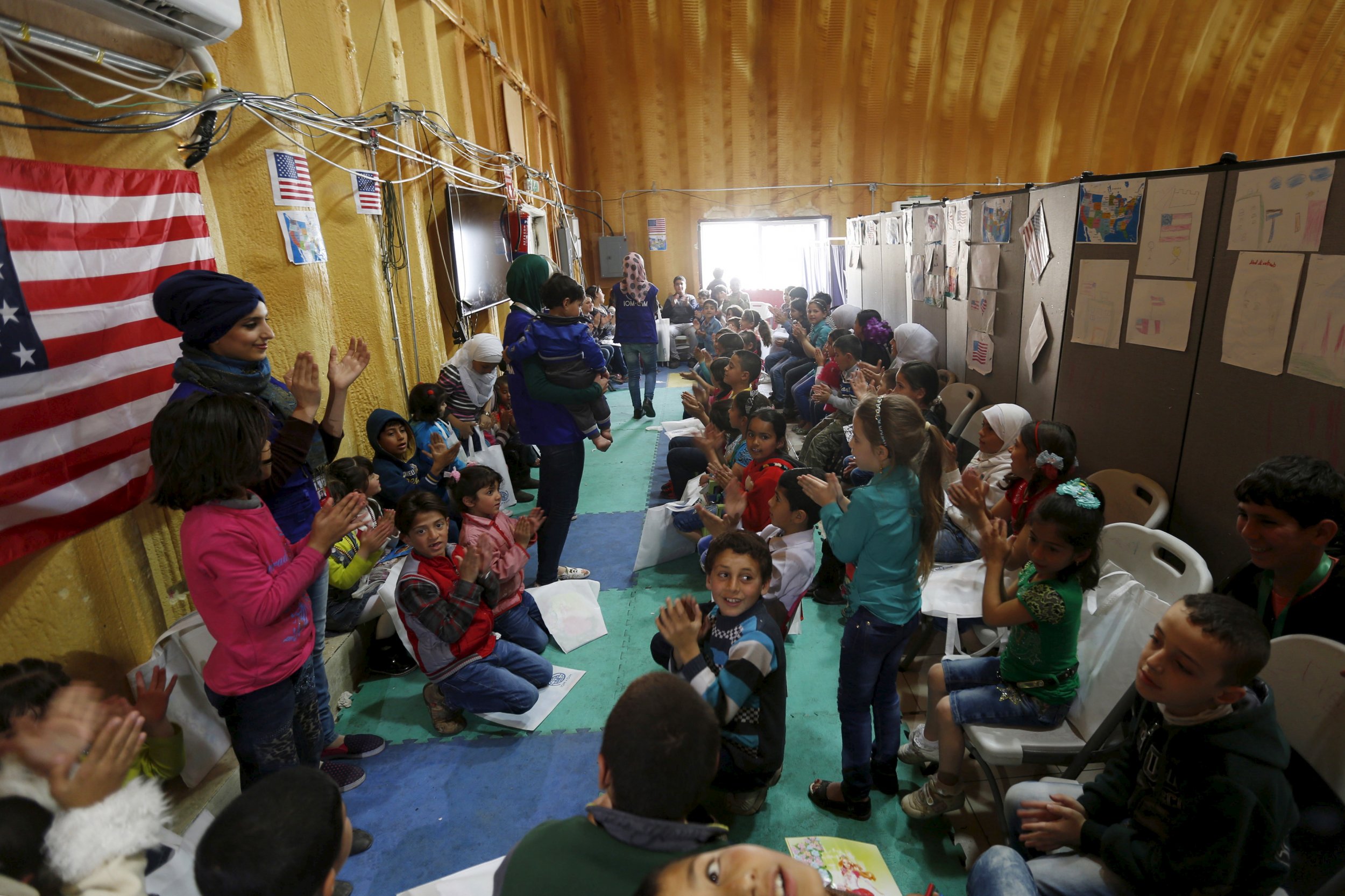 Since the election of President Donald Trump in November, life has changed for Firas, a Syrian refugee living in Virginia.
First, Firas and his family stopped telling people where they are from. They avoided "showing practices of our daily routine or culture as Syrian-Muslim people, like prayers or clothing or speaking our language loudly," he says. He no longer says "assalamu alaikum," a common Arabic-language greeting that means "peace be upon you," fearing how he will be perceived, even in his diverse Virginia community.
"It might sound [like a] terrorist phrase to some," says Firas, who declined to give his surname due to fears for the safety of his family members in Syria. Some people have asked him why he's in the U.S., others told him to go back to the Islamic State (ISIS) militant group in Syria. "I have to answer them: Those terrorists will kill me too," he says.
Perhaps the most difficult part was speaking with his 8-year-old daughter about politics for the first time. "When I asked her, 'Who do you think won the elections?' she answered, 'Is it Mrs. Clinton?' We told her it's Mr. Trump and she wasn't excited. She answered sadly: 'He will send us back home.'"
If enacted, a draft executive order that leaked this week would dramatically alter the U.S. refugee resettlement program, meaning communities and organizations that help those fleeing war and persecution, like Firas and his family, are facing the possibility of a grim new reality.
The draft order, titled Protecting the Nation from Terrorist Attacks by Foreign Nationals, would suspend the U.S. Refugee Admissions Program (USRAP) for 120 days and seeks to curb the number of refugee admissions by more than half, to 50,000 during the 2017 fiscal year. The admittance of Syrian refugees would stop completely until additional vetting procedures were in place. An additional executive order would prevent nationals from Syria, Iraq, Iran, Somalia, Libya, Sudan and Yemen from being issued U.S. visas, Reuters reports.
Related: Trump election leaves refugee advocates fearful and uncertain
On Thursday, Reuters reported that in anticipation of the executive order being signed, the Department of Homeland Security has stopped allowing staff to travel overseas to conduct interviews with refugees. The draft executive order explicitly mentions how "State Department policy prevented consular officers from properly scrutinizing the visa applications of the 19 foreign nationals" who carried out the September 11, 2001 attacks. Yet none of the 19 hijackers were from the seven countries the government appears to be seeking to target. The majority of the attackers were from Saudi Arabia; the rest came from the United Arab Emirates, Egypt and Lebanon.
"It puts into policy the anti-Muslim bigotry that we saw on the campaign trail," says Margaret Huang, executive director of Amnesty International USA. "It's very reminiscent of the kind of religious discrimination that we have documented of the other countries, such as China and Iran. It makes us deeply worried about the direction this administration is taking us in."
The executive order, which would undermine America's position as one of the world's leading countries for refugee resettlement, could be signed as early as Friday. Trump signing this executive order on January 27—International Holocaust Remembrance Day—could be seen as a cruel irony, to put it lightly. In 1939, the U.S. turned away the St. Louis, a ship carrying more than 900 passengers—mainly Jewish refugees fleeing the terror of the Third Reich—after it was first turned away from Havana, Cuba.
On Friday, the St. Louis Manifest Twitter account tweeted the names and photos of the some 200 passengers who later died in Europe during the Holocaust.
"Every religion has its extremists; that's why we have an extreme vetting process in place; we're confident that process leaves extremists out and allows in the innocent," Bill O'Keefe, head of government relations at the humanitarian aid organization Catholic Relief Services, said in a statement on Thursday.
Ibrahim al-Assil, president and co-founder of the Syrian Nonviolence Movement and a fellow at the Middle East Institute, knows how tough it already can be to enter the U.S. Al-Assil, 31, has been seeking asylum in the U.S. since 2014, when his tourist visa was revoked without explanation.
"It shows that it's a tough process. It's not just an easy thing, it's not just that you apply and you get it," he says, adding that he hasn't seen his family in three years. "It was very difficult, even under [former President Barack] Obama's administration. Asylum seekers can't leave the U.S., you can't travel."
In addition to affecting thousands of people who seek safety in the U.S. every year after fleeing persecution, conflict and violence, the draft executive order "puts the global community at real risk," says Huang. Countries such as Turkey, Jordan and Lebanon, which have taken in millions of Syrian refugees, do so on the understanding that other governments are going to step up and help resettle them.
"This is a very clear signal that those countries are on their own in coping with the crisis, which could spur all kinds of terrible decisions, including turning away refugees who are now crossing borders—or even worse, returning people to places that they've fled for fear of their lives," says Huang.
With the executive order still a draft, resettlement organizations have recruited powerful voices to draw attention to what could become a devastating blow to the refugee resettlement program. Former Secretary of State Madeleine Albright, who came to the U.S. as a refugee from Czechoslovakia after the Communist takeover of the country in 1948, said on Wednesday that she would register as a Muslim if such a registry is established, as has been threatened.
"There is no fine print on the Statue of Liberty and today she is weeping because of the actions of President Trump," Albright said during a press call organized by Refugee Council USA on Thursday.
Albright also said that the proposed refugee ban could serve as a propaganda tool for the Islamic State militant group, which continually tells Muslims that the West stands against them. "Refugees should not be viewed as a burden or potential terrorists," she said.
Firas says several of his friends are still trying to come to the U.S., while some are already living here under temporary protected status—given to nationals of countries, including Syria, deemed unsafe to return to—or waiting for their asylum applications to be approved.
"I believe [they] all going to be impacted," he says. "They've just lost hope now after this change."