Jhené Aiko's Surprise Album 'Trip': 9 Times Singer's New Tracks Made Us Want to Roll Up and Cry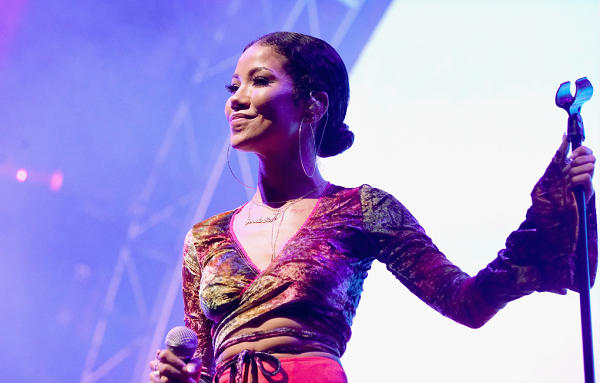 It's been three years since Jhené Aiko released an album, but the wait was well worth it. On Friday, the California native dropped a surprise album on fans right on time for fall, the season of sulking and immersing ourselves in our feelings.
Aiko's new album, Trip, cuts deep with its journey of loss and despair that eventually leads to love—but not before the damage of self-medicating.
It's a cycle many have experienced. Aiko, coping with the death of her brother, sings about trying to fill the "black hole" he left behind. Appearing in interludes on the compilation as her alter-ego Penny the poet, the singer tells the story of a woman who meets a new love during her darkest moments of grief. While the encounter could lead to a blissful romance—potentially one that could provide some healing to her broken heart—she goes on to sabotage the relationship after she's introduced to drugs like marijuana and acid. The drugs act as a coping mechanism that feels good in the moment, but when the high wears off, their effects only seem to make things worse.
The 22-track album, which came along with a 23-minute short film released Wednesday, is a beautiful ode to dealing with grief and finally letting go of the past in order to move forward. A true tearjerker (you'll definitely need a box of tissues on standby while listening) with a mix of up- and downtempo tracks and a plethora of guest appearances from artists like Swae Lee, Big Sean, Kurupt, Dr. Chill, Namiko Love, Mali Music and Brandy, Trip is an album that just about anyone who's ever lost a loved one can relate to.
Check out a list of the tracks that made us want to roll up and cry the most below:
1. "LSD": The first track on the album toys a lot with the idea of life in heaven after death. Seemingly speaking to her deceased brother, she asks, "How you like it up there? What's your view from there?" Comparatively, she offers a token of insight on her new views after taking her first acid trip, singing, "What I saw. Oh my God. Oh my God."
2. "Sativa": The smooth track feels a lot like riding a cloud, and the breezy beat certainly sets the mood. But we all know how being under the heavy influence of weed and alcohol doesn't always lead to the best decisions. Yet somehow we end up making them anyway.
3. "New Balance": Aiko's syrupy voice sounds like honey coating our eardrums, and the chorus gives a twinge of hope that something sweet could be waiting for us despite all the tragedy engulfing this cruel world we live in.
4. "You Are Here": Similar to the sound and feel of Aiko's "To Love and Die" on her previous album, Souled Out, the song hints at that moment when you find a new potential boo who seems too good to be true. "Hope you are who you say you are," Aiko sings on the chorus. We hope so too, girl.
5. "Overstimulated": Just as the title hints, this song hints on the thrilling rush of intoxication but is also a good reminder of the feeling of emptiness that comes along with it.
6. "Bad Trip": A cry for help.
7. "Picture Perfect": This freestyle is a remembrance of love lost as Aiko sings, "I remember still. I do see you still. Perfectly."
8. "Sing to Me": Featuring Aiko's daughter, Namiko Love, the track is cute, short and sweet. It also changes the tone of the album, leading to a more uplifting feel as the album reaches its end.
9. "Ascension": After enduring a grueling battle of grief and drugs, the song is a perfect and encouraging ending to the album. Seemingly realizing she's been on a path of destruction, "Ascension" is very much a song signifying redemption and change. And it's a beautiful reminder that no matter how deep into despair you go, there's always a chance to find your way and "make it out of this hell."