Who Is Jill Biden? Former Vice President's Wife 'Excited and Proud' of 2020 Announcement
Jill Biden tweeted that she was "excited and proud" that her husband, former Vice President Joe Biden, had entered the 2020 Democratic race for president.
The 67-year-old former English teacher married Biden in 1977, becoming his second wife, five years after he became a U.S. senator from Delaware. The senator's first wife, Neilia, died in a 1972 car crash, along with the couple's 1-year-old daughter, Naomi.
She is stepmother to Biden's children from his first marriage, Hunter Biden, a lawyer, and the late Delaware Attorney General Beau Biden, who died of brain cancer in 2015. Together the couple has one child, Ashley Biden, a social worker.
Jill Biden grew up in Willow Grove, Pennsylvania, the oldest daughter of Donald Jacobs, a bank worker, and Bonny Jacobs, a homemaker. She has four younger sisters.
Newsweek subscription offers >
In 1975, she graduated with a bachelor of arts degree from the University of Delaware, and in 1981 received a master's in reading from West Chester University, a master's in English from Villanova University in 1987, and a doctorate in education from the University of Delaware in 2007, focusing on community colleges.
Biden's White House profile from her time as second lady from 2009 to 2017, said that she taught English in public schools and at Delaware Technical and Community College for more than 25 years. She also worked with the Rockford Psychiatric Hospital Adolescent Program.
"In 1993, after four of her friends were diagnosed with breast cancer, she started the Biden Breast Health Initiative, which in the past 15 years has educated more than 7,000 ninth-through-twelfth-grade girls in Delaware about proper breast health," the profile states.
As a Blue-Star mother, Biden made issues affecting military families a top priority, according to her White House biography, and has actively participated in a nonprofit organization called Delaware Boots on the Ground, which supports military families during deployment.
Newsweek subscription offers >
According to an extract of Biden's forthcoming memoir, Where the Light Enters, reported by MailOnline, the former vice president asked her to marry him five times before she said yes. She had already been married and divorced before the age of 20.
"I was launching my career and planning for graduate school—and then I had staff calling to schedule dates with my boyfriend around his insane Senate schedule," she wrote. "I was being pulled in so many directions."
She currently works with the Biden Foundation, a nonprofit she set up with her husband, whose mission is "to protect and advance the rights and opportunities of all people through educational programming and public policy analysis."
The foundation works to advance community colleges, end violence against women, advance LGBTQ equality and support military families.
Joe Biden officially entered the Democratic Party's race for the 2020 nomination on April 25, ending months of speculation about his intentions. Among the other 19 candidates, he's
currently the front-runner, according to recent polls.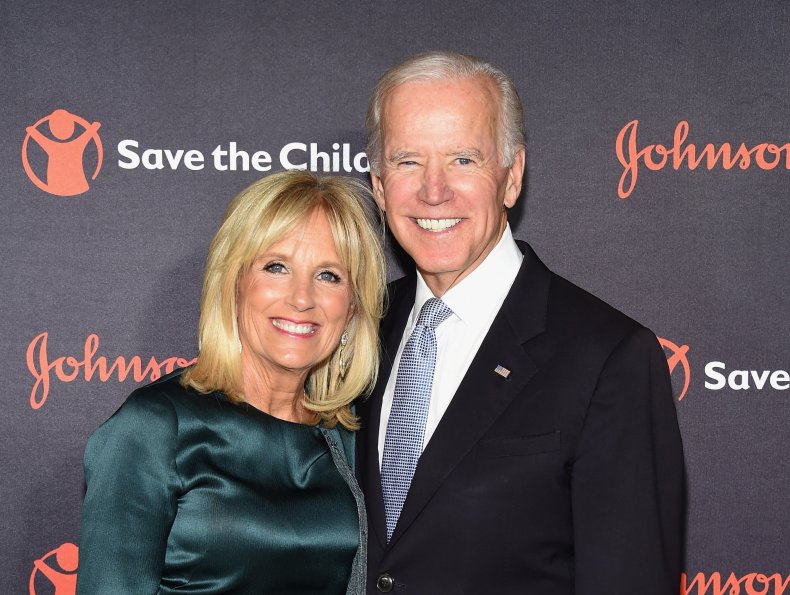 Who Is Jill Biden? Former Vice President's Wife 'Excited and Proud' of 2020 Announcement | U.S.