Video of Jill Biden Ushering Joe Away From Reporters Goes Viral
A clip of Joe Biden not answering questions from reporters as Jill Biden walks alongside him has gone viral.
The footage shows the president and first lady as they head towards a Lunar New Year celebration at the White House on Thursday.
The clip shows one reporter asking Biden if he will allow the FBI to search his home in Rehoboth Beach, Delaware, for classified documents after sensitive materials were discovered at the president's private residence in Wilmington.
Biden doesn't stop to answer the question. Jill Biden walks up beside him and waves to the crowd, before the pair both turn away and walk towards the entrance.
Republicans and conservative media have jumped on the clip, claiming it shows Biden being ushered away by the first lady so he does not answer questions.
"REPORTER: 'Will you allow the FBI to search your Rehoboth Beach home?' Jill Biden gets in the way and ushers Joe along before he answers," tweeted right-wing website TownHall while sharing the video.
The RNC Research Twitter account also posted the clip while claiming Biden did a "blank stare" when asked if he will allow the FBI to search his home.
The clip has since been viewed more than 120,000 on Twitter.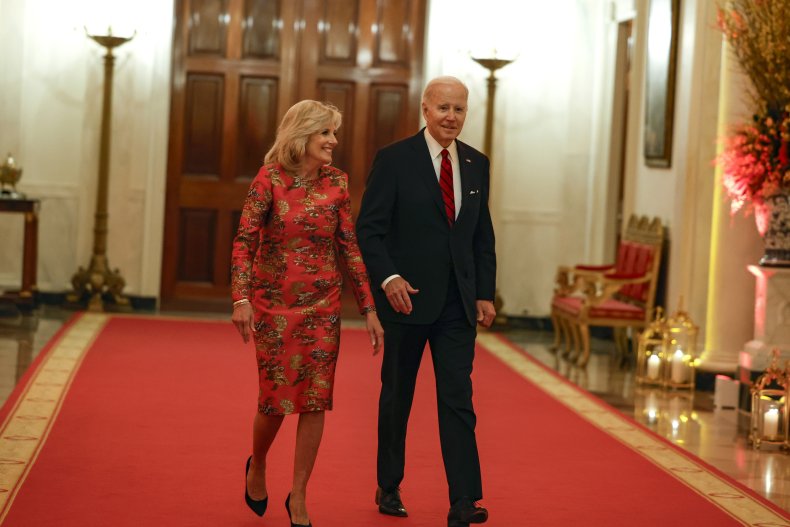 Biden is under a special counsel investigation after his lawyers first discovered Obama-era documents at Penn Biden Center on November 2, 2022.
A second batch of classified materials was then discovered in the garage at Biden's Wilmington home on December 20, with more sensitive materials found at Biden's home during searches on January 12 and January 20.
All documents were immediately handed over to the National Archives.
During the reception at the East Room of the White House, Biden described the "hate, pain" and loss the Asian community has endured following the recent spate of violence in the U.S., including a gunman who killed 11 people in Monterey Park, Los Angeles, during Lunar New Year celebrations.
"As I've said many times before, hate can have no safe haven or harbor in America. No person deserves to be treated with hate—in a hateful way. They all deserve to be treated with dignity and with respect" Biden said.
"It's real simple: Silence is complicity. Silence is complicity. We cannot be silent. I will not be silent," the president added.
"And one more thing: We're going to ban assault weapons again, I did it once as a senator. We're going to do it again."
The White House has been contacted for comment.