Jill Biden Recalls Her and Joe Having Tea With Queen Elizabeth II
First lady Jill Biden recently recalled a memorable 2021 meeting with Queen Elizabeth II following the monarch's death this week.
An outpouring of tributes has come since the queen—Britain's monarch for 70 years—died on September 8 at the age of 96.
"First, I want to say that our hearts are with the queen's family," Biden said in an interview with NBC's Today.
She went on to remember the tea she and president Joe Biden—the 13th sitting U.S. president to meet the queen—had with her at Windsor Castle in June last year.
"What I loved about her was that she was really independent," she said.
Jill Biden said as she and the president went up to the queen's living room, they were told: "Don't talk about family."
"So we went up and so the first thing she starts with is family," she said. "Prince Philip had just died recently and I think, you know, she knows Joe. I think she just wanted to talk about her husband."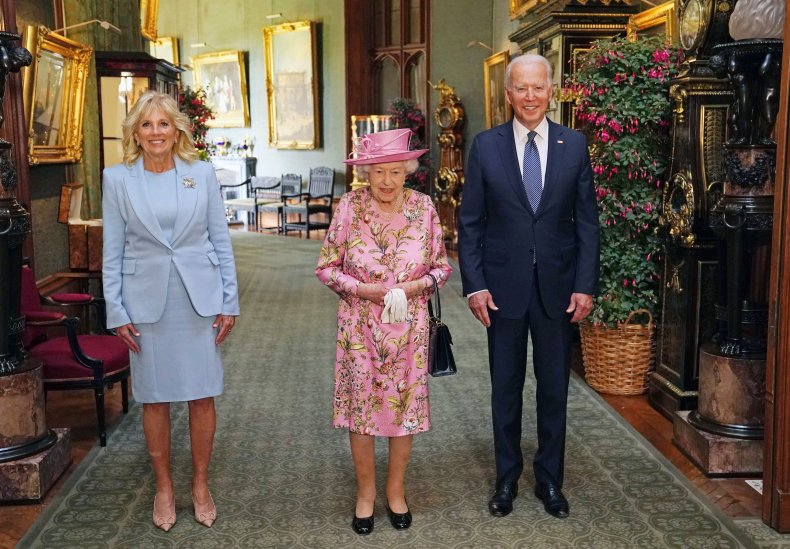 As well as staying away from the topic of Prince Philip's death, the instructions may have been an effort to curb talk about Elizabeth's second son, Prince Andrew. Andrew was forced to step back from royal duties in 2019 amid a growing furor over allegations he sexually abused a teenage girl trafficked by the late financier Jeffrey Epstein.
Andrew vehemently denied the allegations and he asked a U.S. judge to dismiss a sex abuse lawsuit, filed in New York in August 2021, by the accuser, Virginia Giuffre. It was formally dismissed in March after a settlement was reached with an undisclosed payment.
Jill Biden also said that Elizabeth had insisted on serving the Bidens tea herself and showed an interest in American politics.
"She poured tea and Joe and I said, 'Oh, let us help you.' 'No,' you know. 'You sit there and I'll get the tea,'" the first lady said. "And then she had such curiosity. You know, she wanted to know all about American politics, what was happening. So, she put us at ease."
The White House said on Sunday the president has accepted an invitation to attend Elizabeth's state funeral in London on September 19. He will be accompanied by the first lady.
The Bidens earlier paid tribute to Elizabeth, saying she was "more than a monarch" and that she "defined an era."
"Queen Elizabeth II was a stateswoman of unmatched dignity and constancy who deepened the bedrock Alliance between the United Kingdom and the United States. She helped make our relationship special," they said in a statement.
"We first met the Queen in 1982, traveling to the U.K. as part of a Senate delegation. And we were honored that she extended her hospitality to us in June 2021 during our first overseas trip as President and First Lady, where she charmed us with her wit, moved us with her kindness, and generously shared with us her wisdom."
On Sunday, President Biden also recalled the message Elizabeth had sent to the United States after the September 11, 2001, attacks.
"Grief is the price we pay for love," Biden said, quoting part of the queen's message during a speech on the 21st anniversary of the attacks.