Jill Biden Speech Prompts Melania Trump Comparisons As Video Watched Over 1 Million Times
Melania Trump began trending on Twitter today after Jill Biden made a speech that led to comparisons between the two first ladies.
The former first lady has been keeping a low profile since she and her husband Donald Trump left the White House in January.
This week, Jill Biden was in Delano, California, to mark the birthday of César Chávez—a Latin American civil rights activist and labor organizer who formed the country's first successful farmworkers' union.
She visited a pop-up vaccination center for farmworkers who have lobbied for priority vaccine access.
In a speech praising their work, Biden told the gathered crowd: "As millions of Americans were isolated at home, we depended on those who kept going in to work, every single day.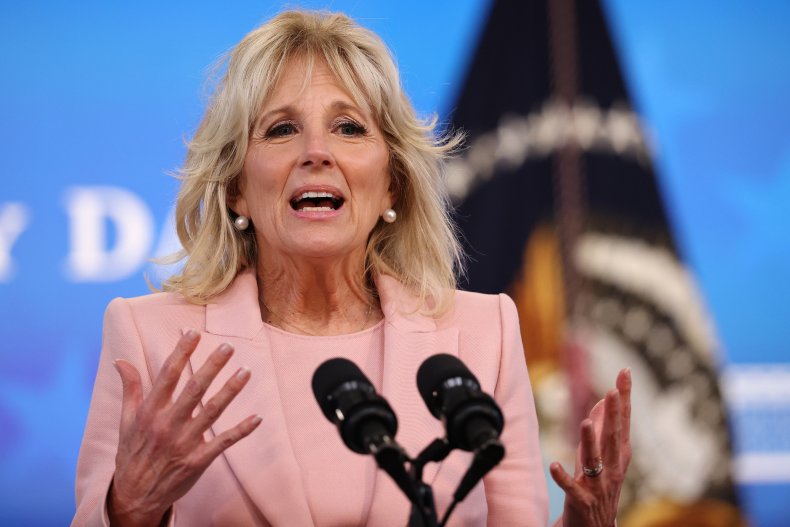 "Without the farmworkers who kept harvesting our food, or the factory workers who packaged it, the grocery store clerks who stocked shelves, no one would have made it through this year."
The first lady went on: "So say it with me, the future is ours…"
She then mentioned the motto of the United Farm Workers—"¡Sí Se Puede!" which can be translated as "Yes we can"—but caught some flak on social media for mispronouncing the Spanish words.
Steve Cortes, a former member of Donald Trump's National Hispanic Advisory Council, tweeted: "'Si, se pwodway!' Can't get enough watches of the good Doctor's audition for the Veep sequel..."
Journalist Alexei Koseff joked: "Almost!" alongside a clip of the moment that has been viewed more than 1.7 million times at the time of publishing.
The event led many to compare her to Melania Trump, with one person tweeting: "Jill Biden drew this very small crowd to hear her speak. Just think how many people would have been there if Melania was speaking."
Author and ardent Trump supporter Nick Adams wrote: "Watching Jill Biden botch basic Spanish makes me miss Melania Trump, an extraordinary First Lady who is fluent in five languages."
But other social media users questioned this claim, with one writing: "Melania is only fluent in plagiarizing Michelle Obama's speeches. So maybe sit this one out."
During the trip to California, Biden mentioned her own membership of a teaching union, describing herself and the president as "a union couple."
She also acknowledged the difficulties presented by the coronavirus pandemic. "I think the country needs to heal," she said. "I'm hoping you and your family's life get better."