How Jill Biden's White House Christmas Decorations Compare to Melania Trump's
Jill Biden has unveiled her first go at Christmas decorations in the White House as First Lady, with a theme that signals a warmer approach than recent years.
The theme chosen by the first lady this year is titled "Gifts From the Heart," and it features flag-themed stockings and Christmas trees decorated with white doves as well as an arch of red gift boxes.
East Wing communications director Elizabeth Alexander said the theme was selected because the first lady "wanted to focus on things that unite us, that bring us together, and that's a gift," per the Washington Post.
Dr. Biden's office reports that there are 41 Christmas trees throughout the White House this year as well as more than 300 candles and more than 10,000 ornaments
Each room has also been decorated in its own mini-theme, which includes the "Gift of Family" and the "Gift of Service."
"Inspired by the acts of kindness and experiences that lifted our spirits this year, decorated rooms in the White House reflect the Gifts from the Heart that unite us all: faith, family, friendship, the arts, learning, nature, gratitude, service, community, peace, and unity," the first lady wrote on Twitter alongside photos of her work.
This year's decorations represent a return to more traditional approach following Dr. Biden's predecessor, Melania Trump's controversial take on the annual first lady holiday duties.
The former first lady's stint in the White House will forever be associated with her dystopian blood-red Christmas trees in the East Colonnade in 2018 and her infamous hatred of the holiday that was leaked to the world through a secretly recorded phone call.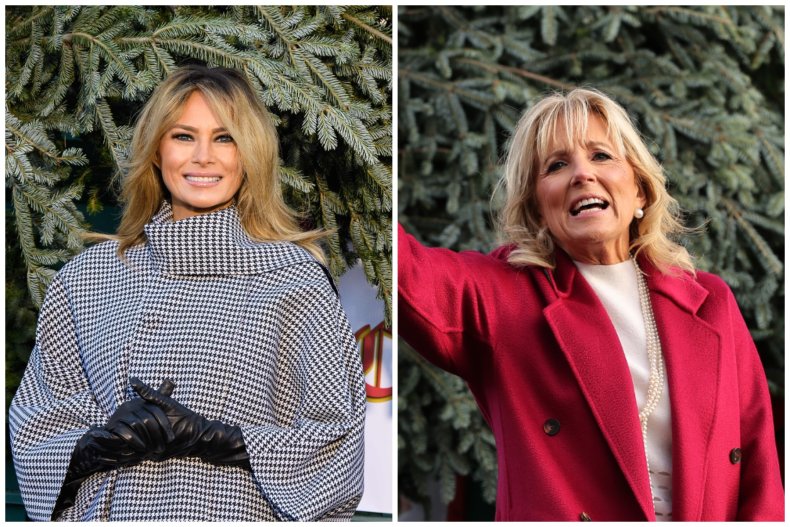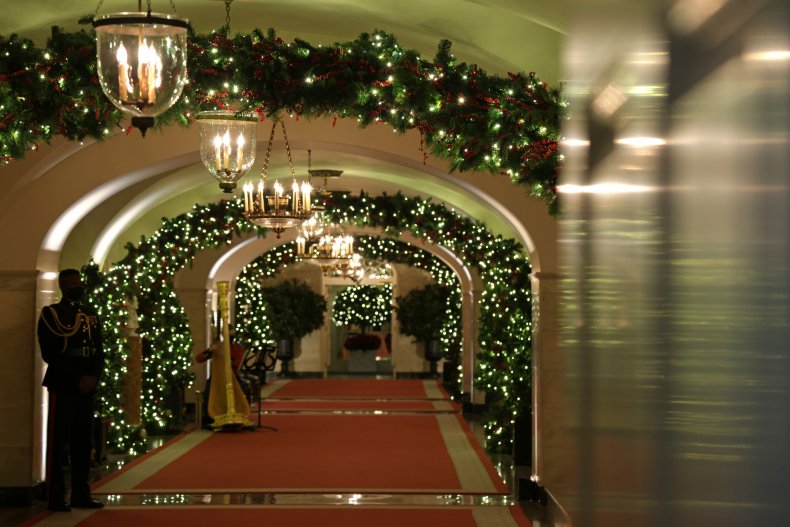 Dr. Biden's decor this year focuses on family and tradition and includes photos of other first families celebrating the holidays at the White House.
There are also six stockings hanging on the fireplace in the State Dining Room for each Biden grandchild that have been knitted by a Delaware artisan who created the family's own personal Christmas stockings.
These elements provide a stark contrast to the row of bare, white branch clusters, lit from the bottom that Melania Trump installed in 2017.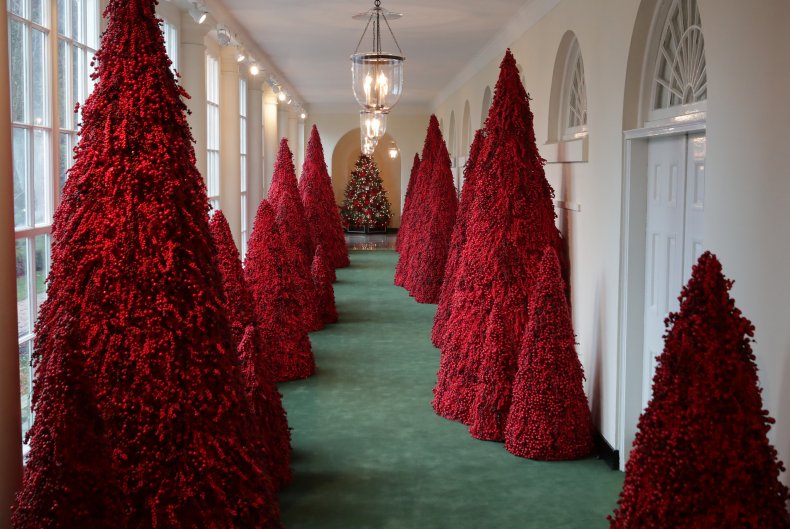 All in all, there is also less fake snow and flashing lights, which were favored by Melania Trump as Jill Biden sought to emulate how most families decorate their homes on the holidays.
A statement from the East Wing says Dr. Biden was "inspired by small acts of kindness and experiences that lifted our spirits this year and throughout the pandemic."
Last week, the first lady took part in the tradition of accepting the official 2021 White House Christmas tree in a move that was widely compared to her predecessor.