Jill Biden's Response to White House Christmas Tree Sparks Melania Trump Comparisons
Christmas is coming to 1600 Pennsylvania Avenue and first lady Jill Biden kicked off the festivities on Monday by accepting the official 2021 White House Christmas tree.
The 18-and-a-half-foot Fraser fir was presented by Rusty and Beau Estes, from Peak Farms of Jefferson, North Carolina, who are the National Christmas Tree Association's grand champion growers.
"It's beautiful—it's magnificent, actually," Biden told reporters of the tree.
As per tradition, the tree arrived via horse and carriage and was inspected by the first lady before being placed in the Blue Room and decorated with a theme that will be revealed after Thanksgiving.
Many observers are keen to see what theme she has chosen. The tree's arrival has also prompted memories of Biden's predecessor, Melania Trump, and her take on holiday decor.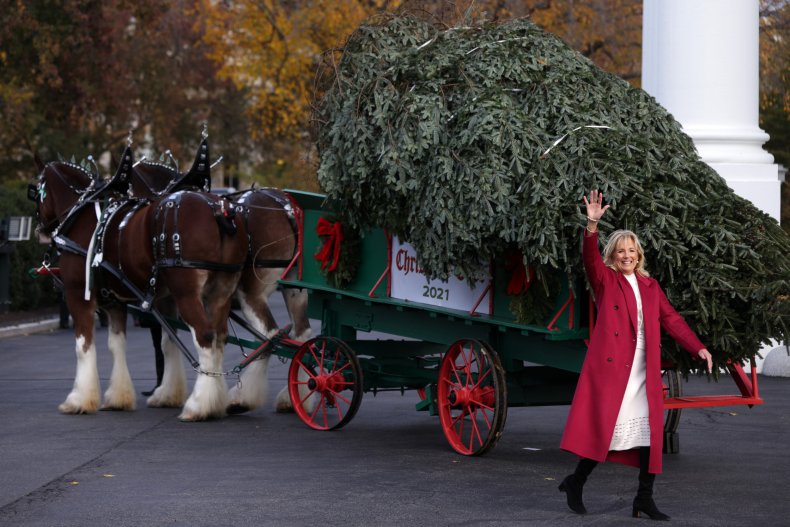 One of Melania Trump's final duties as first lady was overseeing the White House holiday decorations in 2020. Although she returned to a more traditional style last year, her previous themes had raised a few eyebrows.
In 2018, she opted for all-red trees that were dubbed "blood trees" by the internet. A year earlier, Trump chose barren white firs.
Decorating the White House was seemingly not a task that Trump enjoyed. A former aide secretly recorded her saying: "Who gives a f*** about Christmas stuff?
"Give me a f****** break. I'm working like a—my a** off at Christmas stuff that, you know, who gives a f*** about Christmas stuff and decorations? But I need to do it, right? Correct?"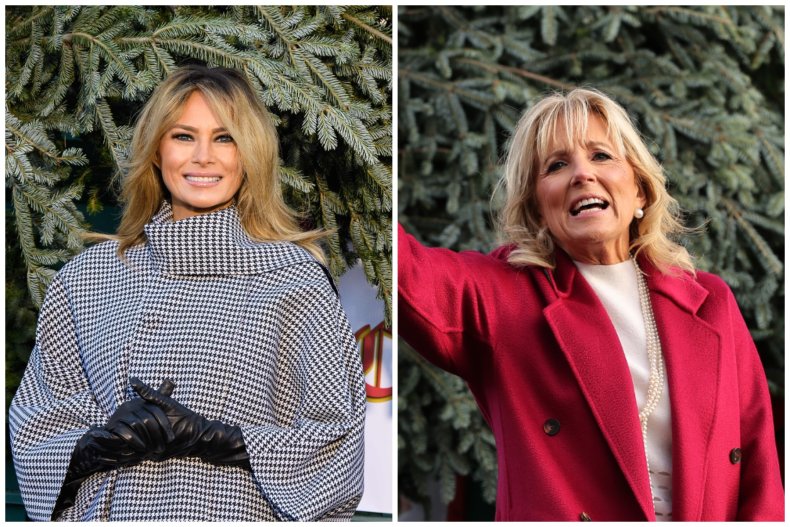 Commenters on Twitter are expecting a different take on Christmas from Biden this year.
"After four years, thanks to First Lady Jill Biden, a normal, happy Christmas returns to the White House. It's the end of Melania Trump's dark, dystopian Christmases of 'I'm working my a** off on Christmas stuff. Who gives a f**k about Christmas?'" tweeted Mike Sington, a former executive at NBC.
Another social media user wrote: "Merry Christmas, such a wonderful start to the season! Thank you for bringing back a normal American Christmas to the White House, it was missed for a few years!"
One tweet read: "Thank God there's a real first family again rather than a corrupt gang of grifters. Grateful Melania Trump's Christmas horror show is gone as well."
Another user joked: "Dr. Jill Biden officially ends Melania's four year war on f'ing Christmas."
One added: "Can't wait to see how @FLOTUS decorates for the holidays. After the morbid, dark, I hate Christmas decor of Melania it's sure to be a major improvement."
The tradition of the White House Christmas tree dates back to 1889 and the tradition of the first lady picking a theme for the Blue Room tree started with Jacqueline Kennedy in 1961.
Update 11/24/21, 6:30 a.m. ET: This article was updated to add more pictures.