Melania Trump Unveils 'America the Beautiful' Decorations for Last Christmas at White House
Melania Trump has unveiled the 2020 Christmas Decorations at the White House, for what will be her last festive season as first lady. In a video posted to Twitter Monday, the first lady revealed the theme for the holiday decor is "America the Beautiful."
"During this special time of the year, I am delighted to share 'America the Beautiful' and pay tribute to the majesty of our great Nation," she tweeted. "Together, we celebrate this land we are all proud to call home. #WHChristmas."
In the video, Trump gives a virtual tour of the traditional trimmings, with a shot of a tree-lined corridor and a "White House Express" train set with the words "America the Beautiful" on the carriages.
Close-up shots also show smaller details of the decor, including a "Be Best" ornament and a Christmas village hospital, a nod to health care workers.
Further photos shared on social media show the first lady surveying her work amid brightly lit trees with red and gold ornaments.
Melania seems to be embracing her last festive season as first lady despite being secretly recorded saying "Who gives a f*** about Christmas stuff" earlier this year.
"Give me a f****** break. I'm working like a—my a** off at Christmas stuff that you know, who gives a f*** about Christmas stuff and decorations?" she said in the tapes while discussing the criticism she faces from the media. "But I need to do it, right? Correct?"
The recordings of Melania were first released in October by her former friend and aide Stephanie Winston Wolkoff, who has written a book called Melania and Me.
The phone conversation reportedly took place after Melania visited an immigration detention facility in Texas.
"OK, and then I do it. And I say that I'm working on Christmas planning for the Christmas. And they said, 'Ooh what about the children, that they were separated?' Give me a f****** break," she said on the tape. "Were they were saying anything when Obama did that?"
"They say I'm complicit. I'm the same like him, I support him. I don't say enough, I don't do enough where I am."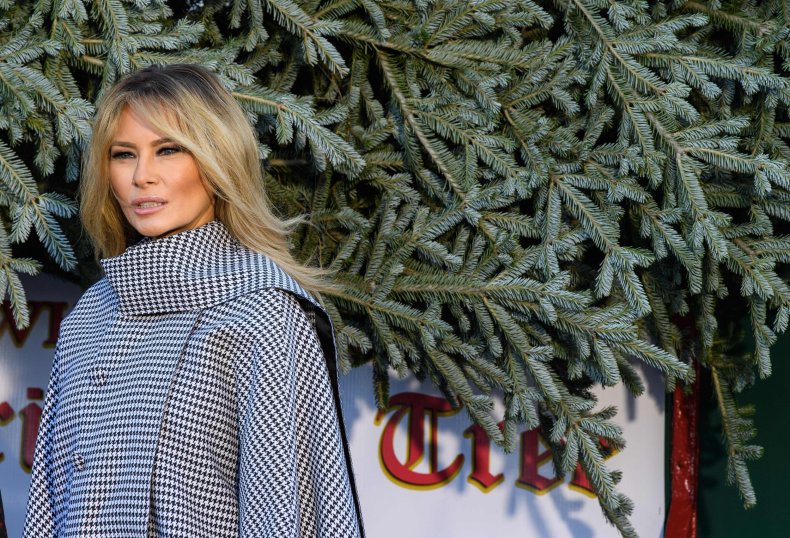 In a statement following the release of the tapes in October, the first lady said the quote was taken "out of context" and dismissed Wolkoff's book as "idle gossip trying to distort my character."
Last week, Melania welcomed a giant Christmas tree to the White House as per tradition.
"Today I welcomed the arrival of the beautiful @WhiteHouse Christmas Tree!," she tweeted. "We are excited to begin decorating the People's House for the holiday season! #WHChristmas."