Melania Trump's Last Christmas at the White House—What First Lady Has Said About Holiday Plans
Melania Trump has kicked off this year's Christmas proceedings at the White House by welcoming a gigantic festive tree.
The first lady was in the festive spirit this week, despite being secretly recorded saying "who gives a f*** about Christmas stuff" earlier this year.
As the outgoing first lady, decorating the White House will be one of Melania's last jobs in the role before Jill Biden takes over in January.
Taking to Instagram Monday, Melania shared a number of photographs of the impressive tree arriving for the holidays.
"Today I welcomed the arrival of the beautiful @WhiteHouse Christmas Tree!," she wrote. "We are excited to begin decorating the People's House for the holiday season! #WHChristmas."
Despite Donald Trump refusing to concede defeat to Joe Biden, the annual festive traditions are still taking place in Washington D.C. and the president's traditional turkey pardon is scheduled later this week
According to CNN, this year's tree is an 18.5-foot tall Fraser fir owned by Dan and Anne Taylor, from West Virginia. It was delivered by a wagon pulled by two Clydesdale horses, named Ben and Winston.
Melania was less enthusiastic about Christmas earlier this year in leaked recordings.
"Give me a f****** break. I'm working like a—my a** off at Christmas stuff that you know, who gives a f*** about Christmas stuff and decorations?" she said in the tapes while discussing the criticism she faces from the media. "But I need to do it, right? Correct?"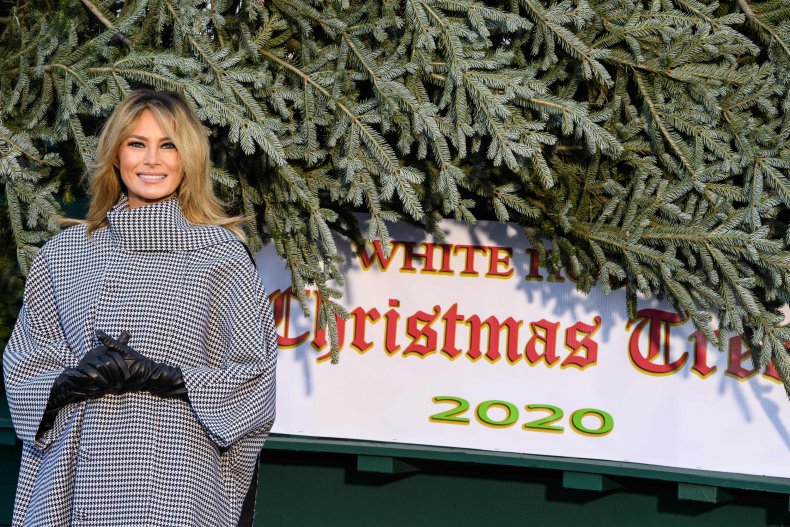 The recordings of Melania were first released in October by her former friend and aide Stephanie Winston Wolkoff, who has written a book called "Melania and Me."
The phone conversation reportedly took place after Melania visited an immigration detention facility in Texas in June 2018.
"OK, and then I do it. And I say that I'm working on Christmas planning for the Christmas. And they said, 'Ooh what about the children, that they were separated?' Give me a f****** break," she said on the tape. "Were they were saying anything when Obama did that?"
"They say I'm complicit. I'm the same like him, I support him. I don't say enough I don't do enough where I am."
In an statement released following the release of the tapes in October, the first lady said the quote was taken "out of context" and dismissed Wolkoff's book as "idle gossip trying to distort my character."