Comedian and actor Jim Carrey blasted U.S. President Donald Trump Sunday as a "melanoma." Senate majority leader Mitch McConnell, he added, is an "incredibly dangerous" security threat.
The actor slammed McConnell's attempts to call for bipartisanship, dubbing the him a "criminal" during a panel discussion at Vulture Festival in Los Angeles, Hollywood Reporter stated.
McConnell is "incredibly dangerous, a threat to homeland security," Carrey said during the discussion. "He has the nerve to come out a couple of days ago and ask for bipartisanship.... You cannot be bipartisan with a criminal.
"A rapist needs to be removed, not negotiated with," he continued. "These people are raping our system, they're destroying it right in front of us...This corrupt Republican Congress...These people have to be removed from our system because they're bad for us."
The Canadian-American actor added: "Trump is a melanoma, and anybody that covers for him, including Sarah Sanders, is putting makeup on it."
The The Truman Show actor is well known for his controversial political cartoons. On Sunday he shared a drawing of McConnell as a turtle holding up a white "bipartisanship" flag in the face of a large blue wave.
Carrey recently shared a cartoon in support of CNN reporter Jim Acosta, whose White House press pass was revoked by officials earlier this month. Acosta won back his pass Friday when a federal judge granted CNN a temporary restraining order after the network sued Trump and several aides.
White House officials indicated that they intend to revoke Acosta's pass again, CNN reported late Sunday night.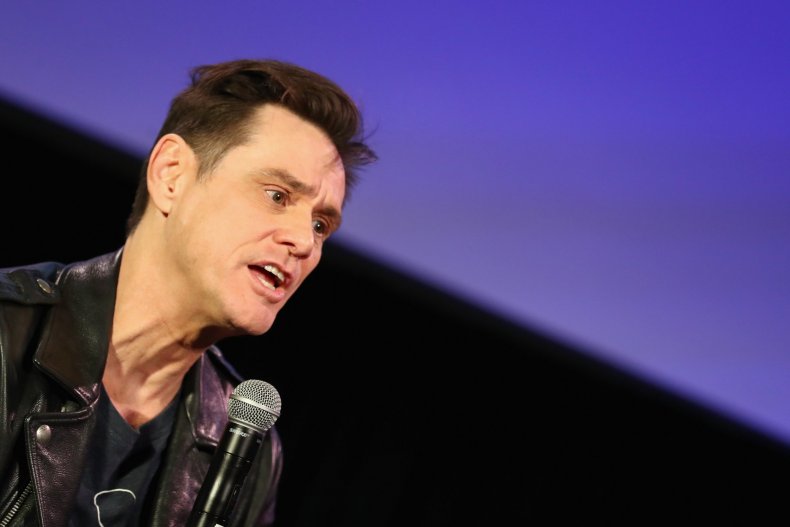 The pass was initially rescinded after a heated press conference exchange with Trump on Wednesday November 7. Footage shared by Press Secretary Sarah Huckabee Sanders seemed to show Acosta touching a female intern's arm as she tried to take his microphone. But the video appears to have been doctored to make the interaction appear forceful.
Acosta "has comported himself with remarkable restraint while dealing with this Imposter-in-Chief. But as people in Hollywood have long known—everything is harder when you're working with animals," Carrey tweeted Friday November 9.
The actor's managers have previously warned him not to make political comments on social media, Carrey said Sunday, Vulture reported. "'When you talk about politics and other issues, you're going to lose half of your audience.' And I said, 'lose them,'" the actor explained.
This article has been corrected to clarify Jim Carrey's remarks about Mitch McConnell.