Jim Acosta: White House Is Planning to Suspend CNN Reporter's Press Pass Again
White House officials are planning to suspend CNN reporter Jim Acosta's press pass again, after a judge ordered them to temporarily restore it Friday, CNN has reported.
Officials sent a letter to Acosta with a view to revoking his newly regained privileges at the end of the month, the network stated.
CNN issued a statement Sunday claiming officials were "[violating] the First and Fifth Amendments of the Constitution." "These actions threaten all journalists and news organizations," the statement read. "Jim Acosta and CNN will continue to report the news about the White House and the President."
Officials revoked Acosta's press pass on November 7 after a press conference with President Donald Trump. During a heated exchange between the two a White House intern attempted to take the microphone from Acosta's hand. The reporter—CNN's chief White House correspondent—kept hold of the microphone and tried to finish asking a question, saying, "Pardon me, ma'am," to the intern.
White House press secretary Sarah Huckabee Sanders later shared what appeared to be doctored footage of the interaction, sped up to make Acosta's reaction to the woman look like an aggressive attempt to restrain her arm.
"President Trump believes in a free press and expects and welcomes tough questions of him and his Administration," Sanders tweeted after the alleged incident. We will, however, never tolerate a reporter placing his hands on a young woman just trying to do her job as a White House intern."
"Don't believe the lies coming from the WH. Believe in our freedoms. Thank you all for your support. We won't back down," Acosta tweeted after the incident.
CNN sued Trump and several top aides—including Sanders—over revoking Acosta's White House press privileges. "If left unchallenged, the actions of the White House would create a dangerous chilling effect for any journalist who covers our elected officials," a network statement read.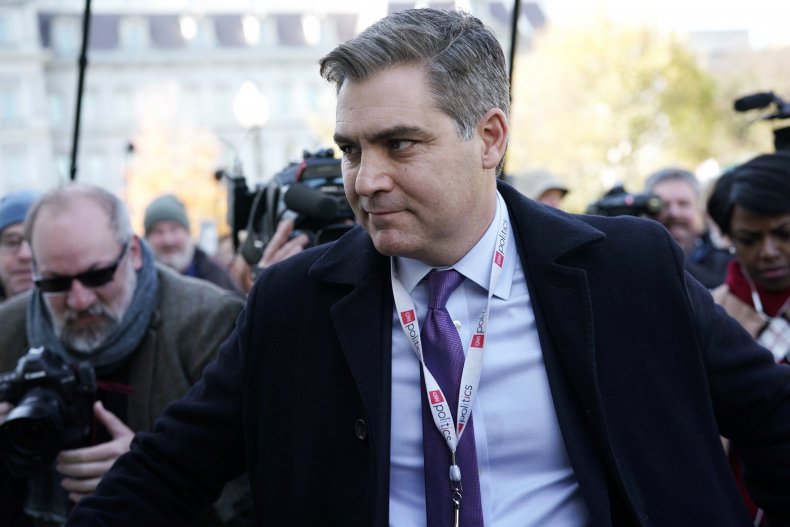 Federal Judge Timothy J Kelly granted CNN a temporary restraining order to restore the reporter's press access on November 16. "It's a great day for the First Amendment and for journalism," CNN lawyer Theodore Boutrous said at the time.
CNN and Acosta released a statement saying: "We are gratified with this result and we look forward to a full resolution in the coming days. Our sincere thanks to all who have supported not just CNN, but a free, strong and independent American press."
This article has been updated to include a further tweet from Jim Acosta.