Jim Jordan Admits to Multiple Calls With Trump on 1/6, Spurring Renewed Calls for Subpoenas
Representative Jim Jordan, an Ohio Republican, admitted that he spoke with former President Donald Trump "more than once" on the phone during the violent pro-Trump insurrection targeting the U.S. Capitol on January 6.
Jordan had previously said that he was one of several Republican lawmakers who spoke to Trump at least once during the events of January 6. But the staunch Trump loyalist confirmed to Politico that there were multiple calls between him and the then president on that day, the publication reported on Sunday.
"Look, I definitely spoke to the president that day. I don't recall—I know it was more than once, I just don't recall the times," Jordan told Politico. The congressman said he was "sure" that at least one of the calls took place while he and other lawmakers were hunkered down in a safe room "because we were in that room forever."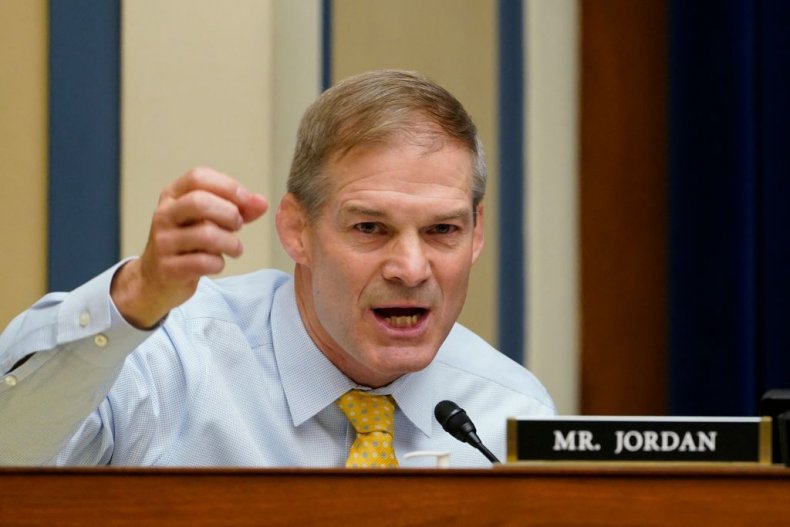 The congressman did not tell the publication the specifics of what he discussed with Trump, but asserted that he had wanted the National Guard to get involved to address the riot.
Politico also reported that Representative Matt Gaetz, a Florida Republican, joined Jordan on one of those calls. But Jordan did not confirm this, saying he had to "think about it." A spokesperson for Gaetz told the publication "Congressman Gaetz speaks with President Trump regularly and doesn't disclose the substance of those discussions with the media."
With the news of Jordan's multiple calls on Sunday, some on Twitter quickly began calling for subpoenas against the congressman. Speaker of the House Nancy Pelosi, a California Democrat, established a House select committee to investigate the January 6 attack against the U.S. Capitol. That body—which currently has seven Democratic and two Republican members—is chaired by Democratic Representative Bennie Thompson of Mississippi.
Some on social media called for subpoenas against Jordan and Gaetz after the news broke.
Twitter user Jake Lobin, who describes himself as a "Devout Democrat," wrote: "Looks like Jim Jordan is now admitting that he multiple calls with the Former Guy *DURING* the Jan 6th insurrection, including one call where he & Matt Gaetz both BEGGED the orange traitor to call off his terrorist mob. Bring on the subpoenas"
The Twitter account for the anti-Trump MeidasTouch PAC shared a link to the news from Politico, writing: "Subpoena Jim Jordan and Matt Gaetz immediately."
"I'm old enough to remember when Jim Jordan was not so forthcoming about that day. Amazing what a potential subpoena can do to your 'memory,'" Twitter user Pierce DeHart wrote.
Newsweek reached out to press representatives for Thompson to ask if the committee planned to subpoena the congressmen, and to Jordan's office for comments, and will update this article with any response.