Jim Jordan Confronted Over 10-Year-Old-Rape-Victim Tweet
Ohio Republican Representative Jim Jordan was confronted on Thursday after he deleted a tweet in response to a report about a 10-year-old rape victim in Ohio that crossed state lines to receive an abortion.
Earlier this month, The Indianapolis Star reported that a 10-year-old girl received an abortion in Indiana after she was raped. However, shortly after the report, Ohio Attorney General Dave Yost appeared on Fox News and disputed the story, saying that his office had not seen any evidence of the incident being true. "We have regular contact with prosecutors and local police and sheriff's. Not a whisper anywhere," Yost said.
Shortly after Yost's remarks, Jordan responded on Twitter in a since-deleted tweet that said, "Another lie. Anyone surprised?" A few days later, the Columbus Dispatch reported that 27-year-old Gerson Fuentes was arrested in connection with the 10-year-old's rape.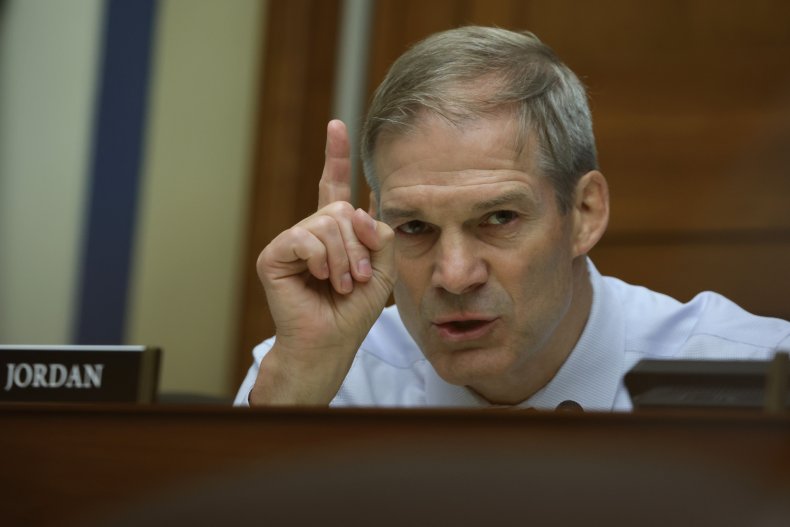 Following the deletion of his tweet, Jordan was confronted by CNN's Manu Raju on Thursday and was asked why he decided to delete it.
"Well, because we learned that this illegal alien did this heinous crime. So we deleted the tweet," Jordan said.
Raju then asked Jordan if he wanted to apologize for the tweet and in response, the Ohio Rep. said, "I never doubted the child. I was responding to a headline…doubting Joe Biden, which is usually a smart thing to do."
As Jordan mentioned in his remarks, Biden previously spoke about the incident involving the 10-year-old, and criticized the Supreme Court's decision to overturn Roe v. Wade, leaving abortion laws up to states.
"Just last week, it was reported that a 10-year-old girl was a rape victim in Ohio—10 years old—and she was forced to have to travel out of the state, to Indiana to seek to terminate the pregnancy and maybe save her life," Biden said, alluding to the trigger laws in Ohio, which made abortion illegal following the Supreme Court's ruling.
"Ten years old. Raped, six weeks pregnant. Already traumatized. Was forced to travel to another state. Imagine being that little girl. Just—I'm serious—just imagine being that little girl. Ten years old," Biden added.
Despite his initial comments, Yost applauded the arrest of the suspect involved in the incident on Thursday.
"My heart aches for the pain suffered by this young child. I am grateful for the diligent work of the Columbus Police Department in securing a confession and getting a rapist off the street," Yost said in a statement.
Newsweek reached out to Jordan's office for further comments.