Jim Jordan Described as Trump 'Sycophant' in Op-Ed in Ohio's Largest Newspaper
Ohio's largest newspaper published an opinion piece Friday that described Representative Jim Jordan as an "obstructionist" and accused him of "being a sycophant loyal" to former President Donald Trump.
Guest columnist Chuck Ardo, who previously served as press secretary to former Pennsylvania Governor Ed Rendell, wrote the op-ed for Cleveland's The Plain Dealer. He strongly criticized Jordan, an Ohio Republican, for his continued loyalty to the former president and his refusal to comply with the House select committee investigating the pro-Trump January 6, 2021 attack against the U.S. Capitol.
"U.S. Rep. Jim Jordan, the see-no-evil, hear-no-evil former assistant wrestling coach, has once again chosen the dark side by failing to cooperate with the U.S. House Select Committee to Investigate the January 6th Attack on the United States Capitol. He is following the path he blazed when he emphatically denied knowledge of the late Dr. Richard Strauss' sexual abuse of hundreds of students at Ohio State, despite accusations by numerous athletes who claimed Jordan must have known about but turned a blind eye to the perversion," Ardo wrote in the column, entitled, "Jim Jordan, obstructionist."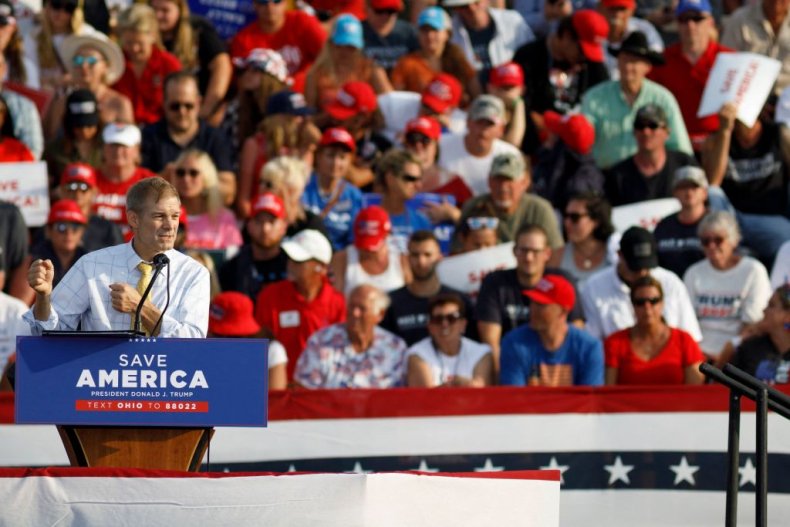 Strauss allegedly abused at least 177 young male athletes at Ohio State University between 1978 and 1998. Jordan was assistant wrestling coach at the university from 1987 to 1994, and several former students have alleged that he was made aware of Strauss' actions and did not work to stop them.
"It would be natural for the Select Committee to assume that Jordan's refusal to cooperate with the investigation is due to his tacit approval of, or active involvement with, the insurrectionists' actions," Ardo contended. "His contempt for the truth has been on display ever since he denied knowledge of the sex abuse his wrestlers endured during his tenure at Ohio State."
"Jordan can once again choose loyalty to the truth or continue being a sycophant loyal to Donald Trump—but he can't be both," the guest columnist concluded.
Earlier this month, Jordan sent a letter to the House select committee signaling that he would not cooperate after he was asked to provide information. "I have no relevant information that would assist the select committee in advancing any legitimate legislative purpose," he wrote.
The GOP lawmaker has remained staunchly loyal to Trump and helped promote his false claims that the 2020 election was "rigged" or "stolen" in favor of President Joe Biden. That allegation was a key motivator for the hundreds of Trump supporters who attacked the U.S. Capitol on January 6, in an apparent effort to disrupt the formal certification of Biden's Electoral College victory.
Jordan told Fox News last Sunday that he thinks "anyone with common sense would be reluctant to go talk to this [House select] committee." He described the investigation into January 6 as a "political operation" with the goal of stopping Trump in a potential 2024 presidential run. The GOP congressman said he believes the former president "is going to run again and I think he's going to win."
Ahead of January 6, Jordan forwarded a text message to then White House chief of staff Mark Meadows laying out a strategy for Trump to remain unconstitutionally in power. Many slammed Jordan after the text message was made public in December.
"Look, Jim Jordan is a traitor. He's a traitor to the Constitution of the United States. He has been a traitor to the Constitution of the United States for quite a while, and now we actually have it in text," Representative Ruben Gallego, an Arizona Democrat, told MSNBC after the text came to light.
Meanwhile, Jordan has been a consistent critic of the Biden administration. During a Thursday interview on The Truth with Lisa Boothe podcast, the lawmaker laid out investigations he hopes to launch if Republicans wrestle back control of the House in this year's midterms. As the ranking member of the House Judiciary Committee, Jordan would be the frontrunner to take over as chair if the GOP returns to power.
Newsweek reached out to Jordan's spokesperson for comment but did not immediately receive a response.