Following Hunter Biden's indictment of federal firearms charges on Thursday, House Judiciary Committee Chairman Jim Jordan revealed some "central facts" that House Republicans will potentially rely on as they begin their impeachment inquiry into President Joe Biden.
In a Friday interview with Breitbart News, a conservative news site, Jordan stated his continued criticism towards Biden as news of his son's indictment only increased tensions. According to Jordan, an Ohio Republican who leads the impeachment inquiry directed by House Speaker Kevin McCarthy, along with Oversight Committee Chairman James Comer and Ways and Means Chairman Jason Smith, the central element going into the impeachment investigation is that "Joe Biden took policy actions, policy preferences were made, in exchange for money going to his family."
As the 2024 elections approach, Jordan claimed evidence is mounting linking Joe Biden to his son's illegal activities that dates back to the time when he was vice president under former President Barack Obama.
During his interview with Breitbart News, Jordan talked about four "key facts" into the investigation, laying out that the impeachment committee has uncovered that Burisma Holdings, a Ukrainian energy company, paid Hunter Biden millions of dollars and as a result implies Joe Biden is tied to his son's business dealings. However, the White House maintains that the president was not involved in his son's business affairs, with no significant evidence of wrongdoing by the elder Biden being found so far.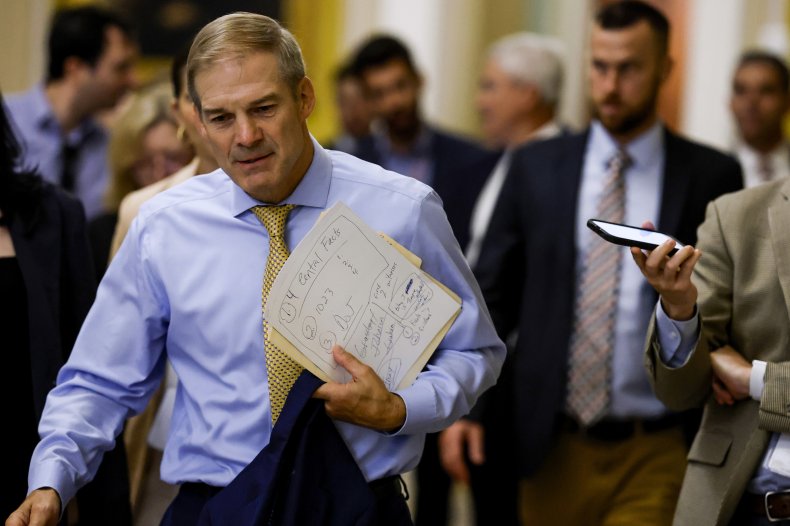 "The four central facts are one, Hunter Biden was put on the board of Burisma and paid a boatload of money; two he wasn't qualified to serve on the board of Burisma; three, Burisma asked him to weigh in with D.C. to help them with the prosecutor who was applying pressure to them, who was investigating them; four, Joe Biden goes to Ukraine, leverages American tax dollars to fire that prosecutor. Those are four central facts that are never going to change," the congressman told Breitbart News.
In addition to the potential use of these four "key facts," Jordan also took aim at the Department of Justice's (DOJ) mishandling of the investigation into the alleged tie the elder Biden had to his son's businesses for years.
"At some point, it's got to do something," Jordan said about Biden's DOJ. "So they go with the one charge that has no links to the White House, the gun charge, and they announce it two days after the speaker announces that there's an impeachment inquiry that's been launched by the House of Representatives."
Newsweek has reached out to the White House via email for comment.
Meanwhile, according to a recent poll from The Associated Press-NORC Center for Public Affairs Research, 66 percent of Republicans and just 7 percent of Democrats are very or extremely concerned about whether the president committed wrongdoing when it comes to his son's business dealings. The poll surveyed 1,146 U.S. adults between September 7-11. The poll's margin of error is plus or minus 3.9 percentage points.