Jim Lamon Mocks Outrage Over Super Bowl Ad Where He Shoots at Joe Biden
Jim Lamon, a Republican candidate for the U.S. Senate in Arizona, is standing by his decision to run a political ad in which he shoots at President Joe Biden and other Democrats—and has mocked those who expressed outrage at the commercial.
In the ad, released on Thursday ahead of the Super Bowl this weekend, Lamon is dressed as a Western sheriff, facing down actors in cowboy costumes who are meant to be Biden, House Speaker Nancy Pelosi and Arizona Senator Mark Kelly.
"The good people of Arizona have had enough of you. It's time for a showdown," Lamon says in the ad.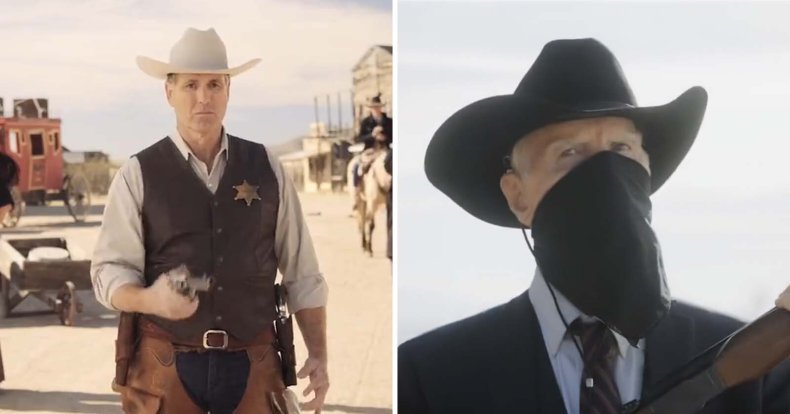 When the three Democratic "cowboys" approach a ranch with guns, Lamon shoots at them, knocking their weapons out of their hands and forcing them to run away.
The ad sparked a backlash, especially because Kelly's wife, former Rep. Gabrielle Giffords, was shot in an assassination attempt in January 2011. The attack left Giffords with a brain injury and led her to becoming a vocal gun control advocate.
In a tweet on Thursday, Lamon appeared to stand by his commercial. "Left wing snowflakes can't stand the fact that, for once, AZ will have a Senator who will shoot straight with them & stop cowering to Biden," he wrote.
"Their feigned outrage over our new Super Bowl ad came right on cue—but I won't be backing down."
The ad will begin running in Tucson, Arizona, on Sunday during the Super Bowl, according to Lamon's campaign.
Shannon Watts, founder of gun control group Moms Demand Action, described the commercial as "disgusting" on Twitter, adding: "Former Rep. Gabby Giffords was shot and seriously wounded 10 years ago. Her husband's Republican US Senate opponent, @jim_lamon, just put out an ad in which he shoots Mark Kelly and other Democrat leaders."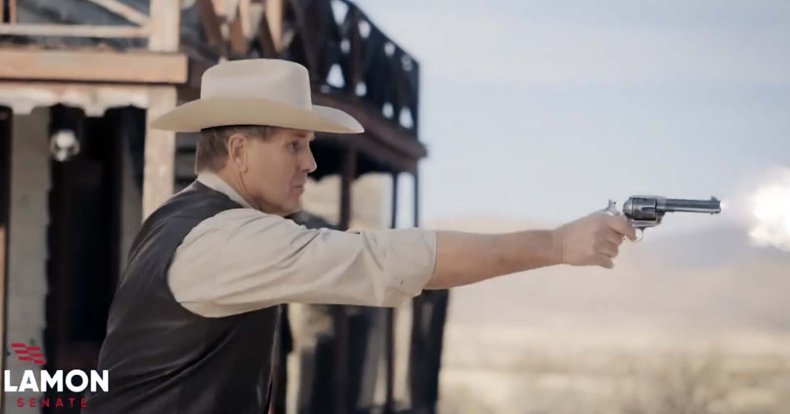 Fred Guttenberg, whose daughter Jaime was murdered in the Parkland school shooting, tweeted: "This Monday will be 4 years since my daughter was murdered. I take commercials like this seriously. The boy who murdered my daughter was motivated by videos like this. @jim_lamon [knows] what happened to @GabbyGiffords. You owe Gabby & @CaptMarkKelly an apology. Remove this!!!"
The ad was also condemned by Democratic Rep. Eric Swalwell.
"Republicans don't have any ideas to help you. And they can't win elections. So they've gone all in on using violence as a path to power. RT if you're choosing #VotesOverViolence this Fall," tweeted the California lawmaker.
Newsweek has contacted Lamon's campaign for comment.
It is not the first time a Lamon ad that stoked outrage. In January, he released a commercial that used the phrase "Let's go Brandon, which is a euphemism for "F*** Joe Biden."
Yahoo refused to run the ad, saying it would only allow it if the phrase was omitted.
Lamon hit back, accusing Big Tech of stepping in "to help their liberal buddies who can't win elections fairly."