Jim Obergefell, Whose Case Ended U.S. Ban on Gay Marriage, Running for Ohio House Seat
Jim Obergefell, the lead plaintiff in the landmark 2015 U.S. Supreme Court case legalizing same-sex marriage, announced he is running for a seat in the Ohio House of Representatives.
Obergefell moved back to his hometown of Sandusky, Ohio, in 2021 to be closer to his family. This puts him in the 89th House District. The Ohio Supreme Court ordered the district, currently held by Republican D.J. Swearingen, to draw new boundaries.
Obergefell, who grew up in Sandusky, said he's seen people leave because of job opportunities and wants to bring jobs back to the area.
"I'll put jobs in working people first so we can rebuild our communities," Obergefell said in a campaign video.
In addition to creating more job opportunities for his community, he said another priority is protecting Lake Erie, vital to the Erie and Ottawa county economies.
"When I look at Lake Erie, I see tourism, drinking water for our communities and jobs. I see opportunity. I also see the place where I grew up and learned my values from my parents," he said.
Obergefell said he learned about being a champion and standing up for what's right during the Supreme Court case, Obergefell v. Hodges. The case involved getting his marriage to John Arthur, who was dying of Lou Gehrig's disease, recognized nationwide.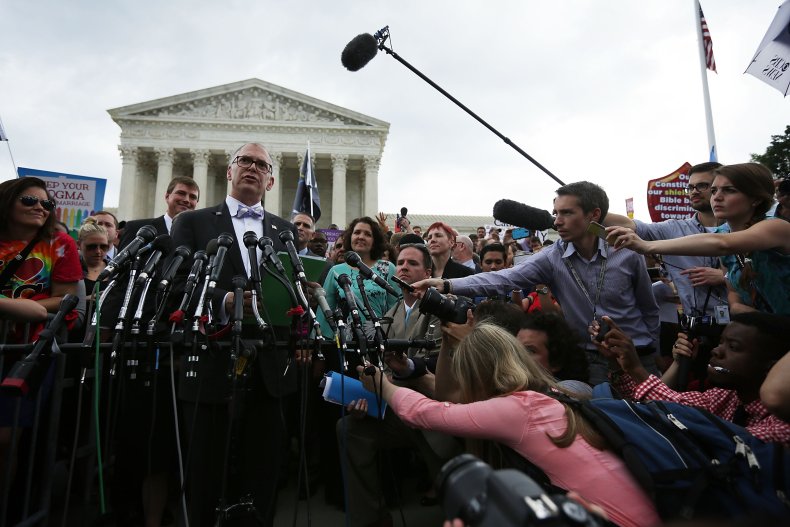 Since his home state of Ohio had a ban on same-sex marriage, the pair elected to get married in Maryland. However, the ban meant Obergefell would not be listed on Arthur's death certificate as a surviving spouse.
"Although John died a lawfully married man, Ohio would complete his last official record as a person—his death certificate—incorrectly by showing him as unmarried at the time of death, and by not listing me as his surviving spouse," Obergefell shared on his website.
The historic 5-4 vote ruled that same-sex couples could exercise their fundamental right to marry. According to the U.S. Census Bureau, there are roughly 568,000 same-sex couples nationwide.
Following the ruling, Obergefell, a former teacher, has worked as an LGBTQ advocate speaking out for transgender and civil rights. He is also the co-founder of Equality Vines, a wine label that is dedicated to the equality of all people.
"I don't mind being the underdog. I am not afraid to take on any issue when it's the right thing to do," Obergefell said.
Should Obergefell win, he will be the second openly gay politician to serve in the state's General Assembly.