Jimmy Carter Will Visit North Korea to Help Secure Release of American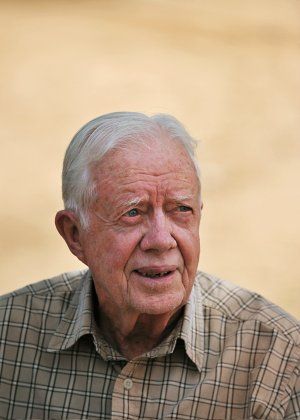 A 30-year-old man from Boston has been serving an eight-year hard-labor sentence in a North Korean prison camp since April of this year. A State Department team failed to secure his release. Now, reports the journal Foreign Policy, former president Jimmy Carter will visit.
Aijalon Mahli Gomes, 30, from Boston, was teaching English in South Korea when he decided to cross the border into North Korea early this year. He was apprehended and held in one of North Korea's brutal prison camps. In April he was sentenced to eight years' hard labor, and in July it was reported that he had tried to commit suicide.
Another American held in the same camps this year, Robert Park, 28, from Los Angeles, was eventually freed after he went into the country to spread "God's love." But when he returned home he was institutionalized after suffering post-traumatic stress from sexual abuse and torture he suffered at the hands of his captors.
A four-person State Department team, reports Reuters, had secretly gone to Pyongyang earlier this month to try and negotiate Gomes's release. They failed. Now, according to Foreign Policy, former president Jimmy Carter and his family will leave for North Korea in days. "There will be no U.S. government officials on the trip," says FP, "and Carter is traveling in his capacity as a private citizen," much like Bill Clinton did when he went to negotiate the release of Current.tv reporters Laura Ling and Euna Lee in August of last year.
Carter, according to Reuters and FP, was chosen over John Kerry and Bill Richardson because he is not currently serving the U.S. government in any official capacity, which allows the Obama administration to maintain its tough diplomatic stance toward Pyongyang. He has also had success negotiating with the North Koreans in the past. In 1994 he visited then leader Kim Il Sung and persuaded him to enter talks on his nuclear ambitions.
North Korea watchers feel that the visit may even mark a positive step in the frosty relationship between the country and the rest of the world since Pyongyang sank a South Korean warship, the Cheonan, in March, killing dozens. Though Carter is probably not expected, or allowed, to discuss wider issues, he often goes off-message in such circumstances.
The 1994 talks, according to FP, were so productive because Carter went beyond the talking points set out for him by the Clinton administration. "Carter and North Korea have a trust between them that grew out of his 1994 visit," Yang Moo-jin of the University of North Korean Studies in Seoul told Reuters. "His visit is pretty positive in trying to shift from the phase of pressuring the North to one of dialogue." Joel Wit, a former U.S. nuclear negotiator, put it more succinctly for FP. "The minute you send Jimmy Carter to North Korea, you've got to believe the pot is going to be stirred."