Jimmy and Delaney Buffett Share Some 'Songs You Don't Know by Heart'
Once on an annual fishing trip in Florida around the turn of the century, singer Jimmy Buffett dropped his son and youngest daughter off at an intracoastal island to let them say whatever they wanted, and as loud as they wanted.
Delaney Buffett was 8 at the time while her brother, Cameron, was 10. The siblings offloaded the boat and then dad pulled away from the island. Delaney and Cameron began shouting as many curse words as they could, and they yelled so loud that perhaps the entire state of Florida could hear them.
"We would scream every cuss word we knew, and he [Jimmy Buffett] just sat in the boat and would crack up," Delaney said. "When we got back in the boat, we were quiet because we weren't allowed to cuss around our parents. My dad loves that story."
Jimmy Buffett loved it so much he eventually turned it into the song "Cussin' Island" on his latest album called "Life on the Flip Side."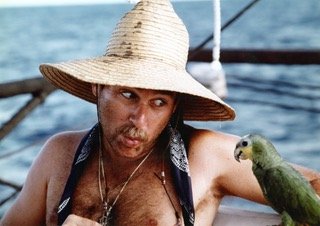 Jimmy Buffett squawks with a parrot during his younger days in Florida. Buffett is now creating a video series called "Songs You Don't Know By Heart." It's just himself playing 15 acoustic songs that are deep tracks, and rarely played in concerts. The set list was voted on by the fans, and his daughter, Delaney Buffett, is the director of the video series where her dad tells the stories behind each song.
Photo courtesy of Delaney Buffett
Buffett has delighted millions of fans by telling stories through his music. Some of the songs you might know, and others you might not know. Delaney now has the task of documenting stories behind 15 songs made popular—or not so popular—from her legendary singer-songwriter father over the course of his career that spans half a century.
Thirty-five years after Jimmy Buffett released his first-ever greatest hits album called Songs You Know By Heart, Delaney Buffett is directing a series of videos dubbed "Songs You Don't Know By Heart."
The songs are deep tracks from his albums over the years, and some have rarely been played in concert. But they all have a story behind them, and this is where Delaney brings her film background and experience to help tell those stories.
"The concept was to film dad and give intimate looks into songs and go down memory lane," Delaney said. "I sit down one-on-one with him and get an unplugged version of these songs. Not only to jog his memory, but also mine to remember the stories he would tell. Some songs he knew off cuff, and others it took some time for him to remember."
"Songs You Don't Know By Heart" wasn't necessarily planned. It just happened. When the COVID-19 pandemic began sweeping across America and things began shutting down, so did tours and events by musicians.
Jimmy Buffett's concerts are more than just a musical performance on stage. His faithful followers called Parrotheads have tailgate parties complete with Tiki huts, homemade bars, food, games and lots of booze. And at showtime, rain or shine, they bring their festival to Buffett and his Coral Reefer Band.
When the 2020 tour began canceling or postponing dates, his media crew in mid-April put a simple post on Twitter that was looking for songs that weren't as popular in mainstream circles.
"While we've got JB in one place for an extended period of time - with a bad case of cabin fever -a question: What is the song we don't all know by heart that you'd love to hear Jimmy revisit? And if there is special reason please share that too," they tweeted.
The response was overwhelming as that one tweet got more than 1,100 replies. The wheels started turning, and Buffett's staff concocted the "Songs You Don't Know By Heart" concept. The staff called Delaney to ask if she would film and direct it. It made sense because she was living with her parents, and they were already social distancing like they were on the far side of the world.
The songs were ranked by the number of times they were listed by the fans. In the instance of songs being tied, they needed a tiebreaker.
"Dad would look at the sheet and choose it," Delaney said. "I think it's songs he loves."
Two songs have already been released on Facebook and Instagram. You can watch them by clicking the links below:
"Captain and the Kid"
"Something So Feminine About a Mandolin"
Delaney would not reveal to Newsweek what other songs are on the project beyond the ones already released, so it was hard to decipher whether or not the aforementioned "Cussin' Island" was on the project. That was the only song Delaney knows was written about her, other than "Delaney Talks to Statues," of course.
The newest Buffett project isn't necessarily a collection of greatest hits.
"It's a mix of mostly popular deep cuts and songs that resonate with people familiar with a lot of the older albums," Delaney said.
In the video for "Something So Feminine About a Mandolin," Jimmy could not remember who co-wrote the song with him. Delaney is heard in the background trying to help him remember. Delaney then calls her mother, Jane, and puts her on speaker phone to ask her. Come to find out, Jane helped Jimmy write that song that was released in 1976 on the "Havana Daydreamin'" album.
"That song written with my mom is something I learned during the interview," Delaney said.
And that song is such a deep track in his treasure trove of music that it has only been played once in a concert—in 1997.
The video segments are about eight minutes each, and they involve Jimmy telling how each song was written, or maybe a unique story behind it. Some songs he remembers quite vividly, both the lyrics and their origins. For the ones he can barely remember, he might need a refresher. Watching the videos of Jimmy Buffett playing acoustic in his house—no flashy stage lights, dancers, backup singers, beach balls, margaritas or the Coral Reefers—has a realness feeling to it.
Songs in this new project might not typically be part of the fly-by-night Buffett fan playlists, but for those weathered Parrotheads, this can be like their salty music-listening getaway in a time when shows—and ultimately the parties—are canceled.
Delaney said she doesn't feel pressure filming the videos or doing the interviews, and said her dad likely feels more comfortable doing the Q&As with her.
"One of the great things about the father-daughter aspect of it is that it gives a look into our relationship," Delaney said. "I can make a snarky remark, and that's the beauty of our father-daughter relationship. I can ask a bad question and he'll brush it off, and then we'll laugh about it at dinner."
Delaney said if there's any pressure she feels, it's the finished product for Parrotheads in quarantine or those with cabin fever, or those missing their shows in 2020.
"I want to make it as good as possible for his fans and the public," she said. "I can't provide the level of entertainment of a live show, but I can give people a glimpse of him behind the scenes and behind the songs."
Delaney Buffett said the remainder of videos from "Songs You Don't Know By Heart" will come out about once a week, maybe once every two weeks. The videos will all be on Jimmy Buffett's official Facebook and Instagram pages. They can also be seen on his website, jimmybuffett.com.
Songs You Know By Heart was Buffett's 17th album. He has since made more collaboration and greatest hits-type pieces like:
Meet Me in Margaritaville
Boats, Beaches, Bars & Ballads box set of four albums
Tuesdays, Thursdays and Saturdays live album
Other various mixed and live productions